The team's prototype design, which includes replaceable filter inserts, is being tested by health care workers at the Royal University Hospital for respirator mask fit. Before the mask can be used in a hospital, a medical device licence from Health Canada and the Saskatchewan Health Authority (SHA) will be needed. This process would likely take more than a month. 
Once a final design is approved, as many as 60 masks per day could be manufactured using USask 3D printers. 
"We're trying to make the masks out of the most commonly available materials for 3D printing, so anyone with a 3D printer should be able to produce this easily," said engineering graduate student Erik Olson.  
N95 respirator masks are designed to filter at least 95 per cent of airborne particles. They are standard protective equipment in hospitals around the world, which puts them in high demand and in short supply.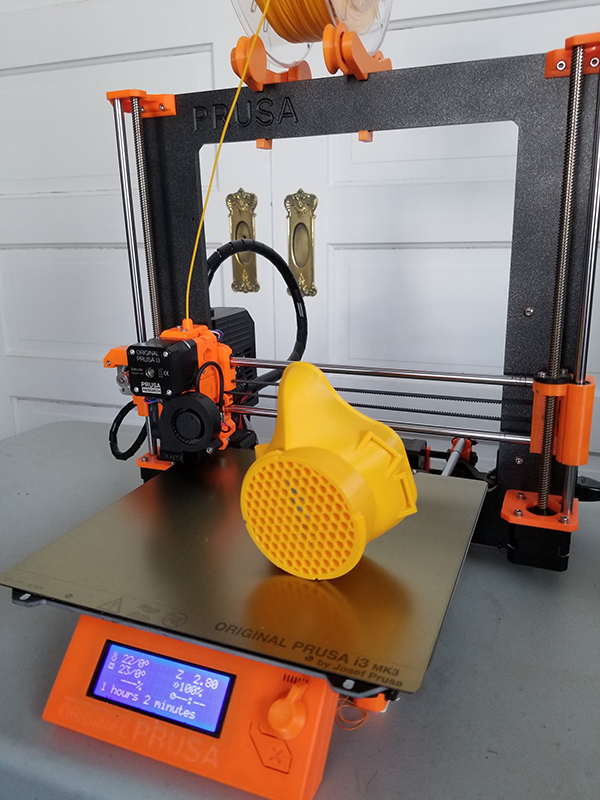 Dr. James Stempien, head of the Saskatchewan provincial emergency medicine department and clinical associate professor in the USask College of Medicine, has arranged to have medical personnel test the prototype of the USask-designed N95 respirator mask for comfort, fit and quality of the seal, and share the feedback with the students. 
The USask team is also printing and testing the "Montana Mask," another 3D-printed mask design recently developed in Montana. That mask has already undergone preliminary testing with staff at the Jim Pattison Children's Hospital, with positive results. This mask design would also require Health Canada approval. 
"It's not really important whose design it is in the end, just that it works," said engineering professor James (J.D.) Johnston who is co-ordinating the project. The work involves three graduate students—Olson, Alvaro Espinosa, and Pablo Franco, as well as engineering college staff member Rob Peace, and Grant Tingstad, a research engineer at the USask Global Institute for Food Security (GIFS). GIFS is also providing 3D printing materials and use of the institute's laboratory and equipment. 
USask engineering alumni from Innocorps Research Corporation, a Saskatoon-based startup company focused on water filtration, is assisting with prototype development and leading the rigorous process of seeking Health Canada approval. 
Johnston decided to get involved when he heard from American colleagues that their mask supplies were running out.  
"They were terrified of contracting the virus and dying themselves, or becoming carriers," said Johnston. "Our students have been really interested in 3D printing and wanted to help, so I reached out to the SHA here in Saskatoon."  
The team is sourcing ideas from people around the world who are sharing their designs online, all free of charge. The students intend to share their own design plans online once completed, so they can be produced and potentially improved upon.  
The USask team is testing potential filter insert materials, including filters made from existing medical-grade respirator masks, air purifiers, vacuum bags, and vacuum filters.  
"Doomsday Preppers online has suggested even cutting up furnace filters that you can get from a hardware store," said Johnston. "The virus is tiny—only 0.125 microns in size, about one 10-thousandth of a millimetre. So homemade cloth masks may not be sufficient."  
USask engineering students and staff are also involved in developing, prototyping and testing three other protective shielding products:  
a transparent plastic box to separate COVID-19 patients from health care workers, based on designs shared by engineers in Taiwan

 and 

improved upon by University of British Columbia

 researchers

. The team is working with 

Saskatoon 

manufacturer WD Plastics to produce the boxes at low cost, and intend

s

 to share the designs online

.

 

a flexible plastic drapery to cover patients and shield health care workers, based on specific design requirements from Saskatoon physicians.

 

a full-length plastic face shield being created by Wave of the Future, a Saskatoon-based 3D printing business, for which the USask College of Engineering has also provided materials

.

 
 "I am incredibly proud of the vision, humanity, and tenacity shown by our students and faculty members throughout this crisis," said USask Engineering Dean Suzanne Kresta. "Their response represents innovation in action, global collaboration, and delivering tremendous value to our community. This is a great example of how we are able to build engineers the world needs today—and connect them to a safer world for tomorrow."