The USask Bioprocessing Pilot Plant was producing hand sanitizer—up to 400 bottles a day—until a week ago when local firm Bioriginal Food & Science Corp., secured a license to set up its own manufacturing facility to produce the hand sanitizer in larger quantities. As the business group lead, Bioriginal is selling the sanitizer to the Saskatchewan Health Authority at a discounted price to help protect health-care workers from COVID-19. 
"It's not the role of the university to be a long-term manufacturer, but we're happy to help out in this emergency," said Angela Bedard-Haughn, associate dean of research at the College of Agriculture and Bioresources. "Without our help, the companies wouldn't have been able to manufacture this product until May or June."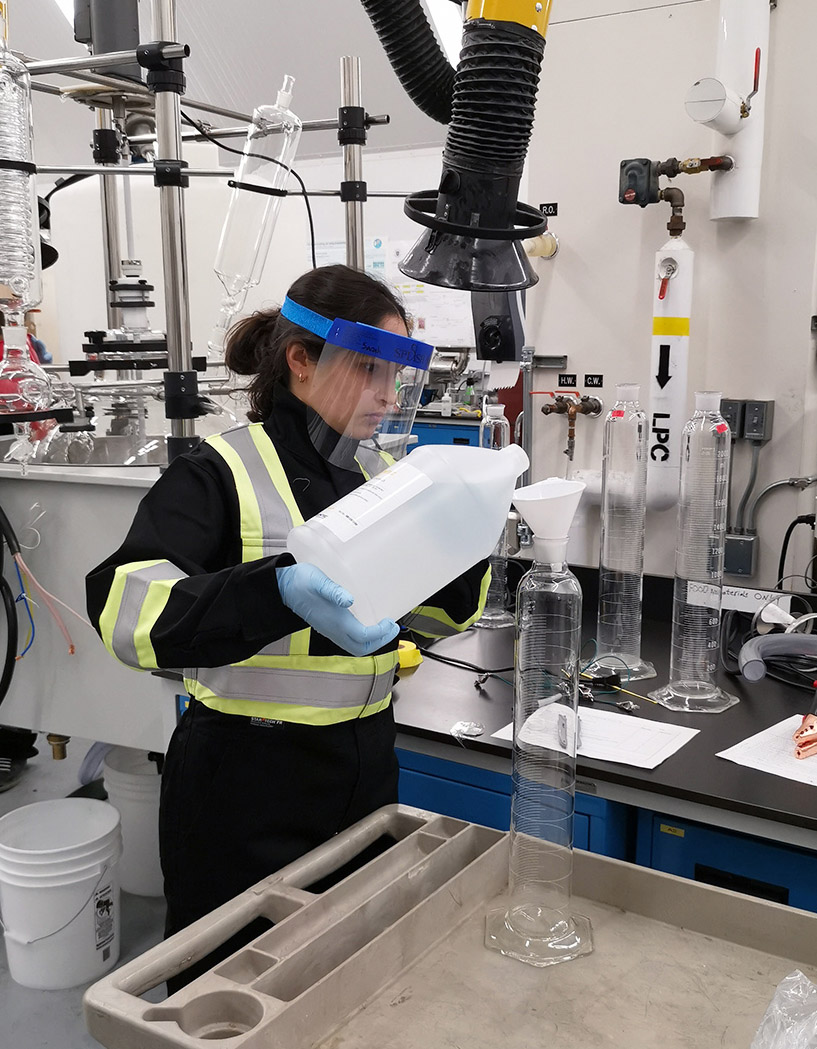 Over the past couple of weeks, USask researcher Martin Reaney has been working with the three companies—including a USask spin-off led by Reaney himself—to formulate sanitizing products, verify quality, and produce hand sanitizer at the bioprocessing facility using a standard, government-approved formula, followed by two additional new preparations. USask has also played a pivotal role in the production process design, application for licenses, and implementation of testing protocols.  
"All of this has been developed and transferred to industry in just a few short weeks, bearing in mind that product quality is of the utmost importance and cutting corners is not acceptable when it comes to health products," said Reaney, a Saskatchewan Ministry of Agriculture Strategic Research Program Chair. 
"There's no other place where this could happen in Saskatchewan. We can do this at USask because of our expertise, our specially equipped bioprocessing facility, and the analytic capabilities of the university's Saskatchewan Structural Sciences Centre."  
Reaney, chief executive officer of USask spin-off Prairie Tide Diversified, said his lab and Prairie Tide have been working with the Saskatchewan Structural Sciences Centre on the verification analysis.   
Bioriginal, which rapidly invested in specialized packaging equipment, fronted the costs of the product ingredients and quality verification analytics. The firm has obtained federal Natural Products Numbers (NPN) so that three sanitizer products—a sanitizing gel for hands, a surface sanitizer that replaces rubbing alcohol for medical uses, and a workplace sanitizer for equipment—can be sold as licensed products deemed safe, effective and of high quality. The products are sold under the name BioTide.   
 A key ingredient—ethanol—is being produced by Lanigan firm Pound-Maker Agventures Ltd., which runs an integrated feedlot and fuel ethanol facility. The USask Bioprocessing Pilot Plant is equipped to deal with flammable materials so is ideally suited to work with ethanol, Reaney noted.  
"The launch of this sanitizer business in Saskatchewan has created a couple of jobs for USask grads as analytical technicians and about 15 bottling jobs," said Reaney. "Due to low fuel prices and reduced demand, ethanol plants are struggling to maintain production and in some cases have closed. This venture provides the Lanigan ethanol plant with the ability to operate at capacity, providing local employment and a value-added market for grain." 
The collaboration came about after the SHA put out a recent call for help with supplying protective supplies for health workers dealing with COVID-19 cases.  
"Over the past two weeks, we have moved heaven and earth to make this product happen in a way that meets all regulations in Canada and the U.S. Food and Drug Administration. Health Canada and other federal agencies have been very helpful in expediting this," Reaney said. 
Unique to Western Canada, the USask Bioprocessing Pilot Plant has industrial-grade scientific equipment designed to isolate and extract compounds from various plants and crops for commercial applications in areas such as biofuels, crop development, and natural health products. Co-operative research and development with industry partners is a mandate of the facility. 
Reaney's team and collaborators from across campus plan to apply for federal, provincial and industrial funding to undertake related research projects. 
"We plan to do further research because we have some unique Saskatchewan-based natural products with which to make better gelled hand sanitizers," he said.