It may seem unfathomable, but these masses of ice are melting at an alarming rate. Canadian glaciers have shrunk 15 per cent since 1985, and estimated glacier loss in the Rockies could rise to 100 per cent by the end of the century, according to University of Saskatchewan (USask) hydrology PhD candidate Caroline Aubry-Wake.
One of the areas that Aubry-Wake conducts research at is the Peyto Glacier in Banff National Park and the Athabasca Glacier in Jasper National Park. It's an area that's a cause for alarm—not just the immediate region, but also those areas downstream—and a look at the region's rapid ice loss makes this clear.
"Every time we go to Peyto it looks different and there are more things to study," said Aubry-Wake, whose research combines mountain field work and a mathematical hydrological model to assess changes in water resources.
"We collect a lot of data measuring snow and water and we hope to get an understanding of what is happening with the glacier and to use this information to make our computer simulations. And then when we return to the field, something has changed, like there will be a large hole in the glacier or the ice will have retreated significantly. And we are running against the clock to make sure our information is accurate."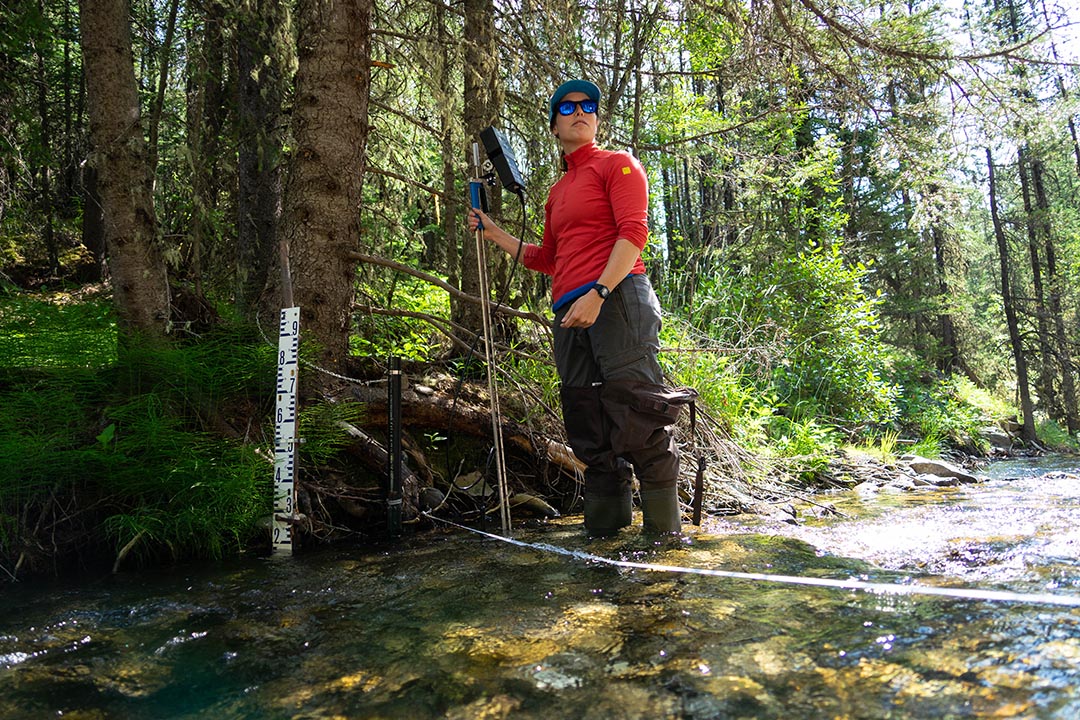 The more scientists see how the levels of the glacier change now, the better they can predict what it will look like in the future, which in turn will help USask researchers like Aubry-Wake predict Canada's water resources 10 to 80 years from now.
As a member of the USask Global Institute for Water Security (GIWS) and the USask-led Global Water Futures (GWF) program, Aubry-Wake is part of the team that works out of the Coldwater Laboratory in Canmore, Alta., an important facility for researchers working to change how water is managed across the country, according to Dr. John Pomeroy (PhD), director of GWF.
"We are very proud to be doing this from the Coldwater Laboratory in the Rocky Mountains, a remarkable mountain research base that USask has helped to establish," said Pomeroy, who also holds the Canada Research Chair in Water Resources and Climate Change at USask. "This base allows us to have locally-based technicians and scientists on site, and the graduate students, so we can logistically get up on those glaciers. It's a very challenging thing to do. We have to get the right weather and have people."
USask is ranked No.1 in Canada for water resources research (Academic Ranking of World Universities), and GWF is the most-cited water research group in the world.
GWF, which involves key partners University of Waterloo, McMaster University, and Wilfrid Laurier University, is positioning Canada as a global leader in water science for cold regions. Funded by the Canada First Research Excellence Fund and many partners, the research program provides governments, businesses and communities with the risk management tools they need to tackle threats to Canada's water supply and quality.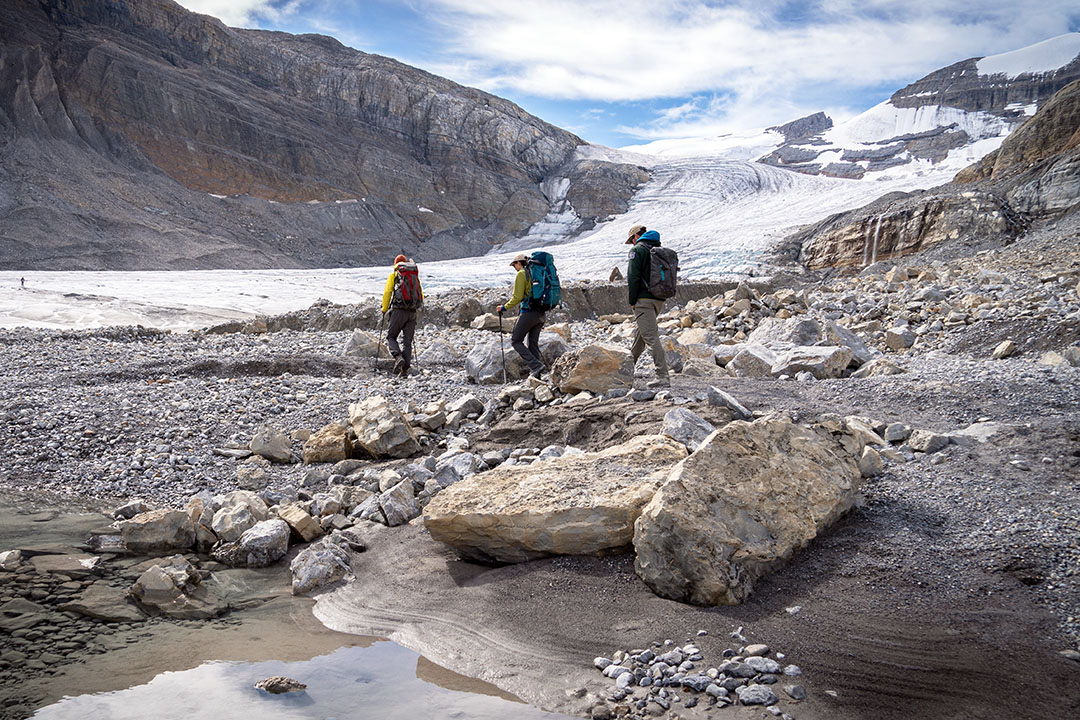 In addition to working to better address and prepare for increasingly extreme floods, droughts, fires and water pollution events, the GWF team of scientists draws upon transdisciplinary research and a vast array of knowledge that helps to translate the data taken from declining glaciers like Peyto into a national narrative. And it's a story that Dr. Phillip Harder (PhD) is working to share.
A researcher with the Centre for Hydrology at USask, Harder's work typically focuses on snow and prairie agricultural-hydrology interactions. But his expertise in deploying, and synthesizing data from, unmanned aerial vehicles has been instrumental in gathering data in the Rockies. The use of drone technology to assist in 3D mapping, along with archival photos, has been helping USask researchers determine how quickly glaciers like Peyto are melting—and how much time they have left.
"Thanks to technological advances in drone sensors, video and photography, you can get high-resolution images where you can see the melt from year-to-year, where ice caves are appearing in the glaciers where there weren't any before," said Harder.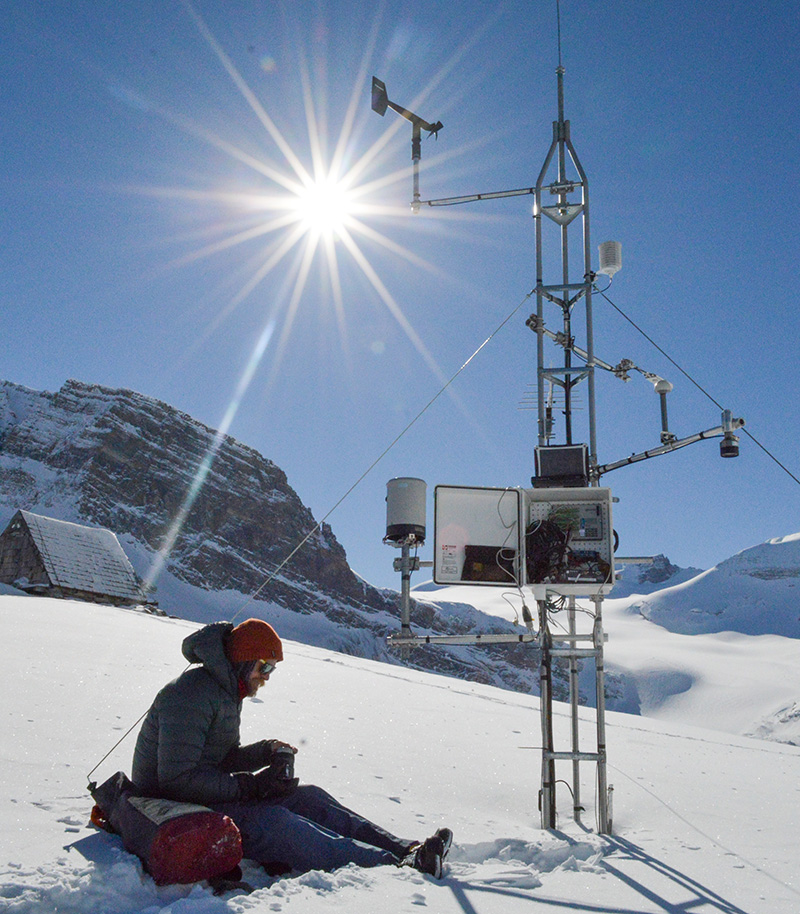 One of the tools Harder uses is lidar (Light Detection and Ranging). Simultaneously shooting out and measuring the reflections of 100,000 laser pulses a second, the drone-borne device allows scientists      to precisely map the surface of the ice. While there's a lot of work that goes into gathering this data, Harder said that the high-precision 3D representation of the surface visualize the year-to-year change of the glacier.
"You are able to pick up the big changes quite easily, but you can also discern the amount of melt that has occurred," he said. "There's a lot going on there, and there's a lot of questions we still have. Is this thing melting faster? Which parts are melting the fastest and how are the surrounding moraines and meltwater lake areas changing? What will the landscape look like in the future and how will it function?"
Faced with this information, USask researchers are tasked with the important duty of protecting Canada's water resources. According to Aubry-Wake, an award-winning student who earned a prestigious Vanier Scholarship in 2018, it remains to be seen how much water we will have in the future, but the current data points to some immediate impacts across the Prairies, when it comes to agriculture and the environment.
"Glaciers act as storage, accumulating snow into the winter and melting late in the summer. Glacier meltwater is the main source of water in the late summer, and is used for irrigation, hydro power, but also to supply downstream cities. Once there are no more glaciers, we won't have nearly as much water in the mountains in August," said Aubry-Wake, who is supervised by Pomeroy. "The Rockies feed some of the biggest rivers that cross our continent, so what's going on in Alberta has impacts across the Prairies."
While GWF's research on glaciers is clearly important to Saskatchewan, the research conducted out of the Coldwater Laboratory, and the work being done by the research team on water security as a whole, is critical to the entire country, according to Pomeroy.
"The work of PhD candidate Caroline Aubry-Wake and Research Associate Phillip Harder, along with dozens of other students and post-docs at USask in the high mountains, has provided preeminence to the University of Saskatchewan for high mountain hydrology and climatology," said Pomeroy.
"This work has allowed us to develop agreements with 44 countries around the world who adopted the high mountain summit statement in Geneva last October on integrating high mountain observations and predictions for the good of society. This also improves the water security of Saskatchewan, which receives the vast majority of our river flows from the Canadian Rockies."