Organized by Research Profile and Impact, the Images of Research competition serves as an annual reminder of the beauty in creating new knowledge. This year's contest featured 92 entries across five categories, with seven multi-disciplinary panels of judges sharing their expertise and more than 2,000 public voters sharing their input to determine this year's winning images. In total, more than 13,000 people visited the contest online.
With imagery submitted representing the work of 11 colleges, one school, one research centre and the library, USask researchers – from undergraduates, to faculty, to staff – have demonstrated the local, national, and international impacts of their work.
View all winning images here and see all 2022 submissions here.
Grand Prize: "Biohazardous Birth"
Submitted by: Nicholas Bauer, undergraduate student in anatomy, physiology and pharmacology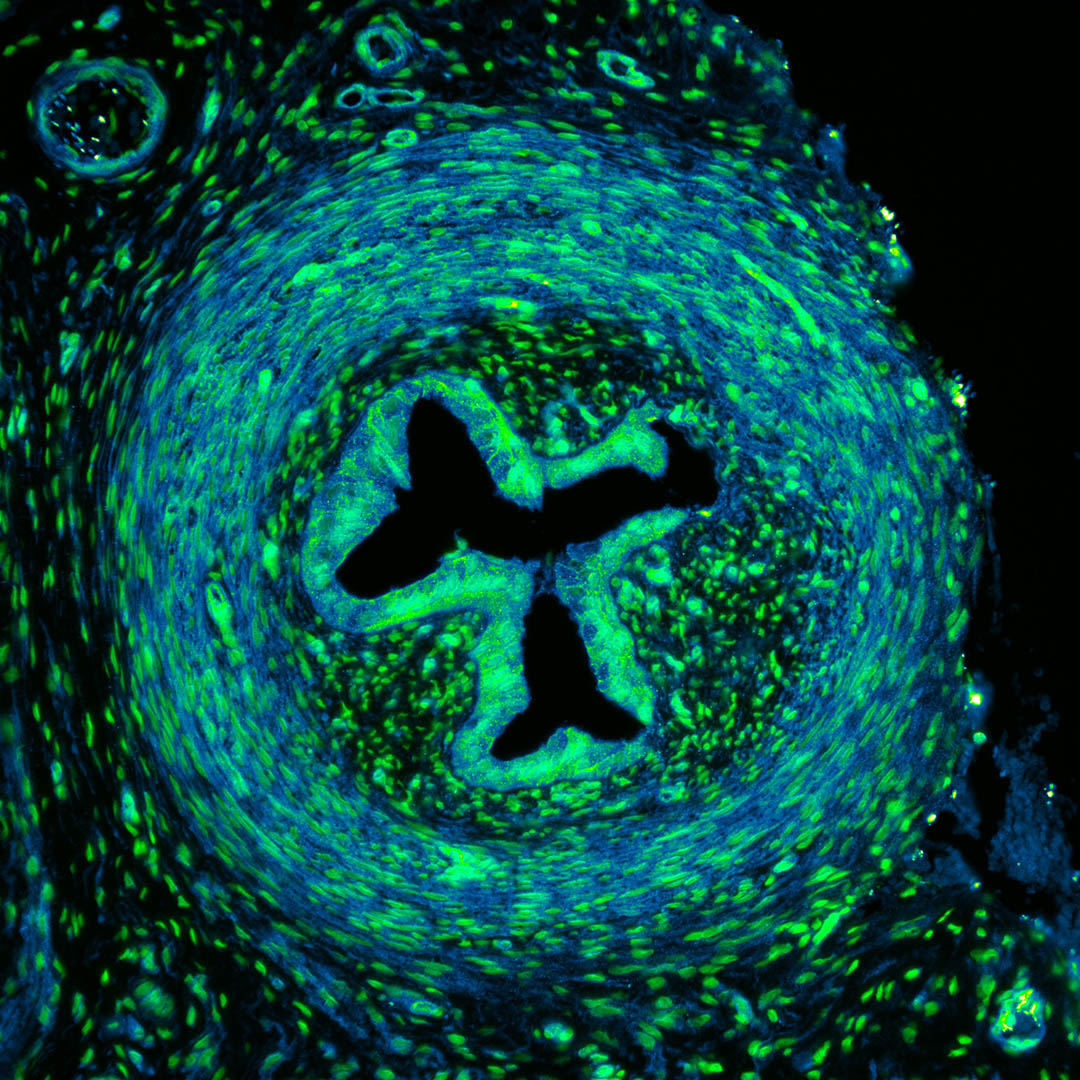 In 1966, the iconic biohazard symbol was designed to instil immediate fear in whoever saw it. Looking under the microscope, I found uterine tissue shaped like the biohazard symbol and I was immediately reminded of the fears people face during pregnancy. Preterm birth is the leading cause of newborn death, disability, and developmental delays. Despite these burdens, around half of preterm births occur due to unknown causes. In this cross-section of the uterus obtained by epifluorescence microscopy, proteins which may have a role in initiating labour have been made to fluorescently glow. By investigating these proteins, we can possibly learn to predict and even prevent preterm birth – helping to put an end to the hazards of pregnancy.
Funder: Natural Sciences and Engineering Council of Canada
From the Field: "Out of the Ashes"
Submitted by: Susanna Barnes, faculty member in archaeology and anthropology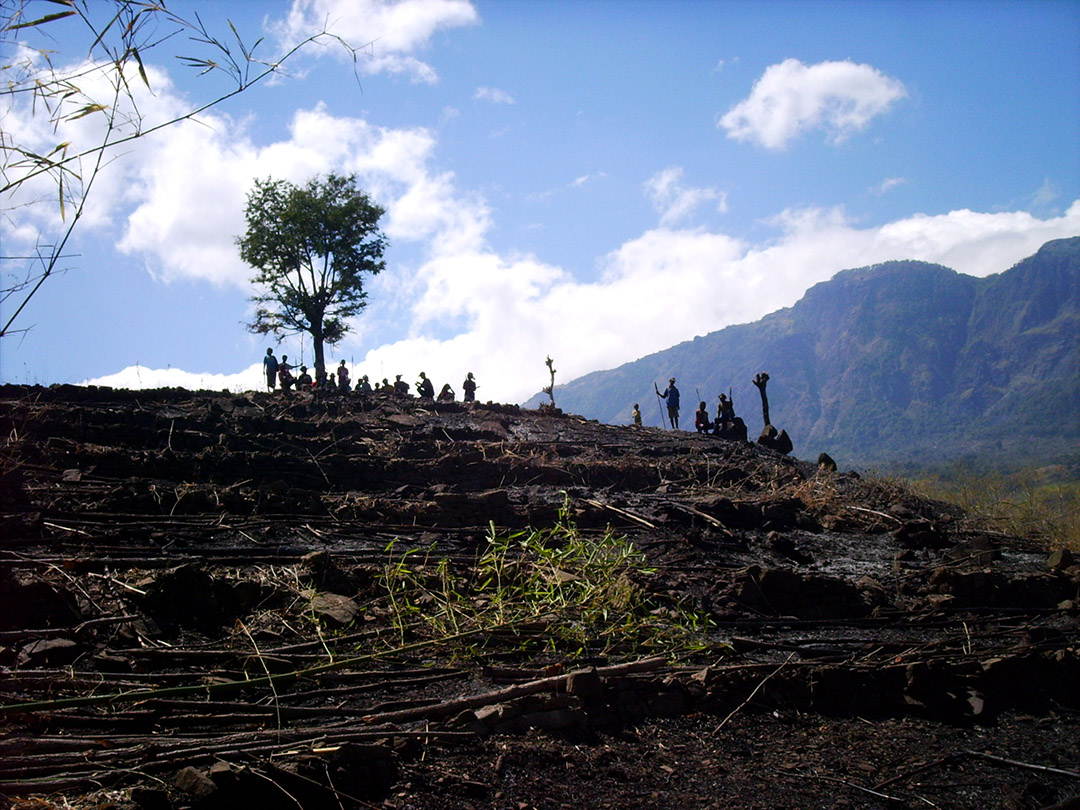 Over the course of three to five days at the end of the dry season (Aug-Sept) in Saburai, Timor-Leste, men, women and children are involved in the cutting and burning of grass and woody plants to prepare the ground for cultivation. As the community moves through the landscape, women and children gather berries and other wild foods, while men hunt wild pigs, civet cats and small monkeys. These are taken to a place called 'La Ta', where at the end of the burning period, called 'An Ini', a communal ceremony is held to pray for a successful planting season. Maligned and misunderstood, swidden agriculture is critical to the social, spiritual and material well-being of the community.
Funder: Australian Research Council
Community Impact: "A Lousy Problem – Literally"
Submitted by: Kayla Buhler, PhD student in veterinary microbiology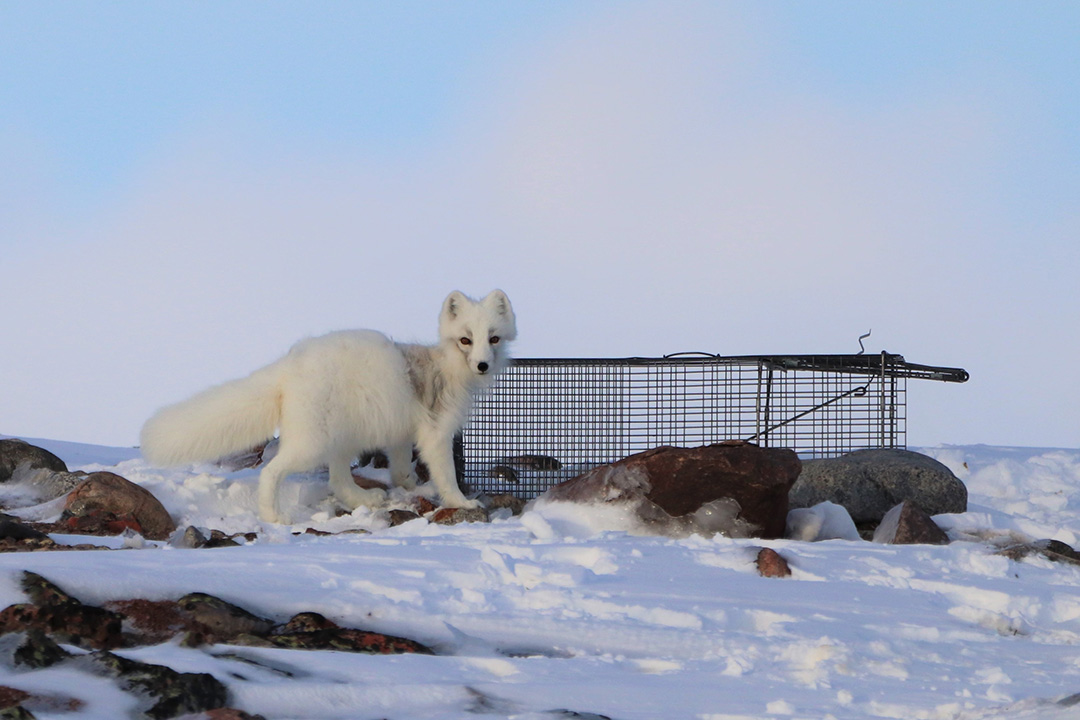 Back in 2019, I noticed Arctic foxes at my field site with strange fur loss. When the pandemic hit, I was unable to travel to the Arctic, but scientists and trappers from both Nunavut and Norway (Svalbard) were observing similar fur loss. In 2021, I partnered with trappers in Cambridge Bay and Gjoa Haven to identify the reason for this fur loss, as it impacts the quality of pelts. Turns out that it was a lousy problem! Literally, lice were recovered from foxes in Canada and Norway, which turned out to be a brand-new cryptic species that travels with foxes as they disperse between continents across the Arctic sea ice. An important find for northern trappers!
Funders: Natural Science and Engineering Research Council of Canada, Weston Family Foundation, ArcticNet and Polar Knowledge Canada
More Than Meets the Eye: "Gradient"
Submitted by: Phillip Harder, research associate in hydrology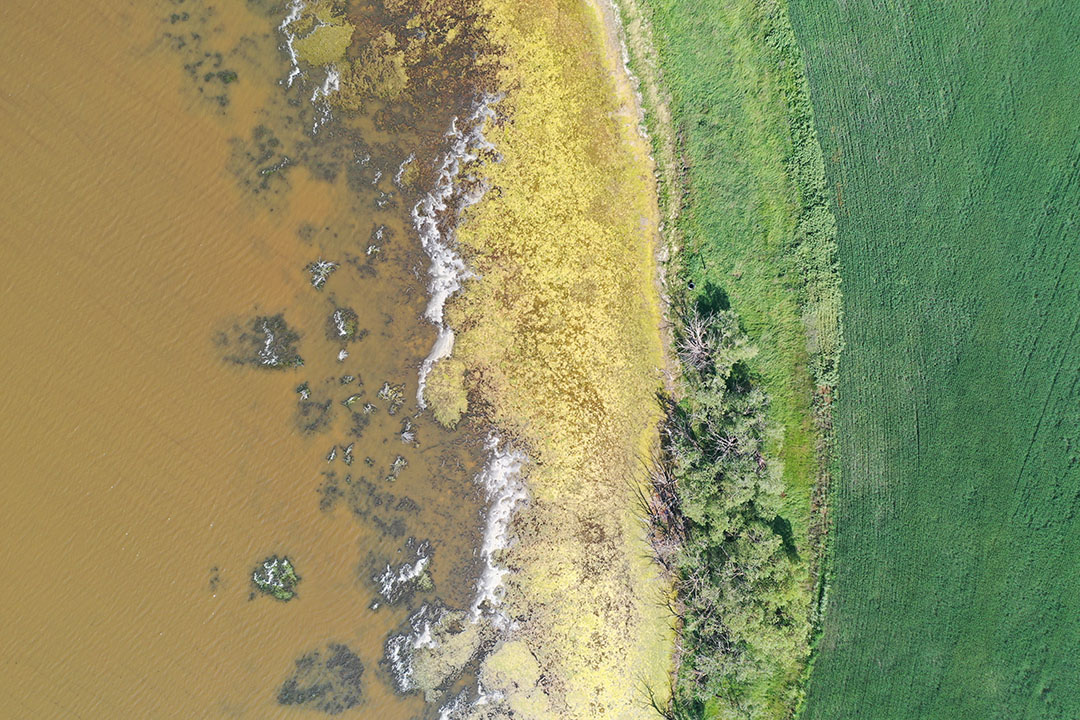 Our world is composed of gradients in time and space and how we manage our gradients will determine our future. The transition from cropland to riparian vegetation, to macrophytes, and to open water at a prairie wetland near Saskatoon emphasizes the tenuous interface between production agriculture and water quality and quantity impacts on the Canadian Prairies.
Funder: Global Water Futures
Arts in Focus: "Alternative Reality"
Submitted by: Narges Porsandekhial, master's student in fine arts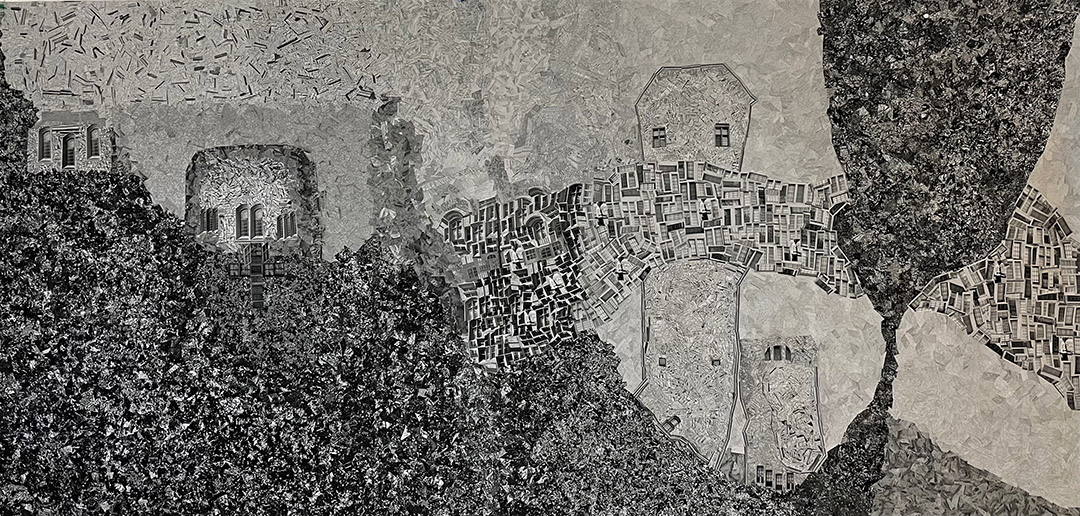 Searching for new ways of seeing the reality we live in, my research focuses on altered unavailable realities based on real-world material. I believe photography captures a fixed version of reality, events, and mistakes that once captured, cannot be changed or erased. Questioning the chaos and unfortunate events in our world, I chose to play with the concept of photography and reality. This piece includes thousands and thousands of two to three centimetres photography elements. I have photographed different regions of the University of Saskatchewan's campus, printed the photos, and tore them into thousands of tiny pieces. Symbolically tearing apart the reality and rearranging all of its components, I have created an alternative reality, out of the existing one. Though it doesn't exist, though it is fragmented, at least it's free of real-world modalities.
Research in Action: "The Elements Distribution in CDC Arborg Oat"
Submitted by: Ganqi Deng, PhD student in animal and poultry science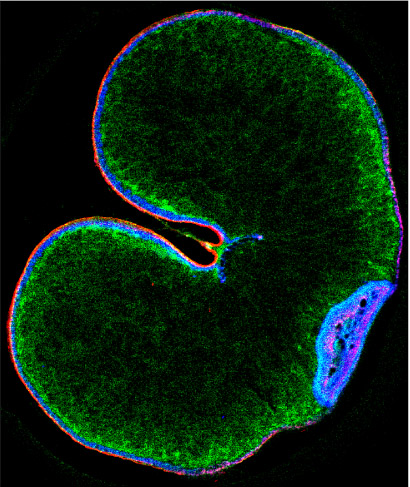 This picture shows the distribution of sulfur, zinc and manganese elements in Arborg Oat. These colours were co-plotted and their colour intensity adjusted to reveal co-occurrence of elements of interest. The green, blue and red areas stand for sulfur, zinc and manganese, respectively. Our study mainly focused on impact of oat varieties on elements distribution and differences of molecular structure, and we want to investigate the impact of oat variety and molecular structure spectral features on animal nutrition. Next, the relationship between differences of elements distribution, molecular structure, and degradation and digestion of oats will be studied.
Best Description: "Life Holds On"
Submitted by: Jordan Shirley, master's student in soil science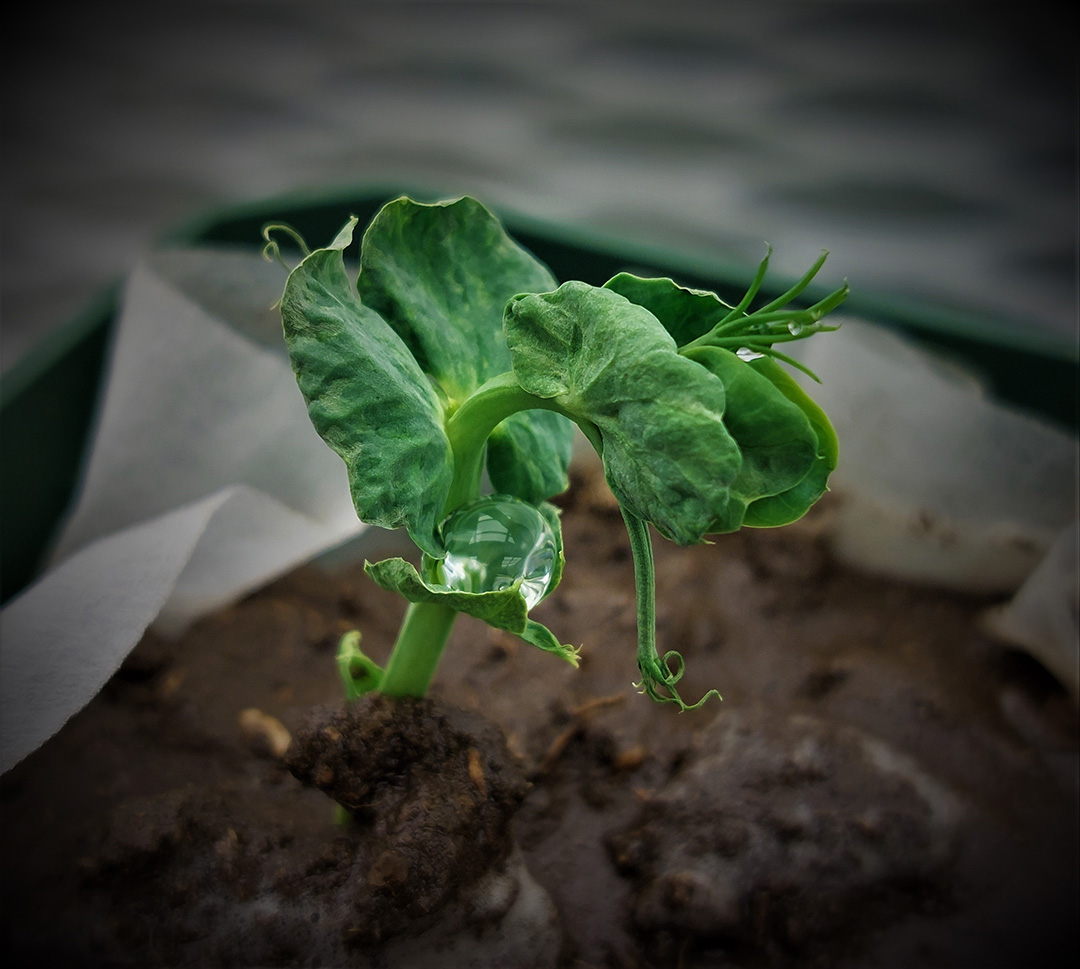 Here no heart is found – but there is a pulse. This young pea presents an opportunity to solve a world-wide pulse crop disease known as Aphanomyces root rot and improve sustainability within agricultural practices. Dwelling among the roots of this plant are symbiotic nitrogen-fixing root bacteria which are being evaluated as potential biotechnological tools to thwart disease without the need for chemical application. By studying interactions among beneficial microorganisms in the rhizosphere and harmful plant pathogens we may learn – from the ground up – novel ways in which to improve our world.
Viewer's Choice: "Mutual Gratitude – Exchanging Caring"
Submitted by: Michele Monroy-Valle, PhD student in nutrition epidemiology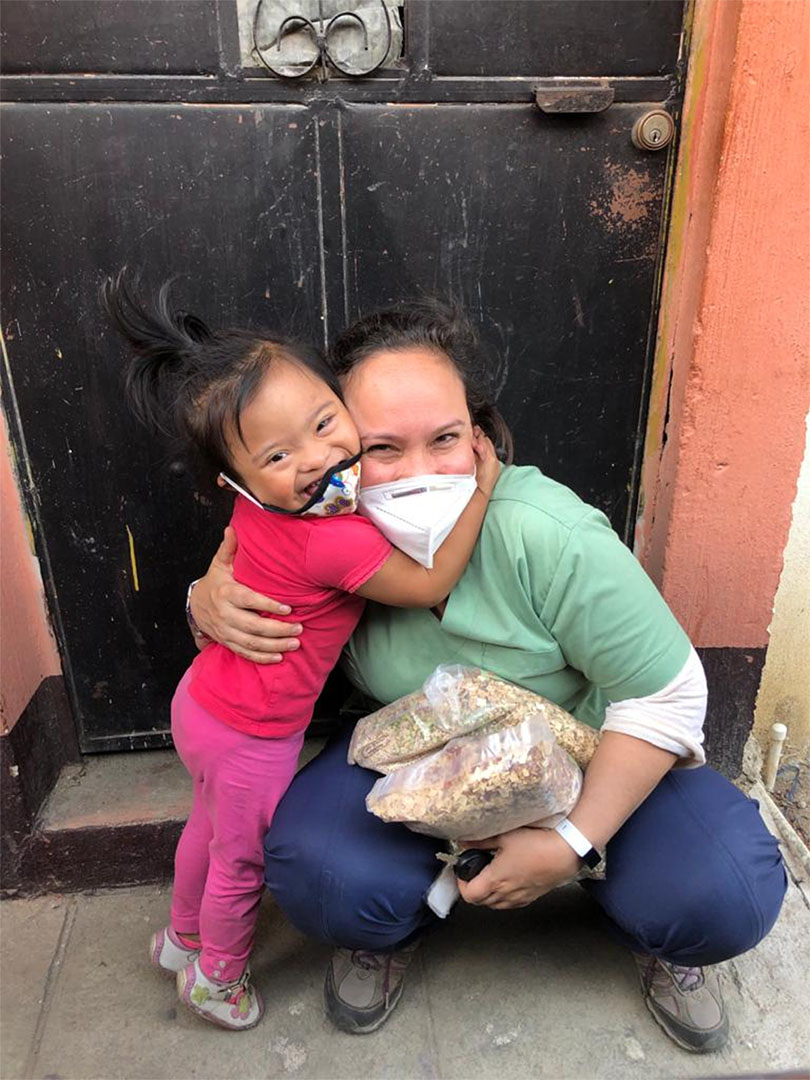 While collecting data in Chichicastenango, Guatemala, we learned about the struggle of participant's families to put food on the table because of COVID-19 restrictions. Therefore, I organized donations for food hampers, and soup mix packages. I was lucky to receive donations from people from USask that know my project, friends from Guatemala, neighbours, and local Canadian aid organizations. In the picture, a participant with special needs is incredibly happy and grateful to receive her donation. We need sustainable solutions to assure food security in the population, but these hampers help to alleviate two weeks of food scarcity for the families. I am grateful that the people from Chichicastenango welcome and trust me to collaborate with them during the pandemic lockdown.
Funder: Canadian Queen Elizabeth II Diamond Jubilee Scholarship