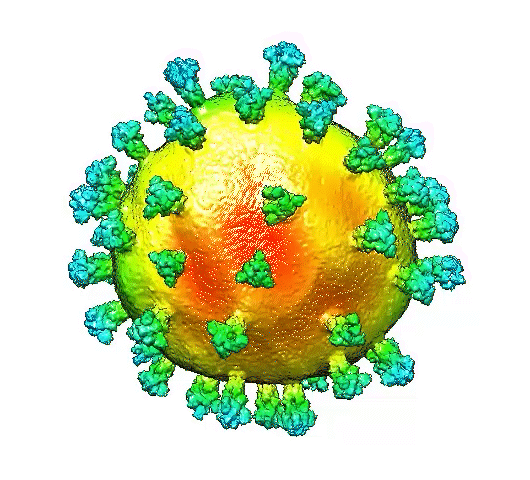 The virus that causes COVID-19, known as SARS-CoV-2, attaches to cells in the human body via spike proteins. These spikes allow the virus to infect cells, following which the virus replicates itself and spreads throughout the body. The spikes contain molecular structures called disulfides—pairs of sulphur atoms bound together—that may be important for holding the spikes in the correct shape for cell infection to occur.
With this knowledge, the research team investigated an important question about the SARS-CoV-2 virus: If the spike disulfides are disrupted, would this allow the virus to lose its ability to cause infection?
This research question was answered through research conducted by two USask research associates, Dr. Andrey Grishin (PhD) from the College of Medicine and Dr. Nataliya Dolgova (PhD) from the College of Arts and Science. The idea was first tested in computer models, with collaboration from Dr. Olivier Fissette (PhD) at USask Advanced Research Computing, and then verified in live virus tests by Dr. Darryl Falzarano (PhD) and Shelby Landreth at the USask Vaccine and Infectious Disease Organization.
The overall team involved a collaboration between three Tier 1 Canada Research Chairs—College of Medicine professor Dr. Miroslaw Cygler (PhD) and College of Arts and Science professors Dr. Ingrid Pickering (PhD) and Dr. Graham George (PhD).
"One of the many disulfides in the spikes seems to be very important in holding the spikes together, and breaking the disulfides disrupts viral infectivity," said George. "It might be the basis of a new treatment, and should work for any future virus variants."
George notes that—with only the current research to go on—any treatment agents developed would have to be given in high doses, but this finding could lead to further work that aims to disrupt these important viral structures, and thus render the virus less infectious.
"As the pandemic rages on, USask researchers continue to respond to this crisis with the research the world needs," said USask Vice-President Research Baljit Singh. "Fundamental breakthroughs like this offer hope and solutions that can help us not only survive, but thrive, as we emerge from the shadow of COVID-19."
The team is planning future investigations into the specifics of a potential treatment that would disrupt the important viral structures necessary for COVID-19 to persist.
The research was supported by the Canadian Institutes of Health Research, the Natural Sciences and Engineering Council of Canada, the Canada Research Chairs program, and the University of Saskatchewan.
Full publication can be found here.