And, as the findings of a new national survey by the University of Saskatchewan (USask) Canadian Hub for Applied and Social Research (CHASR) suggest, nowhere in Canada is the sentiment stronger than in the Prairie provinces, where nearly one in five respondents feel they have little to no freedom of speech.
Manitoba, Saskatchewan and Alberta respondents were also more likely than fellow Canadians to believe they should be free to express their views without any limits. This attitude is more in line with the American First Amendment that protects almost all speech, unlike Canadian law that places "reasonable limits" on free expression, including a ban on hate speech.
With 31.5 per cent of respondents from the three Prairie provinces identifying themselves as right-leaning or very right-leaning, the findings are unsurprising because such political attitudes are intertwined with demands for unrestricted speech, said CHASR director Jason Disano.
"I think our conservatism is showing through in these data," he said. "It's coming through in a variety of indicators and questions we asked in this survey."
Taking the Pulse of Canada, a quarterly national survey CHASR conducted for The Canadian Press, contacted 1,000 Canadians via landlines and cellphones between June 1 and June 27. The results yield a margin of error of +/- 3.08 per cent nationally 19 times out of 20, meaning the survey results can be considered reliable 95 per cent of the time.
"We decided to ask about freedom specifically, given (Conservative leadership contender) Pierre Poilievre's campaign focus on the word and other recent events," said Disano. "It would be relevant to find out if people truly feel free, as opposed to the rhetoric coming out of campaigns."
Nationally, the majority of respondents (85.9 per cent) believe that Canadians fully or somewhat have freedom of speech. However, 18.5 per cent of respondents on the Prairies said they have little or no freedom of speech, a significant difference in comparison to 5.4 per cent of Atlantic Canadians and 8.2 per cent of Quebecers who feel the same, Disano said.
"If this was just a Saskatchewan survey or even a Prairies-only survey, the results would be very different," he said. "It's the large centrist group in Ontario and the numbers from Atlantic Canada and Quebec that moderate the results to some extent."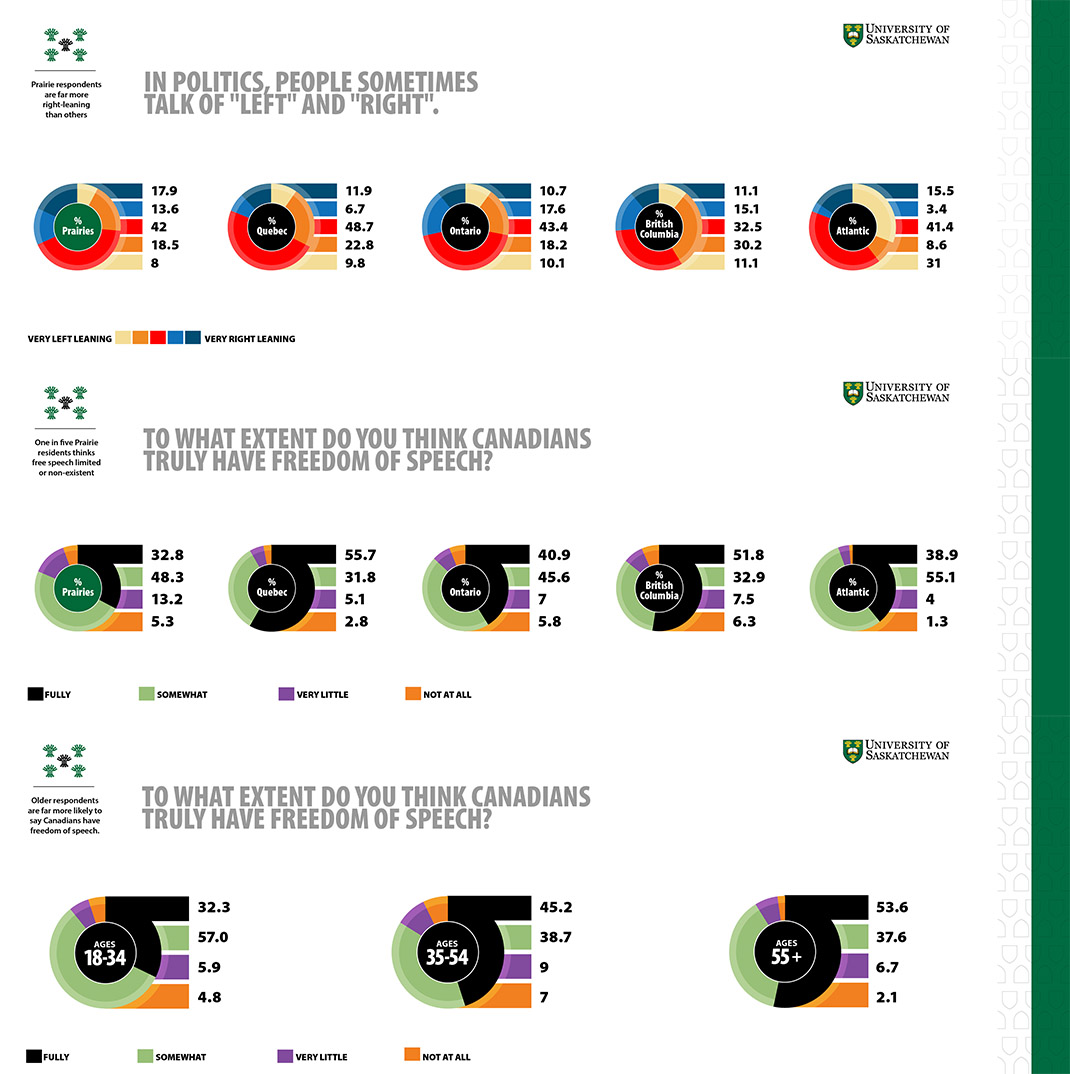 Among other survey highlights:
Nationally, 24 per cent of respondents

who identify as more right-leaning politically believe Canadians have very little or no freedom of speech, compared to 3.1 per cent of respondents who identified as left-leaning.

Three-quarters of respondents feel comfortable expressing their political opinions in public, while 7.1 per cent of women and 7.9 per cent of men feel very uncomfortable doing so.

Older people are more likely than younger people to believe Canadians have greater freedom of speech. Among those under age 35, 10.5 per cent think Canadians have very little or no freedom of speech, while the figure is 15.9 per cent for those aged 35-54, and 8.7 per cent for people over age 55.
Left-leaning respondents were more likely to support government and private corporations intervening to limit the spread of misinformation and hate speech.
Older people (over 55) and women were more likely to support government intervention.

Quebec respondents were more likely to support interventions to restrict the spread of misinformation and hate compared to those in Ontario, British Columbia, and on the Prairies.

Women are also more likely than men to support Canada's restrictions on free speech, with 19.3 per cent of men saying there should be no limits and 9.8 per cent of women supporting no limits.