She was the first Indigenous or Métis intern to work at the mission and took some time to talk about her experience bringing a unique perspective from her historical research activities at the University of Saskatchewan (USask) to the world stage.
Tell us about your recent internship experience.
It started off virtually in the middle of January and continued until mid-March when I got to go down to New York City. My time was then split between working in the office at 45th and Lexington, right off Grand Central Station where the Permanent Mission is situated, and the UN headquarters.
During my time working on the Legal, Social, and Human Rights team, I worked on UN high-level events such as the Economic and Social Development Council, as well as the 66th Commission on the Status of Women. This year's theme of the Commission on the Status of Women was climate change, which was especially interesting from a Canadian perspective as we really wanted to reinforce the role of Indigenous women on this topic. To do this, we hosted a side event co-sponsored with Finland. We had a panel discussion that included Sámi, Inuit, and First Nations participants who focused on northern affairs in their respective countries.
Next, I worked a little bit on the Open-Ended Working Group on Aging, then in contrast, the next week I was working on the Youth Forum, where as an intern at the mission, I was representing Canada.
Following the Youth Forum, I worked on the Permanent Forum of Indigenous Issues. This was how I ended my time in New York and I could not have ended it on a better note. Though it was a hybrid event, this was the first large event at the UN where they invited back civil society participants and non-government organizations, and of course, Indigenous groups. This is where I had the incredible opportunity to meet people like National Chief Archibald from the Assembly of First Nations and President Caron from Métis National Council.
How did your work at the mission relate to your studies and research here at USask?
My studies have been Métis-focused and focused on Métis feminism. Though there are Métis people all over the world now, the only federal Indigenous recognition of Métis people is in Canada. I previously worked for the Métis Nation of Alberta and had a provincial understanding as well as a wider understanding of Métis politics federally, but the internship provided an opportunity to see how things worked on an international level.
As a historical researcher exploring the contributions of Métis women in the establishment of Métis people in the Red River region, it made me realize that my work is important to not only myself, but to our people, and that this lack of women's representation in our government bodies on an international level isn't something new, but is something that is changing.
I was really proud not only to be able to bring my voice to the table, but also to see the voices of women like Chief Archibald and President Caron and other Indigenous women who were at the forum as well. It was really inspiring.
What attracted you to the opportunity and how did the experience broaden your perspective?
Reflecting on my studies and the Department of Indigenous Studies here at USask, we have great representation from Indigenous peoples across Canada, but also across the world. People like Simon Lambert, who is Māori, and peers from Indigenous communities in Norway, Asia, and Latin America. It struck a chord with me how much we have in common internationally. A lot of our struggles, despite geographical differences, are struggles that we share globally.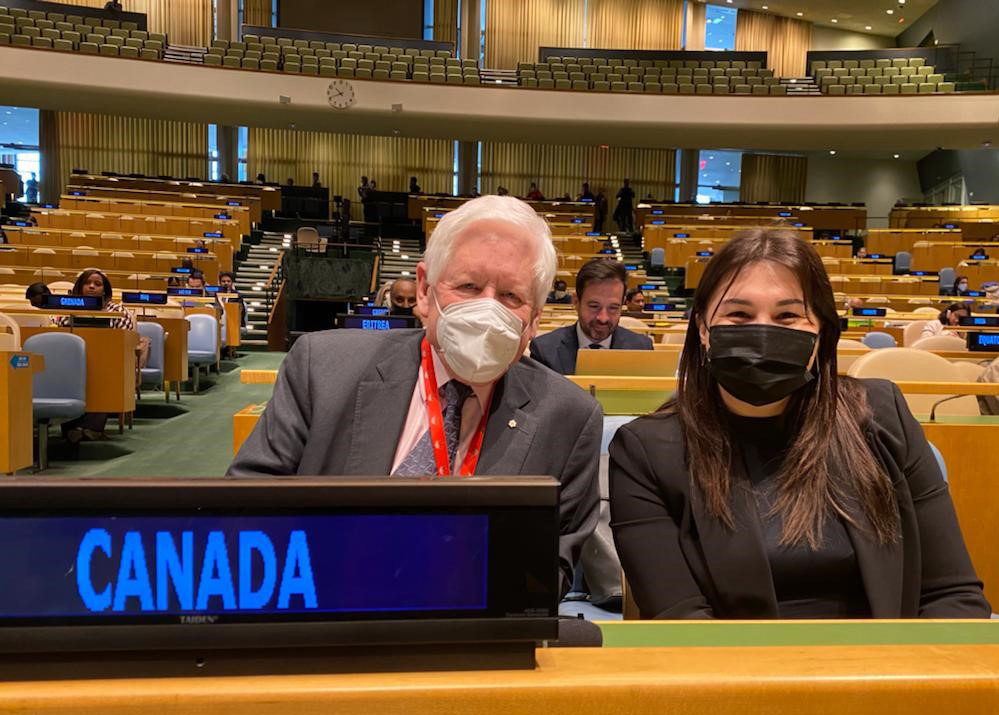 Is there a particular moment or memory from the experience that stands out?
The Indigenous Forum as a whole was just a phenomenal experience, but there was one particular moment when we were at the permanent mission office building. It's this beautiful building on the 20th floor. It has all this artwork throughout. I was talking to President Caron, which in and of itself is incredible, but we were talking about the similarities in our families as Métis people often do, and it really stuck with me because she's a young Métis woman too. Who would have ever thought that these two Métis girls from the Prairies in Canada, which is so often overlooked on the international scale, would be here representing Métis people? We also had a Métis Elder from Saskatchewan at the Forum, and there was such a generational power that I felt in that moment.
I felt very hopeful in that moment like I was meant to meet her, and we were meant to be there together. I can't speak for her, but it was definitely something I will remember.
I would really encourage people, especially Indigenous people from the Prairies and from Western Canada, to really try to engage with these opportunities because the government is pushing for this agenda of reconciliation and enhanced participation. It was a fantastic experience and even if it's not something at the Permanent Mission of Canada or the United Nations, there are so many federal government student opportunities that can help get your foot in the door and provide further opportunities in the future.