"I don't fit into any box. I do interdisciplinary work and because of that, I'm connecting all these different pieces and I find the work to be super exciting," said Kelln, assistant professor in the College of Agriculture and Bioresources and the Beef Industry Research Chair in Integrated Forage Management and Utilization at the University of Saskatchewan. She holds a joint appointment in the departments of Plant Sciences, and Animal and Poultry Science.
"Connecting the dots between the soil, the plants and the animal is so needed from an industry perspective. And when I say it's important for industry, who is industry? It's the guys and the gals feeding cows in minus-40 weather. It's our duty to provide them with the resources to do that properly and efficiently and profitably. It's also our responsibility to help them tell their story, especially when the environment comes into play."
Kelln has been connecting her own dots for years. After high school, she wasn't interested in attending university but her mom enrolled her anyway. She quit school at Christmas, got her Class 1A truck driver licence and started driving a super-B truck hauling grain and fertilizer across the Prairies.
"More than 20 years ago, that was quite unique – a single woman driving a super B," she laughed.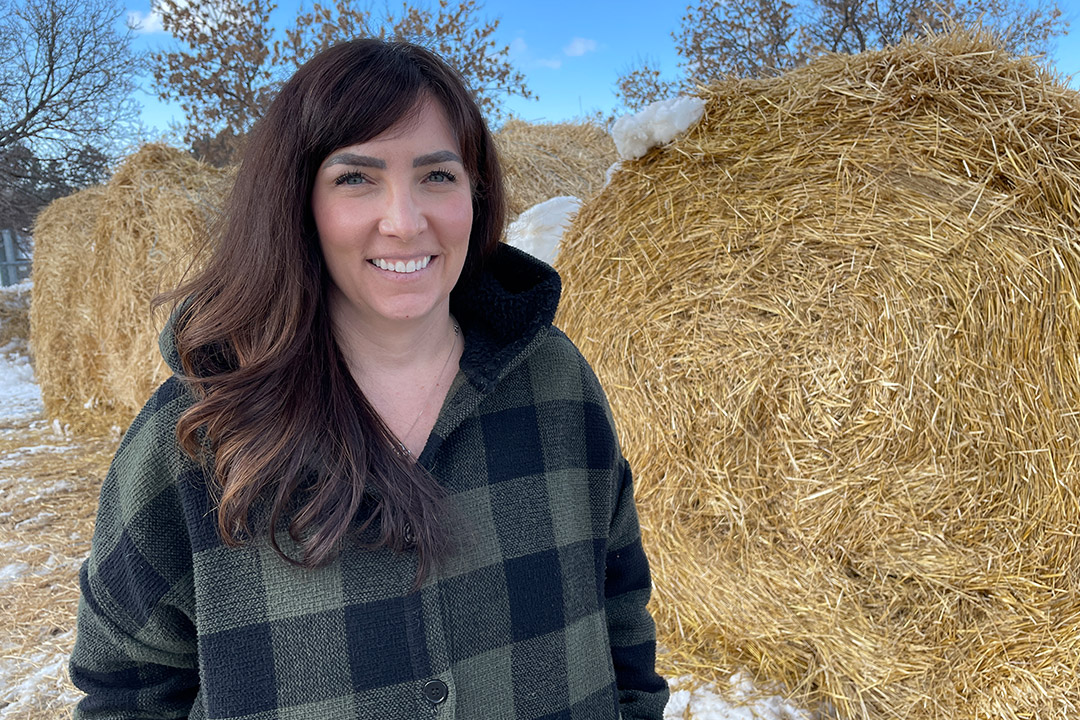 While it was a good life for a couple of years, Kelln knew it wasn't what she wanted as a career. Because she thought she wasn't smart enough for university, Kelln applied to attend Lakeland College. It wasn't long before she realized two things: she was smart enough because she is a hard worker and she fit in with other students who were also interested in the livestock industry. After her first year, she transferred to USask. At the university, she studied under Dr. Bart Lardner (PhD), completing her fourth-year project looking at winter feeding options for cattle. That, in turn, led to a more in-depth look as a master's student in her thesis, The effects of winter-feeding systems on beef cow performance, soil nutrients, crop yield and system economics. She completed her master's degree, also under Lardner's supervision, in 2010.
"I caught the research bug. Research really is the forefront of knowledge. We got lots of traction with that extensive winter-feeding research. I was able to do presentations on our research and be a real service to producers by teaching them what we learned."
Lardner encouraged her to get a job in industry before starting a PhD program. For almost 10 years, Kelln worked as an agronomist for various companies helping producers find ways to grow crops more efficiently and profitably while protecting the environment.
Meanwhile, Kelln and her husband, Greg Hill, were building their farm near Duval, Sask., about 90 km north of Regina.
Although they were both raised on farms, their operation is akin to a startup. Because they didn't inherit any land or cattle, they have purchased all their land from family and neighbours. Over the years, they grew their land base and cow herd to 1,000 head. They disbursed their cow herd in 2019 and have diversified their operation from strictly a cow-calf operation to a mixed farm with a small cow herd, tame and native forages, grain crops including oilseeds, cereals and pulses, and even a commercial laying hen barn built in 2020.
"We laugh about where we are as a family. We are great business partners. Greg's the hands-on partner and pushes for constant growth of our operation. I'll drive truck, but I'm not that involved in day-to-day operations. I enjoy helping with planning and management of the farm, but I don't want to be on the farm full-time. While I love being involved in our farm, I need my own thing."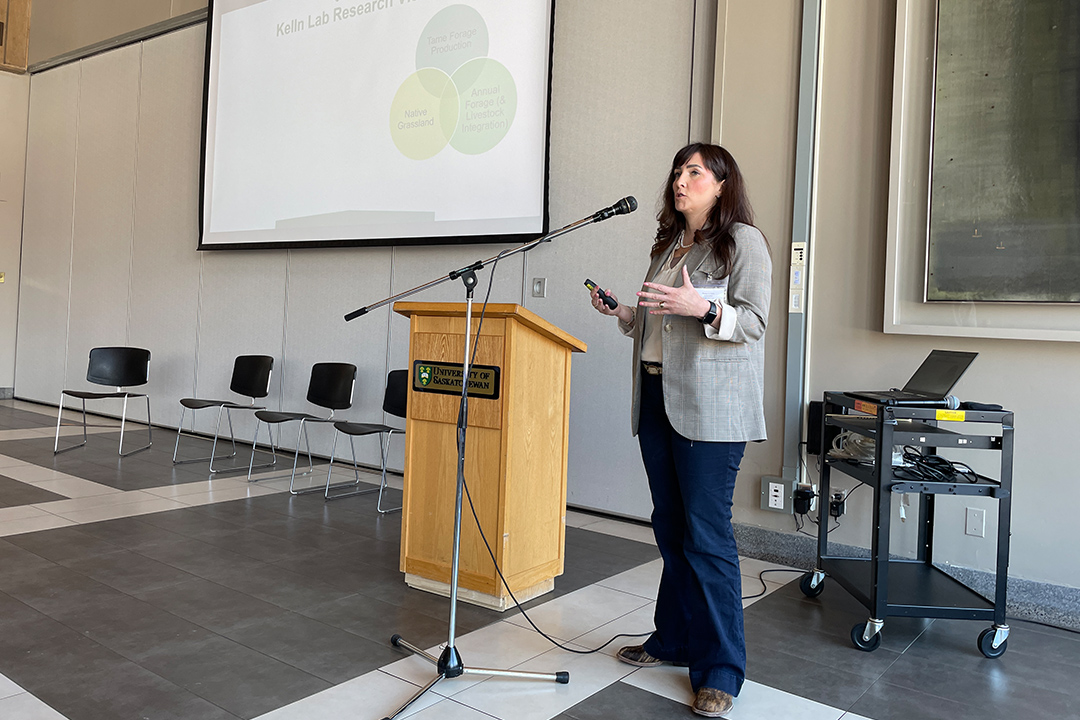 Kelln defended her PhD thesis, Improving grazing capacity through introduction of bloat free legumes in existing pasture stands, in August 2022. But she is quick to dismiss the notion that she's the brain and Greg's the brawn.
"I learn so much more from Greg most days of the week because his knowledge of the cow-calf business and of how our farm works is incredible. This is his life's work."
It's a perspective Kelln takes when she is talking with cattle and forage producers.
"When I go to give a talk, I'm likely going to learn just as much, if not more, from the people sitting in the audience than I am able to teach them. It's a humbling experience."
Kelln divides her time between research, extension and, starting next year, teaching. All three are connected and feed into each other. Sometimes researchers drive change as they test out new ideas but sometimes it's the producers driving the change. Early adopters and innovators in the cattle business will often try something new even to researchers. And then the researchers are catching up, testing out the ideas to determine if they warrant a change in practice.
"Let's put some numbers and stats to what those early adopters are doing so we can understand exactly what's happening on farm. That's really important so other producers can decide whether they are going to adopt that practice or not, or maybe the early adopters are on the right track and we can tweak it a bit and make a good idea even better.
"Going back to my husband, I use him somewhat as a litmus test in terms of what are good ideas and what are practical ideas, what is easily implemented. In my role at the university, I want to expand and talk to all kinds of producers to find out what they are doing, what they are needing. Let's work together to benefit the industry."
Kelln becomes animated when talking about her research ideas.
"The fun part is starting from scratch with a question, working it through a project and then being able to deliver that information to the producers. The future is now. The research that I want to do is research that's going to be applicable and make a difference on farms now with best management practices and blueprints that producers can take to their farms."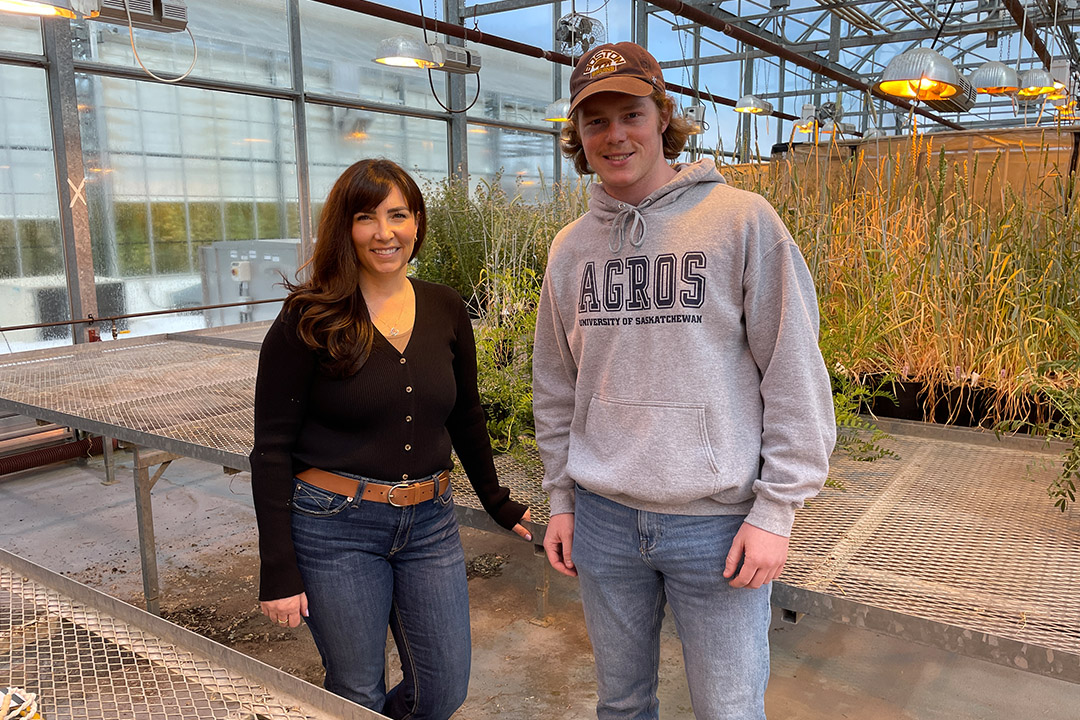 Kelln will be supervising a master's student starting this spring. Leading the team that includes soil scientist Dr. Jeff Schoenau (PhD) and plant scientist Dr. Bill Biligetu (PhD), Kelln and the others will work together to determine the optimal seeding rate for legumes when a producer decides to sod-seed a pasture in need of rejuvenation or seed a mixed species forage blend. It seems like a basic question, but it's one that hasn't been answered. If rejuvenating pastures is important, and it is, it's equally important to provide guidelines based on science on how to do that, says Kelln.
The issue is critical. Beef and forage producers are facing higher land prices and using fewer acres for hay and pasture. Between 2011 and 2016, hay and pasture area in Canada declined by 1.1 million hectares as farmers converted land to annual crop production. Much of the land that is used for perennial forage is becoming less and less productive with yields decreasing. From 1980 to 1990, the 10-year average was 2.2 tons per acre compared to the average over the past 10 years, 2012 to 2022, which was 1.7 tons per acre.
"It's essential to have healthy forages. Forages are providing a feed source for cattle, which is incredibly important to grow our industry, but they are also providing ecological goods and services, they are providing habitat for endangered species, they are providing environmental benefits."
The Beef Industry Research Chair in Integrated Forage Management and Utilization was established in response to concerns raised by the beef and forage industries. Funding for the chair comes from a variety of organizations including the Beef Cattle Research Council, the Saskatchewan Cattlemen's Association, the governments of Canada and Saskatchewan through the Canadian Agricultural Partnership, and the Global Institute for Food Security at USask.
If producers on the Prairies are going to increase beef production, they will need to feed their animals.
Kelln is eager to help.
"I'm not a patient person," she laughed.
"Nothing is ever happening fast enough for me. I feel a huge responsibility and I want to deliver on this."