Drama and arts students, alumni, and faculty from the University of Saskatchewan (USask) are part of a team representing Canada in an international art festival and competition in Prague.
USask students and recent graduates worked with artistic teams from a group of 14 post-secondary schools across Canada on a project for the Student Exhibition at the Prague Quadrennial of Performance Design and Space (PQ), a prestigious event held in the titular city every four years since 1967. The event was started to bring theatre design and scenography to the forefront.
Professor Carla Orosz, head of the USask College of Arts and Science's Department of Drama, is one of the three curators of the Canadian team heading to the Czech Republic this summer. She called participating in PQ a tremendous opportunity for both students and USask itself.
"I hope (the students) see a lot of theatre and a lot of art and realize there's no one way to do it," she said. "This is an opportunity for students to look at their work and feel a value in the education they're receiving here, knowing they're able to compete on an international stage."
The theme of the exhibition chosen through conversations and interviews with students across Canada is water security. Titled Troubled Water / Eaux Troubles, the project being brought to Prague is a multidisciplinary piece including aspects of sculpture, painting, music, theatre, and more.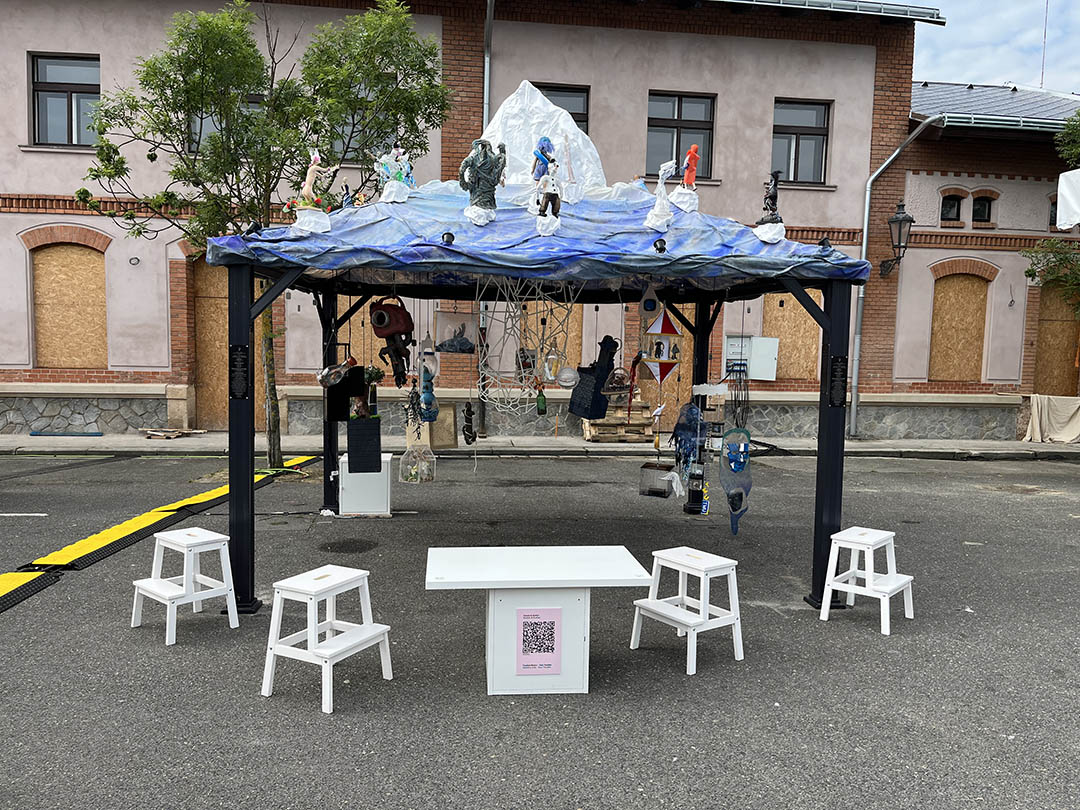 Per Orosz, the main "gazebo-like" structure is meant to invoke the idea of an iceberg, with other art pieces attached above or suspended below the structure's roof to symbolize thoughts and ideas that are either visible and talked about, or metaphorically "below the surface" when it comes to water security.
Six USask undergraduate students and two recent alumni contributed artwork to the exhibit. In addition, 20 USask students will be travelling to Prague to perform and engage with the public for the Canadian exhibition. Overall, around 150 students from across Canada will be participating in the exhibition at PQ.
Orosz spoke glowingly about the students' dedication to creating something that reflected ideas of water security and access to clean water in Canada, as well as their eagerness to collaborate with like-minded students from across the country.
"I feel pure pride for what USask does," she said. "It's an international stage, we're showing off the work to the rest of the world, but it's also important to show off to the rest of Canada."
In addition, Dr. Graham Strickert (PhD) with USask's School of Environment and Sustainability, and the Global Institute for Water Security, spoke to the students involved with the project about being mindful and thoughtful about the topic their artwork is focusing on.
USask has identified water as one of its signature areas of research that garners the university recognition and distinction around the world. Orosz and the students taking part in the PQ exhibition are shining a light on that focus in a unique and interdisciplinary way.
"What's important about these kinds of connections between art and science is that we're collaborating and feeding off of each other," Orosz said. "We're showing that scientists are hearing from us and thinking about new ways to approach their work, and we think about new ways to approach ours."