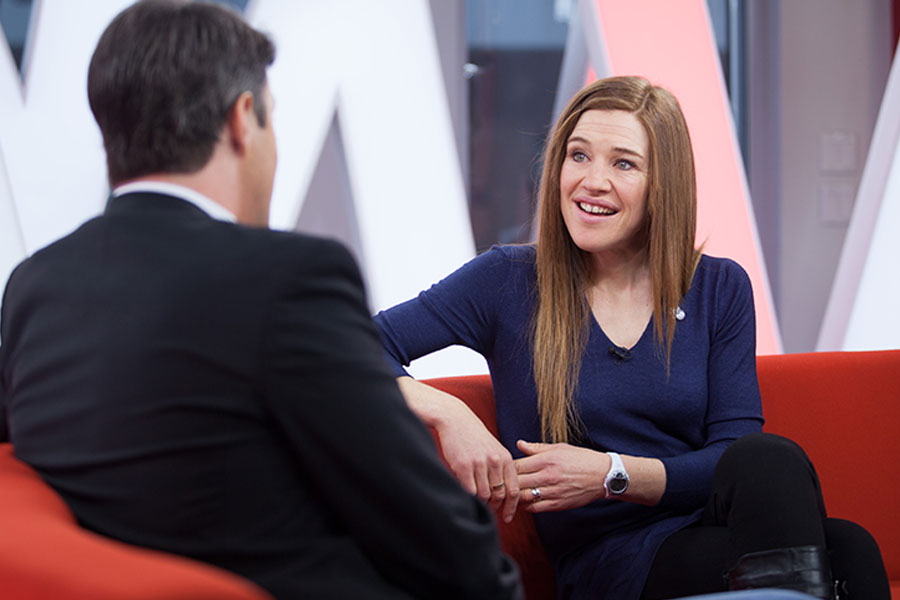 SASKATOON - Canadian Olympian Clara Hughes will speak to University of Saskatchewan students and the public about mental health this fall.
The event will be held in the Sid Buckwold Theatre at TCU Place on Tuesday, Oct. 6, at 6:30 pm.
The College of Pharmacy and Nutrition's annual fall professional development event has been opened up to the public this year in the college's effort to reach out to the Saskatoon community and engage people on important health issues. The event has traditionally been student-driven, but the college and the Saskatchewan Pharmacy and Nutrition Students' Society (SPNSS) have partnered to create an event that is open to the public and addresses an important healthcare issue.
"Mental health is something that not everyone knows how to talk about," said Darren Bogle, the SPNSS member co-leading the project. "Whether or not you are in healthcare, it can be hard to know how to start the conversation. We can only learn so much in the classroom, and we know that other colleges face the same challenge, so we are working to make sure as many people attend as possible."
"We want to make sure the event is accessible to anyone who can benefit from it," said Kishor Wasan, dean of the College of Pharmacy and Nutrition. "As future pharmacists, our students have the opportunity to help people on the frontlines of the healthcare system, so let's give them the tools to do it effectively and with confidence."
Hughes is the national spokesperson for Bell Canada's Mental Health initiative and the 'Let's Talk' campaign. By sharing past struggles with depression, she has helped break down the stigma associated with mental illness.
Tickets for the event will go on sale at 10 am on Tuesday at tcutickets.ca for $25 each, with proceeds supporting the Bell Let's Talk campaign.
-30-
For more information, contact:

Kieran Kobitz Communications Specialist
College of Pharmacy and Nutrition
University of Saskatchewan
306-966-2502
kieran.kobitz@usask.ca