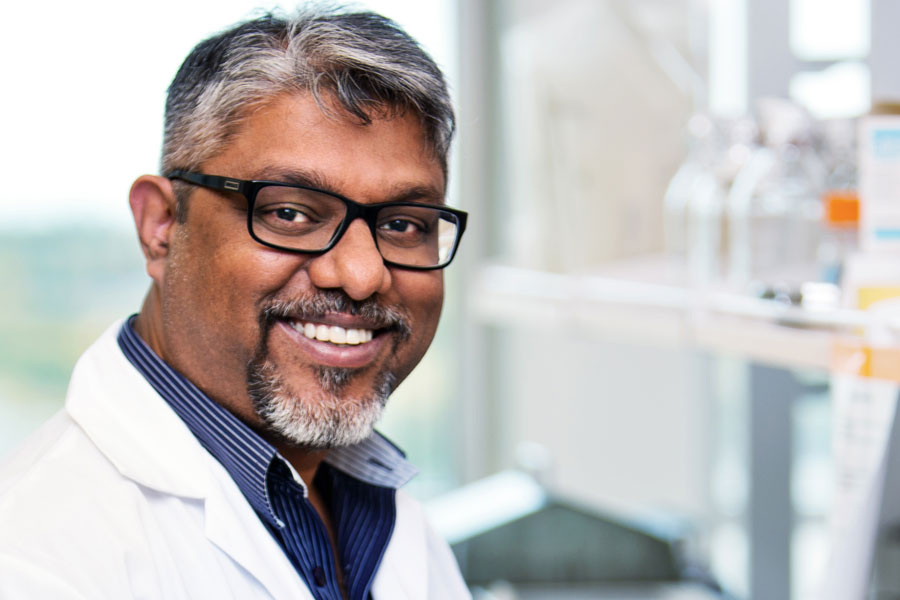 Franco Vizeacoumar, a research oncologist with the Saskatchewan Cancer Agency, leads the team, which is working to take advantage of "synthetic dosage lethality," a condition where one or both of a pair of genes is mutated in cancerous tissue, and possibly made vulnerable to drugs.
"This will allow us to identify drug-able targets that can selectively kill only the tumour cells and not the normal cells," Vizeacoumar said.
Such therapies would be particularly valuable to patients whose cancer no longer responds to standard treatments that lower male hormones, chiefly testosterone, via either chemical or surgical castration. There are few treatments to deal with such cases.
"If successful, this project will trigger development of personalized therapies for castration-resistant prostate cancer," Vizeacoumar said.
Vizeacoumar is collaborating with fellow research oncologist Andrew Freywald in the U of S College of Medicine to validate potential targets in animal models.
The grant is among 14 awarded to Canadian researchers across the country through the Movember Discovery Grants program.
"While we continue to make important strides along the more well-established avenues in prostate cancer research, we must also continue to explore novel approaches," said PCC Vice President of Research, Health Promotion and Survivorship, Stuart Edmonds. "With this new funding, we are generating new knowledge with the aim of uncovering new hope for the one in eight Canadian men who will be diagnosed with prostate cancer in their lifetime."
-30-
For more information, contact:

James Shewaga
Media Relations Specialist
University of Saskatchewan
306-966-1851
james.shewaga@usask.ca