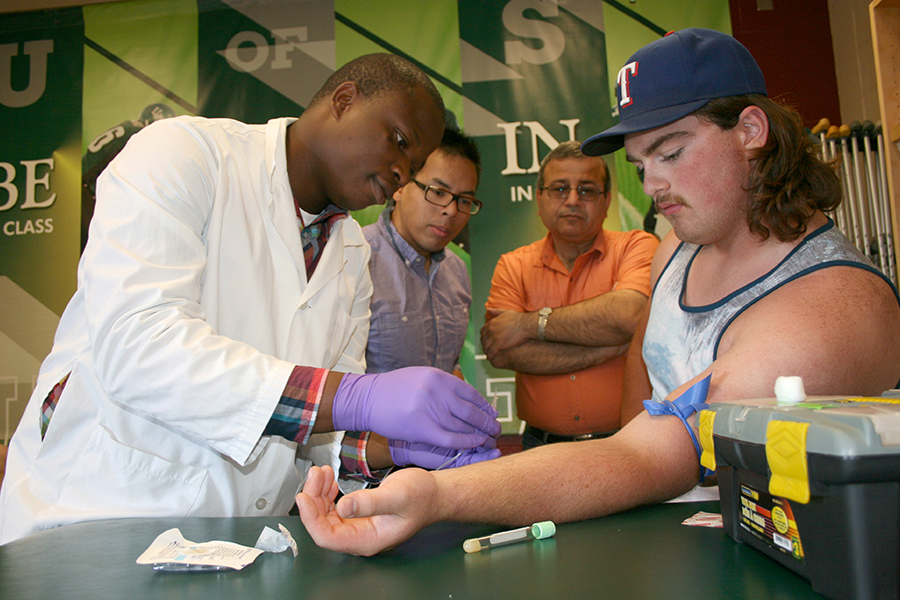 "A meaningful, non-biased, and easy-to-use diagnostic tool is urgently needed," said Changiz Taghibiglou, the pharmacology researcher in the U of S College of Medicine who is leading the effort, together with collaborators from Harvard University and the University of Toronto. "This is true not only for mild traumatic brain injury, but also to guide treatment strategies in moderate and severe cases where current methods don't provide the physician with much guidance."
The test is based on
protein biomarkers
that Taghibiglou's research team (including PhD student Nathan Pham) has identified as being closely associated with head trauma. Early studies indicate that high levels of one of these biomarkers, cellular prion protein (PrPC), show up in the blood soon after a concussion.
A test based on these biomarkers would detect a concussion early - perhaps even by paramedics at an accident scene or by a team physician on a sports field. This knowledge is critical, since patients can have few symptoms initially but still be at risk of dangerous complications or death if they don't receive proper treatment, or worse, get hit again before they are fully recovered.
"Saskatchewan has a rich history of innovation, and that history continues today, with advancements being made in energy, agriculture, and health care," Saskatchewan Minister Responsible for Innovation Jeremy Harrison said. "We are proud to support the CDRD Saskatchewan Innovation Fund that is investing in this important work, and look forward to many more health and technology advancements that are to come."
Taghibiglou and his team have partnered with CDRD, Canada's national drug development and commercialization centre headquartered in Vancouver. Together, they will put the new blood test through rigorous validation. This work will build upon results published in the journals
PLOS One, Journal of Neurotrauma, and Biochemical and Biophysical Research Communications
. Several commercialization options are being explored by the U of S
Industry Liaison Office
, including licensing to prominent health care companies.
"The prevalence of traumatic brain injury is underestimated in our society, yet generates huge direct costs to our healthcare system and long-term costs to patients and their families," said CDRD President and CEO Karimah Es Sabar. "We hope our work on this project will validate and expedite the research and make the blood test commercially available as soon as possible."
Innovation Saskatchewan, on behalf of the Government of Saskatchewan, is among the consortium of the province's leading innovation organizations that partnered with the CDRD to create a new $2-million CDRD-Saskatchewan Innovation Fund. Other partners include the U of S College of Pharmacy and Nutrition, the Vaccine and Infectious Disease Organization - International Vaccine Centre (VIDO-InterVac) and Ag-West Bio Inc.
Taghibiglou's project, which will receive $43,500, is the first to get backing through the fund, which supports development of health research innovations to the point where they can better attract investment to bring them to market and ultimately, help patients with new treatments.
"Funding of this project is just one example of how this new innovation fund can help accelerate the development of outstanding Saskatchewan-based technologies," said Kishor Wasan, dean of the College of Pharmacy and Nutrition and chair of the CDRD-Saskatchewan Innovation Fund. The college is one of the lead contributors to the fund.
Taghibiglou's work is also supported through the U of S
Industry Liaison Office
, which filed patents on the protein biomarkers and provided significant support, along with the U of S College of Medicine through its Forge Ahead Fund.
-30-
For more information, contact:

James Shewaga
Media Relations Specialist
University of Saskatchewan
306-966-1851
james.shewaga@usask.ca