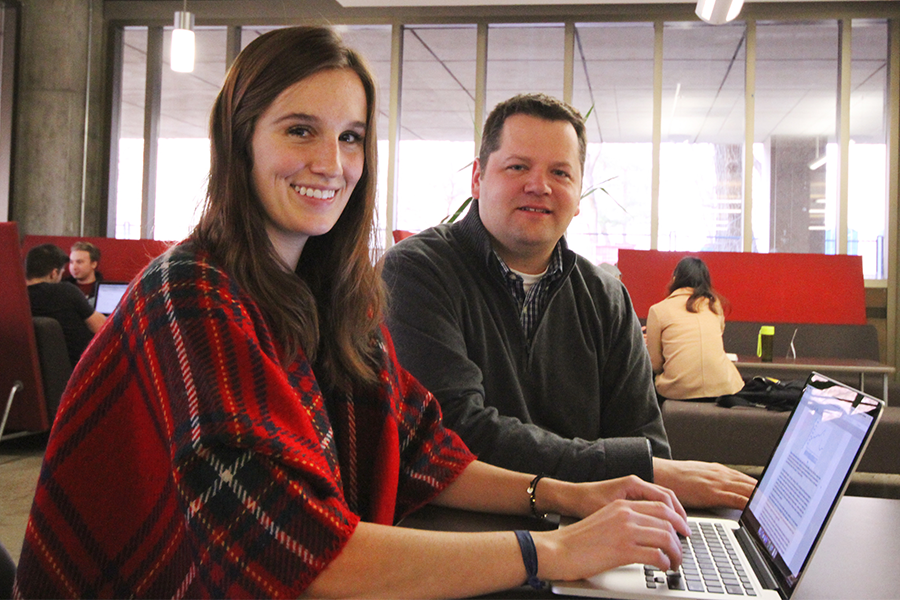 "Increasing our use of open textbooks is an important initiative that speaks to our broader goal of reducing costs for students and using innovative teaching tools," said Patti McDougall, U of S vice-provost of teaching and learning. "These texts reduce costs for students, give instructors more control over their instructional resources and improve learning outcomes for students. It's a win-win for everyone."
Open textbooks are licensed under an open copyright license, and made available online to be freely used by everyone. These texts are available for viewing on a computer, smart phone or tablet via the internet or as a document that can be downloaded for off-line viewing or printing.
Instructor-written and peer-reviewed open textbooks are available through organizations such as BCcampus in British Columbia and OpenStax in Texas.
Traditionally published textbooks are produced under closed copyright, meaning they cannot be shared, re-used or re-purposed. They are usually costly, with new editions published frequently, making older texts quickly out of date.
Eric Micheels was the first professor at the U of S to use an open textbook. He said he chose to use one,
Principles of Economics by Timothy Taylor
, mainly to reduce the cost for students.
"It wasn't any different than adopting another non-open textbook," said Micheels. "The decision process is the same for me. It was a good text that did a good job with all the concepts I was interested in covering."
Open textbooks were also used this fall in courses in the Edwards School of Business (ESB) and the Department of Chemistry in the College of Arts and Science.
Jack Saddleback, president at the University of Saskatchewan Students' Union, said he's very optimistic about the future of open textbooks at the U of S and the savings impact it will have for the student body.
"Every year students dish out roughly $500 to $1,200 a year for textbooks," said Saddleback. "With professors here at the U of S making the switch to open textbooks, we are going to see that number decrease for the betterment of all students. Students can then take a sigh of relief knowing that their education is that much more affordable."
Heather Ross, an instructional design specialist at the Gwenna Moss Centre for Teaching Effectiveness at the U of S, has worked with others on campus to support instructors from across the institution who wish to use open textbooks. Ross passionately believes open textbooks are the way of the future and is confident that the quality of open textbooks is often equal to that of traditionally published textbooks, if not higher, given the option for instructors to customize the resource for their students' needs.
"There is essentially no difference in the instructors' vetting process carried out for open textbooks, compared to commercially published textbooks," said Ross. "Open textbooks will provide the same quality and variety of content as commercially available ones, with the additional advantage that open textbooks may be customized by instructors."
Scott Moe, Minister of Advanced Education, said the Government of Saskatchewan is committed to making education more affordable for students.
"Open resources are used at institutions around the world and we're proud to make use of this innovation in Saskatchewan as well," said Moe.
Ross said it's in part thanks to this commitment that Western Canada—Saskatchewan, Alberta and British Columbia—are leading the free open textbook movement in Canada.
Effective March 12, 2014, a memorandum of understanding, titled Open Educational Resources, states that the governments of British Columbia, Alberta and Saskatchewan wish to collaborate on the development of common open education resources within their respective advanced education sectors.
"The potential to work with other post-secondary institutions and open textbook publishing organizations provide huge benefits to students and instructors at the U of S," said Ross. "We're just getting started, but people from across campus are already getting excited about open textbooks. If this enthusiasm continues, we'll definitely see an increase in the use and creation of open educational resources."
The tri-provincial memorandum encourages the use of best practices, fosters greater collaboration and understanding of key issues and trends, and helps governments share and develop open education resources.
| | | | |
| --- | --- | --- | --- |
|   | Number of courses using an open textbook | Number of students in course | Amount students saved on text books* |
| Winter 2015 | 1 | 272 | $27,200 |
| Fall 2015 | 4 | 523 | $52,300 |
| Winter 2016 | 3 | 400 | $40,000 |
*assuming an average textbook costs $100
-30-
For more information, contact:

Meghan Sired
Communications Co-ordinator
University of Saskatchewan
306-966-6068 (office)
306-381-7992 (cell)
meghan.sired@usask.ca