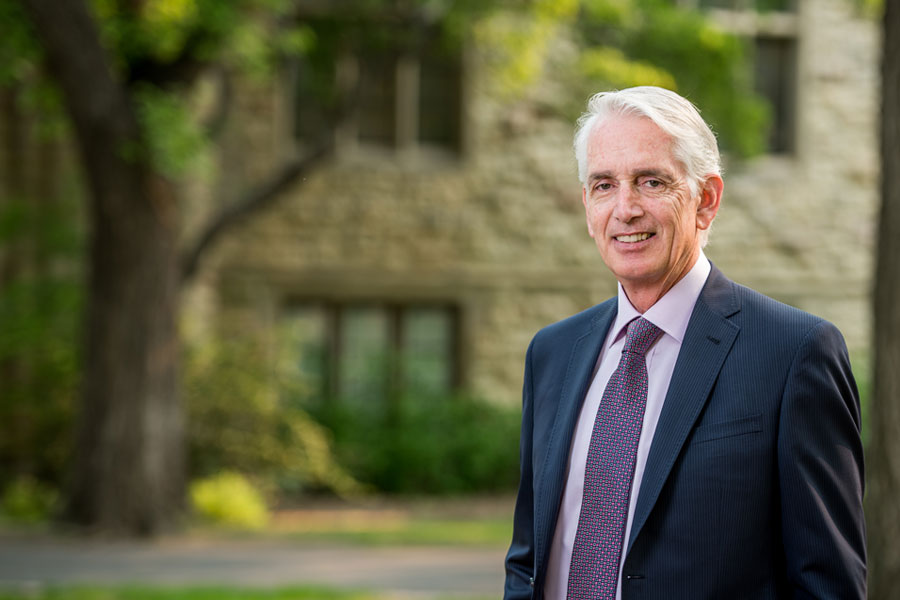 "Peter has the rare combination of a compelling vision, superb team-building skills and proven administrative experience to lead our university at this pivotal and exciting time in the province's history," said Greg Smith, chair of the U of S Board of Governors.
"The search for our new president was national and international in scope, with many excellent internal and external candidates. The board is delighted to accept and endorse the search committee's recommendation."
The five-year term will begin Oct. 24, 2015 when Stoicheff is installed as president and vice-chancellor at the university's fall convocation.
"I feel honoured and privileged to lead this eminent Canadian university which plays such an important role in the province, the nation and indeed the world," said Stoicheff.
"I have enormous pride and confidence in the U of S, which has a strong community of talented faculty, students, staff and alumni, and a proud history of remarkable achievement upon which, together, we can build. In particular, I see great opportunities to continue to make a difference in our communities and globally through enhanced focus on our mission of learning and discovery, Aboriginal engagement, and the value of arts and culture in shaping our lives."
Currently the dean of the College of Arts and Science, Stoicheff has been at the U of S since 1986 when he joined the English department as a faculty member. He assumed the role of dean in 2011, after serving as vice-dean humanities and fine arts from 2005 to 2011. The hallmark of his deanship was a focus on bringing together in a collaborative structure the sciences, social sciences, and humanities and fine arts.
Stoicheff holds an undergraduate degree in English and history from Queen's University, and master's and PhD degrees in English literature from the University of Toronto. He is highly regarded internationally for his widely published work in modern American literature and the history and future of the book.
An active scholar throughout his career, Stoicheff has served in national and provincial leadership roles with respect to research, scholarly and artistic work, including serving on the Social Sciences and Humanities Research Council (SSHRC) National Committee and the SSHRC Doctoral Fellowships Committee. In his administrative and academic roles, he oversaw creation of the U of S Digital Research Centre and the Interdisciplinary Centre for Culture and Creativity. He received the university's Graduate Supervisor Award.
A classical guitarist and composer, he has produced two acoustic guitar albums, and since 2013 he has served on the Remai Modern Art Gallery of Saskatchewan Board of Trustees.
Consulting firm Perrett Laver assisted with the search, and public input and feedback gathered helped inform the process. The search committee, chaired by board chair Smith, included individuals from a wide variety of academic, research, administrative and community perspectives: Michael Atkinson, Claire Card, Pamela Downe, David Dubé, Blaine Favel, Len Findlay, Max FineDay, Grant Isaac, Lisa Kalynchuk, Preston Smith and Izabela Vlahu.
"We have every confidence that under Peter's leadership the University of Saskatchewan, as a member of the U15 group of top research universities in Canada, will continue to build on its outstanding undergraduate and graduate programs and firm foundation of research excellence in areas of critical importance to society," said Smith.
Stoicheff will succeed Gordon Barnhart, who was appointed interim president in May 2014.
"Gordon assumed the interim position during a challenging time for the university, and he has provided exemplary leadership that has strengthened our university," said Smith. "We cannot thank him enough for his dedication and his passion for the U of S. We will have the opportunity to continue working with Gordon as our president until Peter begins his term this fall."
Stoicheff is married to Kathryn Warden, director of research profile and impact at the U of S, and they have two children, Alixandra and Christopher.
-30-
A headshot of Peter Stoicheff is available upon request. For more information about the search and the announcement, please visit
www.usask.ca/presidentialtransition
.
About the University of Saskatchewan
Located in Saskatoon, Saskatchewan, the University of Saskatchewan (U of S) is a member of the U15, a group of the top research universities in Canada. The U of S hosts two unique national research facilities—the Canadian Light Source which is one of the world's leading synchrotron facilities, and VIDO-InterVac, a world leader in developing vaccines and technologies to fight infectious diseases in humans and animals. Other nationally important research centres include the Sylvia Fedoruk Canadian Centre for Nuclear Innovation, the Global Institute for Water Security, the Global Institute for Food Security, and the Indigenous Peoples' Health Research Centre. The campus is home to a full range of health science colleges, including medicine, nursing, veterinary medicine, dentistry, and pharmacy and nutrition, as well as graduate schools for public policy, public health, and environment and sustainability. Current U of S research strengths include: agriculture and food security; energy and mineral resources; synchrotron sciences; Aboriginal scholarship and engagement; water security; and "one health"—an integrated approach to human/animal/ecosystem health. The university is a leader in community-engaged scholarship, which connects research, teaching and learning with the needs and interests of local and global communities. With one of the highest populations of Aboriginal students among Canadian post-secondary institutions, the university puts particular emphasis on fostering Aboriginal student success. Over 20,000 students from around the world study at the U of S, and our over 145,000 alumni are spread across the globe.
Â
For more information, contact:
James Shewaga
Media Relations Specialist
University of Saskatchewan
(306) 966-1851
james.shewaga@usask.ca