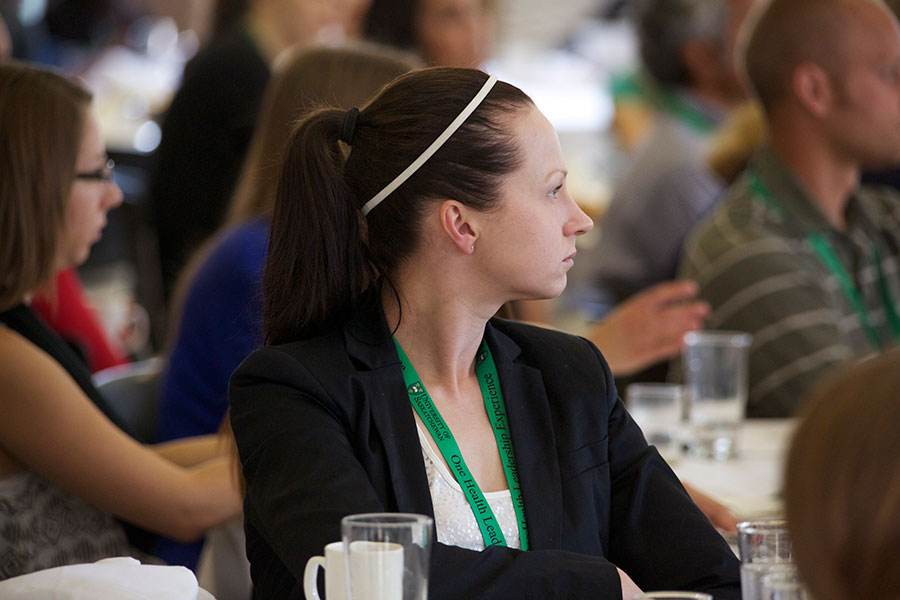 "I thought it was inspiring: having the opportunity to go to the conference, networking with so many other professionals, seeing world-class speakers and being able to sit down and talk to people who are leaders in the field," said Nyhof, who has attended the annual One Health student event for the past three years.
The conference, which takes place Aug. 21-23 in Saskatoon, brings together U of S health science students and international specialists for presentations, group sessions and one-on-one discussions about One Health — a global initiative that promotes collaboration among all health disciplines involved in human, animal and environmental health.
Nyhof is now president of the university's One Health Club, created by students who attended the inaugural conference three years ago. Club activities align with the conference's goal of breaking down traditional barriers between health science professions and encouraging students to use One Health principles once they're out in practice.
"I think it's important to build those relationships before there's a crisis so you have working relationships with people in other health disciplines," said Nyhof, who is on track to graduate from the U of S in 2016. "That makes problem solving a lot easier when issues do come up."
More than 130 students enrolled in medicine, nursing, dentistry, veterinary medicine, pharmacy and nutrition, physical therapy and public health will attend this year's conference. Zoetis, U of S Council of Health Science Deans and the Western College of Veterinary Medicine (WCVM) are sponsoring the three-day event.
WCVM Dean Douglas Freeman said the One Health Leadership Experience has gained an international reputation for success in mentoring a new generation of doctors, veterinarians, nurses and other health professionals who are using One Health concepts in the workplace.
"Year after year, the experts who participate in the One Health Leadership Experience tell us that we're unique," said Freeman, the conference's director. "Other organizations offer One Health conferences for professionals already out in the field, but we're the only conference that focuses on students."
This year's list of high-profile speakers includes Judith Bossé of Natural Resources Canada, Peter Rabinowitz of the University of Washington's School of Public Health, University of Minnesota professor emeritus Frank Cerra and Colin Basler of the U.S. Centers for Disease Control and Prevention. Two other featured guests are Jessica Borg, co-ordinator of the Mayo Clinic's animal-assisted activities program, and Alta, one of the program's service dogs.
One Health is a research signature area at the U of S — the only Canadian university with a full complement of health science colleges and schools on one campus. New One Health initiatives at the U of S include undergraduate-level training modules, a graduate certificate in One Health and a
veterinary social work program
(words.usask.ca/wcvm/2015/08/veterinary-social-work-comes-to-the-wcvm/).
For more details about the One Health Leadership Experience, visit
www.usask.ca/wcvm/ohle
.
-30-
For more information, contact:

Myrna MacDonald
Communications Officer
Western College of Veterinary Medicine
University of Saskatchewan
(306) 291-9950
myrna.macdonald@usask.ca