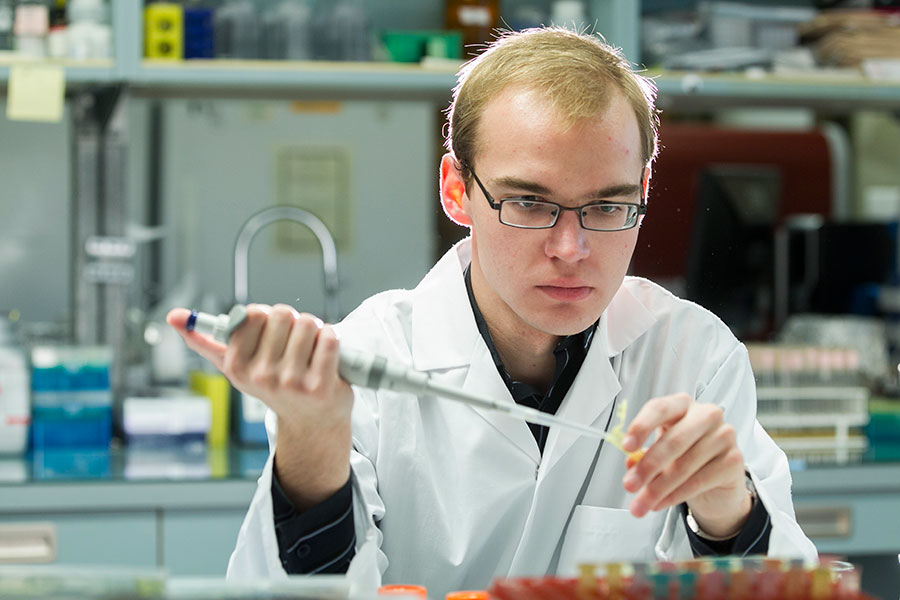 The award—given to a student from each of Canada's 17 medical schools—is meant to recognize young leaders completing their second year of medical education who exemplify the qualities of the laureates of the Canadian Medical Hall of Fame (CMHF).
"I am inspired by the work of The Canadian Medical Hall of Fame Laureates and excited about the potential for physicians to continue to advance healthcare in our communities locally and globally," said Adams. "I look forward to continuing on a path towards research and innovation, education, leadership and clinical service and am truly grateful to the Canadian Medical Hall of Fame and my award donor, Dr. John Wedge, for supporting me on this path."
Passionate about advancing Canadian healthcare, Adams' research background spans basic science and clinical research. He has taken an active role in university governance, serving on a number of U of S committees, and has chaired several medical student groups as well as the 2014 Health Innovation and Public Policy Conference to help effect positive change in healthcare. He has helped promote research and innovation to young people as board chair of the Saskatoon Regional Science Fair and served as co-editor-in-chief of the U of S undergraduate research journal. Adams has also earned numerous awards recognizing academic and research excellence, and received Associate and Licentiate diplomas in piano performance from the Royal Conservatory of Music.
"Laureates of The Canadian Medical Hall of Fame cite qualities such as perseverance, collaboration and an entrepreneurial spirit as contributors to their success as national and world health leaders," said CMHF Board Chair Dr. Jean Gray. "With this award we seek to connect Canada's young health leaders to our recognized medical heroes as a source of inspiration and mentorship so that they may also achieve significant impact in their careers."
Award recipients receive a significant cash award over two years and a travel subsidy to attend the Canadian Medical Hall of Fame 2016 Induction Ceremony on April 14, 2016 in Hamilton.
-30-
For more information, contact:

Laura Herman
Communications Officer
College of Medicine
University of Saskatchewan
(306) 966-6059, (306) 262-6059 (cell)
laura.herman@usask.ca
James Shewaga
Media Relations Specialist
University of Saskatchewan
306-966-1851
james.shewaga@usask.ca