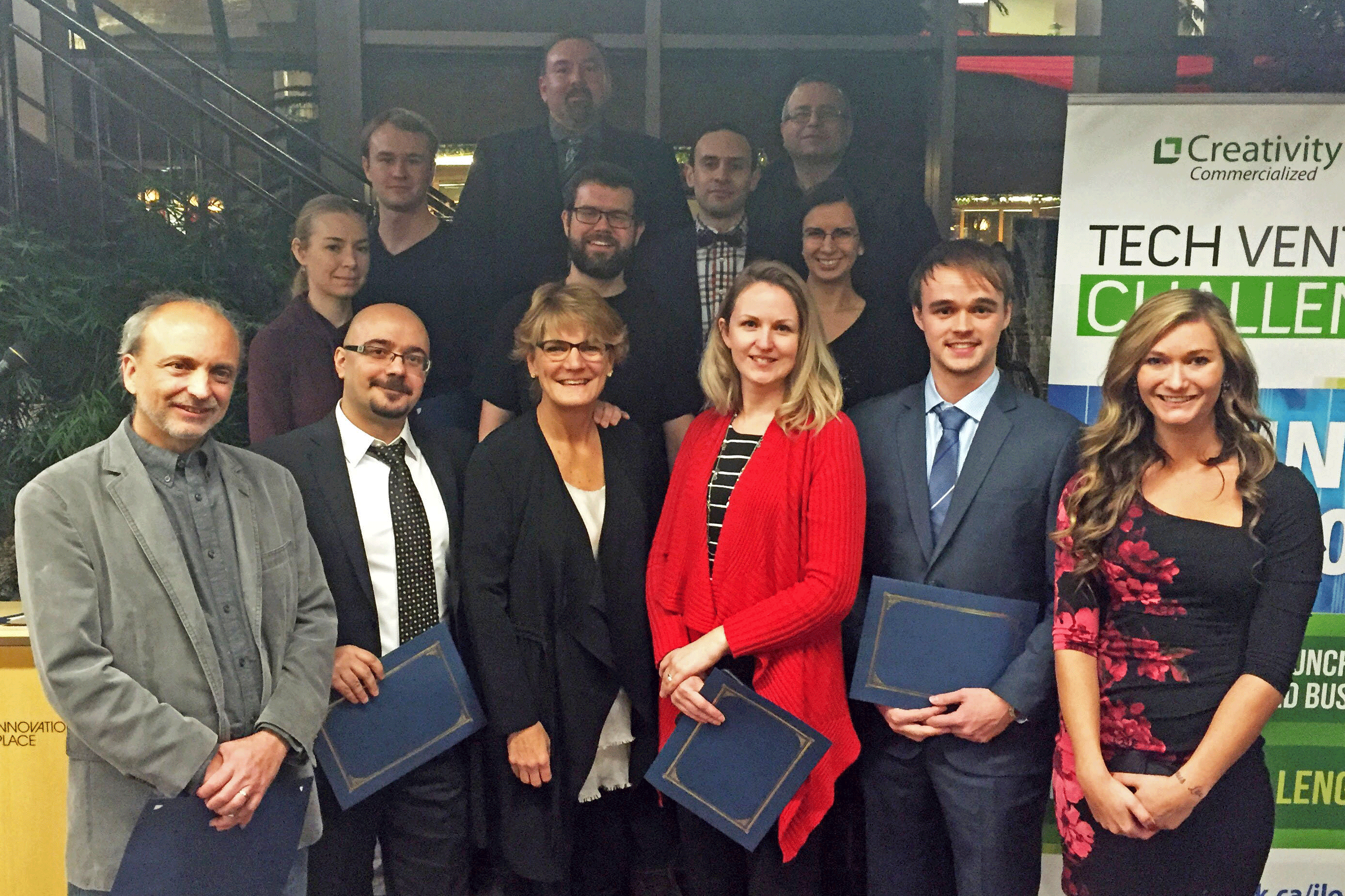 "This is a record-breaking number of applications, almost double what we anticipated," said Lorna Shaw-Lennox, manager of startups and projects for the ILO. "Every college was represented and every university relationship, from faculty and students to staff and alumni."
Over the next four months the participants will attend workshops and benefit from business and advisory support from the ILO. They will be professionally mentored and guided, leading to the selection of three finalists in May, 2016.
Up for grabs is a grand prize package including $50,000 provided by the ILO plus mentoring and professional services from PwC. The second place finisher will receive $25,000 courtesy of co-sponsors, PwC, College of Medicine and Mariner Innovations. This year's third-place prize of $10,000 will be awarded from the Tech Community Fund, with contributions from a number of local business and other organizations.
The U of S Graduate Student's Association continues to offer a $10,000 low-interest loan to the top-rated grad student team. Mariner Innovations ICT Award (professional services valued at $5,000) will be awarded to a team selected by the TVC judges.
The 2016 Tech Venture Challenge cohort includes technologies in communications, 3D printing, medical devices, biologics and pharmaceuticals, health care, manufacturing and green technologies. They are:
FitCoins

Members: Dustin Gamester, Andrew Crouse

Fitcoins is a fitness based point system for kids.
Ground Up Bytes

Members: Matthew Braun, Nancy Elliot

Ground Up Bytes provides end-to-end solutions for customers collecting data across multiple platforms, and specialize in data collection in remote, offline locations.
Kaleido Arts and Science Inc.

Members: Tony Arkles, Sheila Maithel

Kaleido Arts and Science Inc. specializes in making custom-fit sewing patterns by using a smartphone.
Pelican MRI

Members: Gordon Sarty, Logi Vidarsson

Pelican MRI build and sell low-field, portable and affordable MRIs that are made possible with new imaging technology. These MRI's can literally be built in a household basement.
Polytenna

Members: Matt Teyfah, David Klymyshyn

Polytenna has created a unique micro-array antenna that can be used in the emerging small cell backhaul market for wireless service and the automotive wireless sensing device market.
Printology

Members: Devin Bradburn, Jordan Dutchak, Erik Tetland, Lance Pitka

Printology is developing a 3D printer using exotic materials to create anatomical surgery models. This will enable surgeons and students to have accurate and cost-effective models to practise on.
Robotiblocks

Members: Kyle Tschritter, Patrick Robb

Robotiblocks provides a practical means of building powerful, yet simple and cost-effective automation systems intended for rapid development applications in manufacturing industries.
Seboderm

Members: Changiz Taghibiglou, Effat-Sadat Farboud

Seboderm has created a novel pharmaceutical and topical formulation for acne treatment. These creams will be developed based on an understanding of the molecular signaling pathway that contributes to acne.
SenseUS Systems

Members: Sonia Vanderby, Francis Bui, Solomon, Kai Shan

SenseUS is developing a tracking system that seamlessly collects scheduling data and analyzes it, enabling doctor offices to obtain data and improve their planning and resource utilization.
Smart Health Networks

Members: Hussein Moosavi, Francis Bui

Smart Health networks are developing a wireless body area network (WBAN) platform for continuous physiological data acquisition, real-time monitoring, and efficient networking around the human body.
Sohtech Research & Development Inc.

Member: Tedric Soh

This is an easy to use, strong and portable fireproof system for the safe storing, handling, transporting and charging of lithium polymer batteries (LiPos). These batteries are known to catch fire and are used in remote control airplanes, helicopters, cars, boats and drones.
Synoptic Reporting Technologies

Member: Jimmy Wang

Synoptic reporting is a clinical documentation method that uses structured checklists to help clinicians produce more complete, consistent and valuable medical reports. Synoptic reports are faster to produce, easier to interpret and eliminate transcription cost.
Techne Industries

Member: Logan Downing

Techne Industries has set out to design, build and manufacture an affordable home-based battery unit that will provide power to household appliances when blackouts occur, as well as in third world countries.
Victus Scientific

Members: Irving Ramirez-Erosa, Leonid Akhova, Jeff McLaughlin

Victus Scientific Inc. is a biopharmaceutical offering a 100 per cent natural alternative to treat many skin ailments (e.g. eczema, rosacea, acne, psoriasis).
Viking Innovations

Members: Jackie Martin, Mike Ransom

Viking Innovations Ltd. (Viking) manufactures and sells a home kitchen fire prevention system. It is a small control panel designed to disconnect power to the kitchen range and counter plugs when the smoke alarm is activated, in order to avoid the spread of fire.
-30-
Tech Venture Challenge is sponsored by the Industry Liaison Office, Graduate Student's Association, PwC, Mariner Innovations and the Saskatoon technology community. It is open to any member of the U of S community, including employees, faculty researchers, students and alumni.
For more information, contact:

Lorna Shaw-Lennox
Industry Liaison Office
University of Saskatchewan
306-966-7338
lorna.shaw-lennox@usask.ca