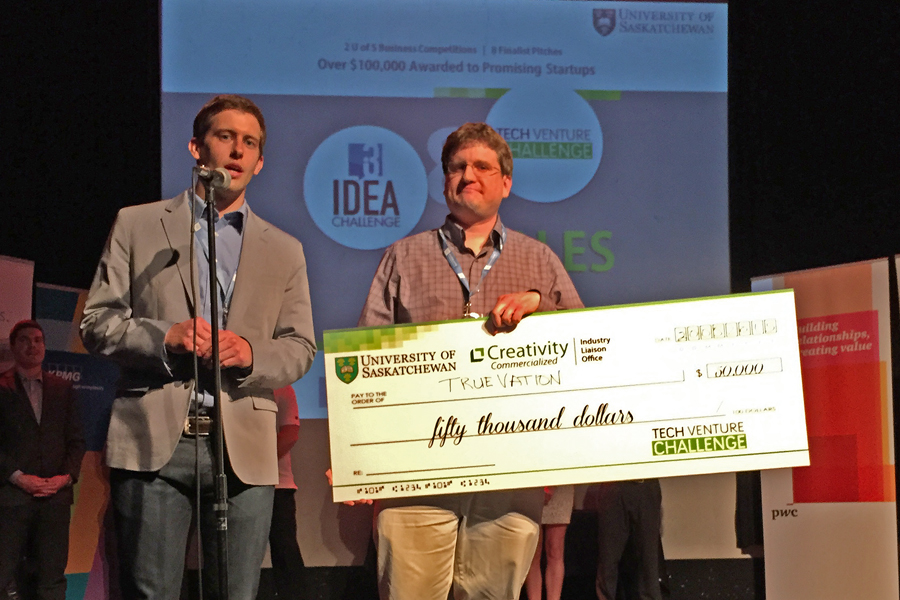 Dr. Ryan Sander, Jeff Wandzura, Dan Merino, Nick Rutherford and Kumaran Vijayan won the grand prize in the annual University of Saskatchewan Tech Venture Challenge (TVC). The winners were announced at a gala event in Saskatoon last night.
The TruVation team's first product, Patient Prep, is a mobile application for medical professionals to organize patients' information and improve care. The app is aimed at helping the more than 12 million people in North America each year who receive incorrect medical diagnoses, more than half of which are exacerbated by deficiencies in collection of medical information.
TruVation will receive $50,000 cash from the U of S Industry Liaison Office, one year of office space at Innovation Place valued at more than $10,000; professional services valued at $7,000 from PwC, banking services from RBC, webhosting from BlackSun and marketing support from iTracks. It was a big night for TrueVation as they also won the Mariner Innovations ICT Award, as part of the TVC.
"The Tech Venture Challenge has provided our team with the connections and knowledge to take our venture to the next level," Sander said. "The challenge has a tremendous impact on the startup community in Saskatoon, as it helps turn ideas into high impact ventures."
Second place ($25,000) in this year's Tech Venture Challenge went to
MagnoPlug
. The team of Will Topping, Arash Janfada, Mitch Langan and Mallory McGrath has developed the next evolution of the traditional 3-pronged plug. The breakaway power connector snaps in place to deliver the power and disconnects without effort - good news for those unfortunate Canadians who forget to unplug their vehicles in the winter, damaging cords and block heaters. Sponsors for this award were PwC, the U of S College of Medicine and Mariner Innovations.
Third place ($8,500) went to Scitus Biosciences. Jay Robinson, Mark Hetherington and Wayne Craig are experts at discovering novel plant extracts and natural compounds. Their first product, Advir, is a cold sore treatment extracted from plants. This award was sponsored by the
Tech Community Fund
.
-30-
For more information, contact:
Lorna Shaw-Lennox
Manager, Projects and Startups
U of S Industry Liaison Office
(w) 306-966-7338
(m) 306-280-5447
lorna.shaw-lennox@usask.ca