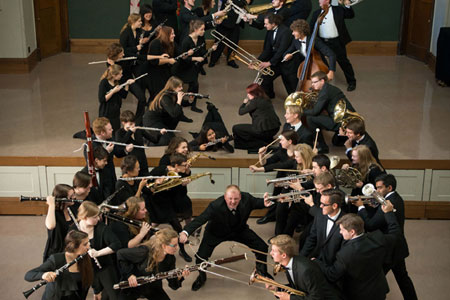 The student orchestra was chosen to attend based on a recorded performance it submitted to a WASBE competition in late 2013. During the week of the conference July 13-20, the group will give three performances in Northern California: at the San Jose State University Concert Hall; at the California Theatre in San Jose; and at the Castello di Amorosa winery in the Napa Valley.
It is "exciting and humbling" to be one of 15 ensembles from around the world invited to the biennial international conference, said Darrin Oehlerking, professor of music and director of the Wind Orchestra.
"It's fantastic. We have exceptional talent here, and it's just a wonderful feeling to be recognized at such a high level by peers from across the world."
The U of S Wind Orchestra includes 45 student musicians. One of the only invited ensembles made up entirely of undergraduate students, the Wind Orchestra will be in the company of elite musicians from Israel, Japan, Germany and the United States.
Hard work and dedication brought the orchestra this far, said Oehlerking, but the work is not over. Instead of ending rehearsals in April as they normally would, the students are returning to campus this summer for four intensive weekend retreats to polish their performance for the conference. In total, Oehlerking said they will put in another full semester's worth of rehearsal hours after classes end.
The students have also been hard at work outside of the concert hall. The total cost of the trip is estimated at $100,000, and there is a long way to go before that fundraising goal is reached.
"They've sold ice cream sandwiches. They've sold perogies. They've sold tickets. They've started a RocketHub [crowdfunding] campaign," said Oehlerking.
Additional funding is coming from the U of S President's Student Experience Fund and the Division of Humanities and Fine Arts.
This is the third time in its 41-year history that the U of S Wind Orchestra has been invited to a WASBE Conference. It attended previous conferences in the Netherlands in 1989 and in Austria in 1995, both times under the direction of Marvin Eckroth.
Media are invited to attend the Wind Orchestra's rehearsal retreat at Quance Theatre in the U of S Education Building on Saturday, May 30, any time from 9:30 am to 4 pm.
- 30 -
For more information, contact:
Chris Putman
Communications Officer
College of Arts and Science
University of Saskatchewan
Work: 306-966-1982 Cell: 306-290-6628
chris.putnam@usask.ca