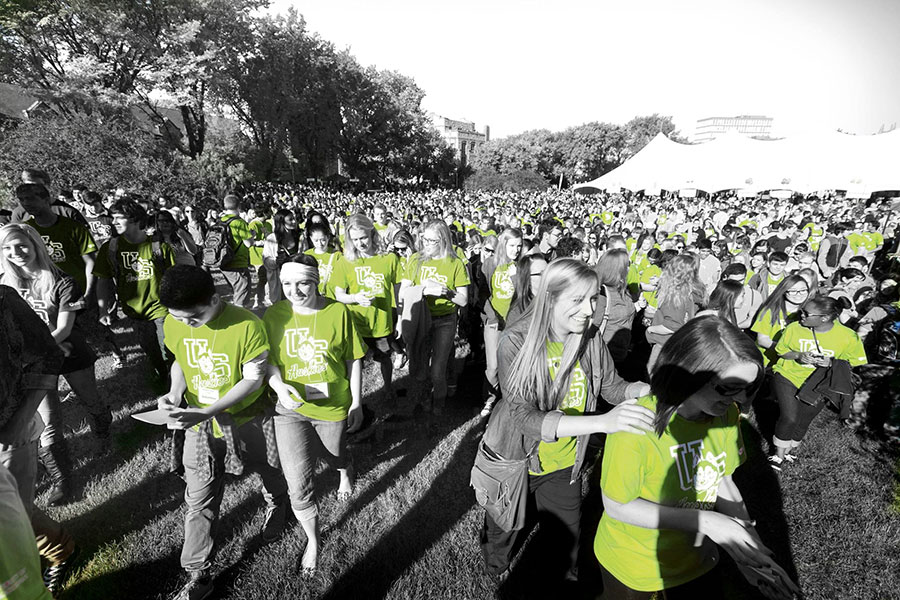 Media are invited to attend the following events:
Tuesday, Sept. 1
International Student Welcome
1-7 pm (check-in opens at noon)
Neatby-Timlin Theatre, Arts 241
Hosted by the International Student and Study Abroad Centre, this is a chance for students who are new to Canada to learn about services for international students available at the U of S and about getting settled in Saskatoon.
Tuesday, Sept. 1
New First Nations, Métis and Inuit Student Welcome
12-4 pm, with a social event to follow
Aboriginal Students' Centre
This event will offer a chance to make connections with other students on campus and the opportunity to learn about services and activities available to Aboriginal students at the U of S.
Wednesday, Sept. 2
Orientation
9 am-3:30 pm
The Bowl
Orientation is the official welcome for the newest members of the campus community. Students will gain general knowledge of campus, including where their classes are held, how to get involved on campus, and how to deal with academic problems, and participate in college-specific information sessions.
Schedule
:
8-9 am: Student check-in and registration at Nobel Plaza (in front of the Peter MacKinnon Building)
9-9:15 am: Indigenous welcome and recognition of Treaty 6 land and territory
9:15-9:20 am: Welcome address from Interim President Gordon Barnhart
9:20-9:25 am: Welcome address from Graduate Students' Association President Rajat Chakravarty
9:25-9:30 am: Welcome address from University of Saskatchewan Students' Union President Jack Saddleback
9:30 am-12 pm: College-led orientation programming (various locations across campus)
12-1 pm: Lunch
1:15-3:30 pm: University-wide scavenger hunt and Campus Expo in the Bowl
Thursday, Sept. 3
Dorm Burn
2 pm, Nobel Plaza
To promote fire safety on campus, the Saskatoon Fire Department will simulate an actual fire on campus by building a replica dorm room and setting it ablaze using common situational items (such as a lit cigarette or an over-heated laptop).
Thursday, Sept. 3
Carless Drive-In
9 pm
The Bowl
This year's feature is
Jurassic Park
. Popcorn provided by Affinity Credit Union.
Thursday, Sept. 3-Friday, Sept. 4
USSU Welcome Week
Live music, DJs, food trucks and beer gardens in the Bowl, starting at 11 am daily.
Friday, Sept. 4
Green and White Day
All of campus and members of the public are invited to show their pride by wearing our signature colours.
Friday, Sept. 4
U of S Alumni Association Pancake Breakfast
8-10 am
The Bowl
Free for all U of S students, faculty, staff and alumni.
Friday, Sept. 4
Alumni Association Huskies Homecoming Football Game
7 pm, Griffiths Stadium in PotashCorp Park.
The U of S Huskies take on the University of Manitoba Bisons in the season opener.
-30-
For more information, please contact:

Meghan Sired
Communications Co-ordinator
University of Saskatchewan
(306) 966-6068; (306) 381-7992 (cell)
meghan.sired@usask.ca
James Shewaga
Media Relations Specialist
University of Saskatchewan
(306) 966-1851; (306) 270-5583 (cell)
james.shewaga@usask.ca