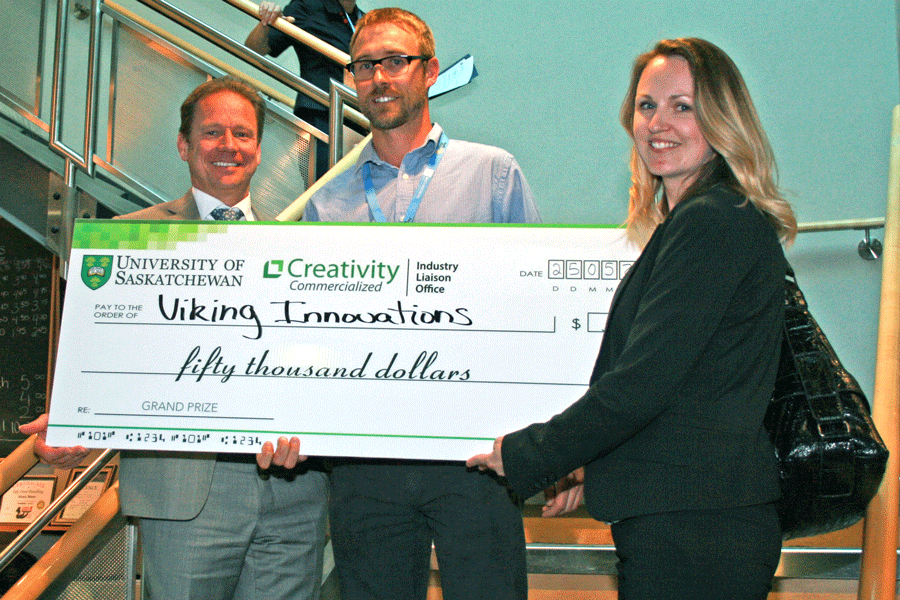 The Dalmatian is a small control panel designed to disconnect power to the kitchen range and counter plugs when a smoke alarm is activated. With no electricity or heat, kitchen fires are far less likely to start or spread, safeguarding property, home and family.
Martin and Ransom will receive $50,000 from the U of S Industry Liaison Office; one year of office space at Innovation Place valued at more than $10,000; and professional business services valued at $7,000 from PwC. In addition, all top three finalists receive $3,600 in-kind banking services from RBC Royal Bank.
Second place ($25,000) in this year's Tech Venture Challenge went to Sebopharm. Changiz Taghibiglou and Effat-Sadat Farboud have developed novel pharmaceutical and topical formulations for acne treatment. This is a safe, non-toxic product and the first patent for acne in 30 years. The acne treatment market is estimated to reach revenues of $3 billion in 2016. Sponsors for this award were PwC, U of S College of Medicine and Mariner Innovations.
Third place ($10,000) went to Polytenna. Mat Teyfeh and David Klymyshyn invented micro-sized antennas to address the wireless network industry's challenge of extremely high data-rate usage, which is expected to grow at a rate they cannot keep up with. This award was sponsored by the many members of the
Tech Community Fund
.
The winners of the Mariner Innovations Award of $5,000 in-kind is Ground Up Bytes. Matthew Braun and Nancy Elliot's enterprise provides end-to-end solutions for customers collecting data across multiple platforms—from phones and tablets to computer workstations —and specializes in data collection in remote, offline locations.
The winners of the USask Grad Student Award of a $10,000 loan is Sohtech Research and Development. The company's LiPo Vault is an easy to use, strong, portable and fireproof system for the safe storage, handling, transportation and charging of lithium polymer batteries (LiPos). These batteries are used in the rapidly increasing numbers in remote control airplanes, helicopters, cars, boats and drones.
-30-
For more information, contact:
Lorna Shaw-Lennox
Manager, Projects and Startups
U of S Industry Liaison Office
(w) 306-966-7338
(m) 306-280-5447
lorna.shaw-lennox@usask.ca