The money comes from Saskatchewan's Agriculture Development Fund (ADF), a program jointly funded by the provincial and federal governments. 
In all, 25 USask researchers were awarded funding for projects that range from using artificial intelligence to monitor the well-being of pigs to developing vaccines to control diseases such as foot rot in cattle, to controlling microbial diseases in bees and maximizing the use of wheat straw in the diet of beef cattle. Five of these projects, totalling $863,000, are at the USask-owned Prairie Swine Centre. 
"This major investment by our federal and provincial governments and industry partners ensures the continued advancement of leading-edge research by USask scientists in the areas of livestock well-being and health, production efficiency, and agricultural technology," said USask Vice-President Research Baljit Singh. 
"We greatly appreciate this support for research that is contributing to global food security, and to enhancing the economy of Saskatchewan and Canada by developing value-added products, increasing exports, and training of highly skilled professionals." 
Industry co-funders of the USask projects are: SaskMilk; Alberta Milk; Saskatchewan Cattlemen's Association; Saskatchewan Forage Seed Development Commission; Saskatchewan Alfalfa Seed Producers Development Commission; Results Driven Agriculture Research; and the Saskatchewan Canola Development Commission. 
Getting the poop on broiler chicken health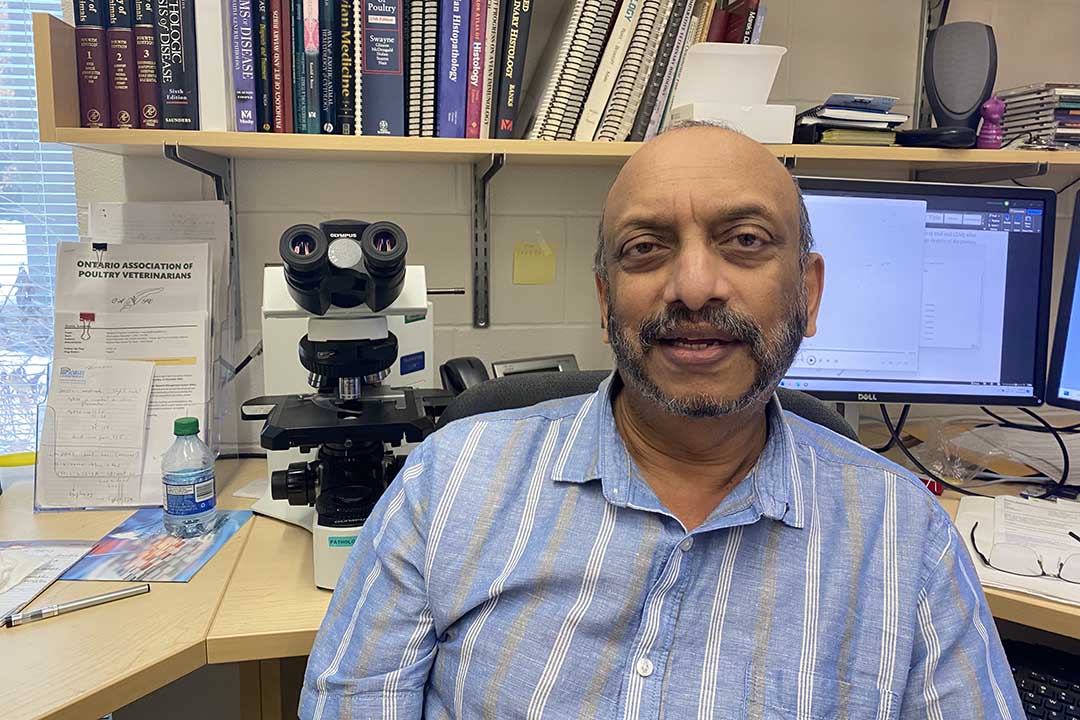 Dr. Susantha Gomis (PhD), professor and head of the Department of Veterinary Pathology in USask's Western College of Veterinary Medicine (WCVM), was awarded $170,000 to develop a biomarker-based fecal test for the early detection and control of diseases and performance improvement in commercial broiler chickens. 
"The key element of this project is the rapid diagnostics focus," said Gomis.  
With concern about antibiotic-resistant superbugs and consumer demands leading to eliminating antibiotics from broiler feed meant to prevent diseases and improve bird welfare, infection rates of pathogens such as E. coli and Clostridium perfringens are increasing in chickens. 
But as Gomis explains, with broilers headed to slaughter at around six weeks, conventional lab testing to diagnose a bacterial or viral infection (or both) and treat it take too long, as regulations require a 21-day withdrawal period for certain antibiotics to clear a bird. The industry currently lacks the ability to detect pathogens within one to two days of onset of an infection. 
Gomis already had been analyzing metabolites in the blood serum of broilers to identify biomarkers that signal an infection even before lesions are detectable under a microscope. He is now investigating if chicken feces provide a non-invasive method of detecting the biomarkers of infections. 
Such early detection of subclinical infections would be a boon for the industry, not only by providing early warnings of infection, but also in terms of savings for expensive feed whose calories are being diverted to activate the immune system of sick birds instead of being used as fuel for growth.  
"The technology to detect diseases early before clinical signs appear can help improve poultry health, food safety, and animal welfare, and ultimately enhance the competitiveness of Canada's broiler production," he said. 
Developing a regional influenza vaccine for pigs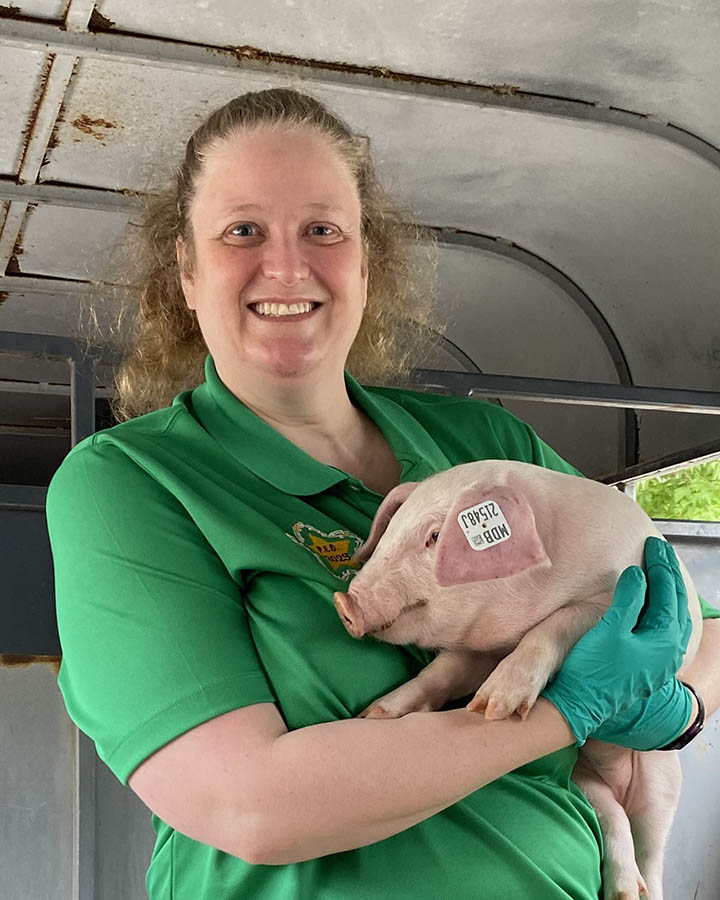 Dr. Susan Detmer (DVM, PhD), associate professor of veterinary pathology at the WCVM, was awarded $150,000 over three years to develop vaccines for pigs that are more effective against current strains of the influenza A virus than commercial products that have become out of date. 
"We have been working towards a regional vaccine because we have dominant viruses within a region," said Detmer, who has been doing influenza virus surveillance in pigs across Western Canada since 2011.  
"So, within Alberta and Saskatchewan, we have five viruses that are dominant. We can put those five viruses in a vaccine, and it will protect most of the pigs in our region. The same can be done for the five viruses that are dominant in the Manitoba region." 
She is also developing a vaccine for flu strains in the Quebec region, on a fee-for-service basis. 
"So, we can have three different vaccines or five different vaccines that will cover all of Canada because there's enough consistency and cross-reactivity between these virus that we should be able to get to most of the pigs," she said. 
Of special concern is a novel strain of the flu, Alpha H1N2, that first appeared in Manitoba in 2013, and  in Saskatchewan two years later, and subsequently has become a dominant strain. It has increased the mortality rate of nursery pigs by five per cent to 10 per cent, and has a high zoonosis potential, meaning it can infect humans and then reinfect pigs through human contact. This pig-origin influenza A viruses infected a swine worker in Minnesota in 2016 and in Manitoba in 2021. 
In developing the vaccine, Detmer is also testing its efficacy for having antibodies in immunized pregnant sows show up in their colostrum to protect piglets during their first six to eight weeks of life when they are most at risk of severe complications from influenza. 
USask funding recipients also include
Jonathan Bennett (Agriculture and Bioresources),

$207,010 to determine combined herbicide and fertilizer application for absinth control

 

Bill Biligetu (Agriculture and Bioresources), $25,025 for developing alfalfa cultivar blends for forage production based on sub-species, fall dormancy and root type; and $219,525 for accelerating the development of forage wheat varieties for improved forage quality and biomass yield

 

Jennifer Brown

(Prairie Swine Centre, and Agriculture and Bioresources), $215,500 for improving the feed efficiency of pork production through the use of thermal profiles

 

Scout Butler-Siemens (Arts and Science), $25,600 to investigate the decomposition of manure in aquatic ecosystems

 

Jeffrey Chen (Vaccine and Infectious Disease Organization (VIDO), and Medicine), $204,310 for harnessing trained immunity-inducing biomolecules to protect pigs against multiple viral and bacterial infections

 

Daniel Columbus (Prairie Swine Centre, and Agriculture and Bioresources), $90,000 for evaluating and optimizing peri-weaning management to improve performance, welfare, and resilience of piglets; and $30,000 for mitigating effects of deoxynivalenol (DON) intake with increased dietary nutrient content in pigs

 

Matheus Costa (WCVM), $200,000 for a pipeline for testing and validating non-antibiotic tools to mitigate diarrhea in grower-finisher pigs; and $150,000 to investigate non-antibiotic treatment for swine dysentery

 

Antonio Facciuolo (VIDO, WCVM), $327,750 for the development of injectable and oral vaccines for Johne's disease in cattle

 

Philip Griebel (VIDO, WCVM), $31,790 for an analysis of antibody concentration in beef calves born to dams administered inactivated or modified-live viral vaccines

 

Eric Lamb (Agriculture and Bioresources), $43,600 to investigate litter accumulation and productivity in Saskatchewan native rangelands

 

Bart Lardner (Agriculture and Bioresources), $175,200 to investigate growth-promoting implant strategies to enhance neonatal to wean-calf health, performance and profit

 

Qiang Liu (VIDO, WCVM), $369,000 for a bivalent subunit vaccine for porcine epidemic diarrhea (PED)

 

Rex Newkirk (Agriculture and Bioresources), $91,500 for determination of micronutrient availability resulting in improved precision formulation with canola meal in animal feeds

 

Gregory Penner (Agriculture and Bioresources), $190,833 for post-weaning management for beef-dairy cross calves in Western Canada: Phase 2 of 2

 

Jose Perez-Casal (VIDO, WCVM), $243,017 for the development of an effective multivalent vaccine to control foot rot in cattle

 

Sean Prager (Agriculture and Bioresources), $180,600 for developing economic thresholds and sequential sampling plans for lesser clover leaf weevil in red clover

 

Bernardo Predicala (Prairie Swine Centre, and Engineering), $210,000 for optimizing temperature requirements of pigs to reduce energy use in swine production; and $317,500 for precision detection of real-time health and welfare conditions of pigs using advanced artificial intelligence (AI) technologies

 

Gabriel Ribeiro

(Agriculture and Bioresources), $735,866 for maximizing wheat straw use in the diet of beef cattle with canola or flax screenings supplementation

 

Elemir Simko (WCVM),

$269,900 to investigate cost-effective and evidence-based antibiotic control of AFB and spread of AMR in beekeeping industry in Saskatchewan

 

Emily Snyder (WCVM), $112,198 to investigate the role of serotonin in acute interstitial pneumonia in feedlot cattle

 

Fabienne Uehlinger (WCVM), $102,911 for establishing evidence-based vaccination schedules for sheep producers

 

Peiqiang Yu (Agriculture and Bioresources), $135,600 to investigate the use of a newly developed blend protein pellet on rumen parameters and milk fat in dairy cows

 
-30- 
For media inquiries, contact:  
Victoria Dinh   
USask Media Relations   
306-966-5487   
victoria.dinh@usask.ca