But a new pilot project at the Royal University Hospital (RUH) is helping provide patients with a little comfort in the form of an adorably friendly four-legged visitor: Murphy.
Murphy is a four-year old spaniel who is owned by Preston Smith, the dean of the College of Medicine, and his wife, Jane Smith, who volunteers alongside the dog.
"Murphy loves it," she said during a recent interview. "Murphy practically runs into the ER, he eagerly sits on the chairs and interacts with people—it is truly amazing to watch."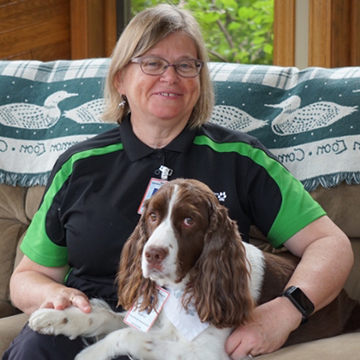 And that eagerness has been indisputably beneficial to the project aimed at showing the benefits of having these animals visit the ER.
The project is self-select, which means that patients in the ER during Muphy's visits are asked in advance whether they'd like a few moments with the dog before he's brought into the room, and allows the team to ensure that those who don't want to see him are accommodated.
"So far (the pilot) is just at RUH in the ER, and it's only one day a week," explained Dr. James Stempien, a Department of Emergency Medicine physician who is part of the team leading the project. "We're gathering data both to show the safety, that there are no problems, and to show the benefits to the patients—so qualitative and quantitative.
"And once we're done gathering our data, our plan is to publish the study, but also to show (it) to the (Saskatoon Health Region) and use that as a springboard to expand the services to the other ERs."
Read more about Murphy and the project on the College of Medicine site.