The students and professors were involved in a joint Chemistry/Classical, Medieval, and Renaissance Studies course, CHEM/CMRS 398: Using Big Science for the Study of Material Culture, that uses technology available at the Canadian Light Source (CLS) to shed new light on ancient coins and other artifacts. For example, the class tries to answer various questions about artifacts housed at the museum, such as a bronze inkwell from Medieval Persia from around 1,000 – 1,200 CE, including what they are made of, how they were made, and what happened to them over time.
Their class experiences were highlighted in one of two new student-created videos called Crossing Beams: An Intersection of Disciplines. Developed at USask's Museum of Antiquities, the videos were unveiled recently during Culture Days, a national celebration of arts and culture that runs until Oct. 25.
Faith Boser, an archaeology student in USask's College of Arts and Science, worked on the videos with guidance from museum director and curator Dr. Tracene Harvey (PhD).
"I wanted to showcase the types of interdisciplinary research that can be conducted when technology, like the synchrotron, is used to further our understanding of archaeological and historical materials," said Boser, who also works as an education programming assistant at the museum.
"Many people do not know about the exciting information that can be gathered when the sciences and the humanities come together, as our questions about the past are explored by new perspectives," she said.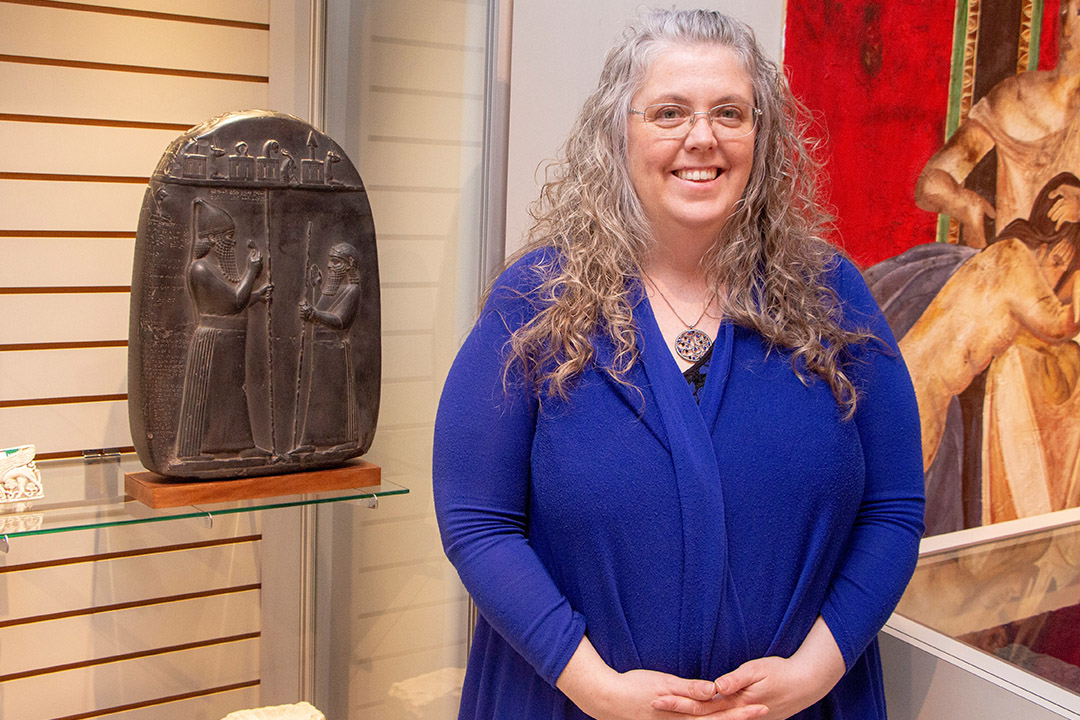 Harvey said this year's theme for Culture Days is "Unexpected Intersections," so she and the museum's student staff members thought it would be fitting  to feature some of the interdisciplinary research the museum and the CLS have collaborated on recently. The people featured in the videos include Harvey; College of Arts and Science chemistry professor Dr. Tom Ellis (PhD); USask students Kaitlyn Bowes and Jesse Parenteau; CLS education program lead Tracy Walker; and CLS scientists Dr. Scott Rosendahl (PhD) and Dr. Ian Coulthard (PhD).
"While educational and outreach programming is one of the key endeavours of the Museum of Antiquities, research is also a very important part of what we do. The research that we do is rooted in ancient and medieval studies, art history, and archaeology, and results in publications from time to time," Harvey said.
"Interdisciplinary work that incorporates science is important in helping us to understand more fully the different types of original objects in the museum. Scientific research can aid in assessing the conservation needs of objects, but also (in gaining) a better picture of the physical aspects of an object that may shed light on things about the people and cultures who created them—knowledge that would not be possible without science."
Synchrotron technology can be used to study numerous aspects of ancient artifacts, such as their chemical makeup and where ancient people sourced the materials to create the objects. In the fall of 2018, Boser took the CHEM/CMRS class—taught by Ellis, Harvey, and Walker—and was part of a group that studied ancient Roman bronze coins.
"One of the objectives of the course is to give the students an opportunity to experience firsthand interdisciplinary research and collaboration at the undergraduate level. It gives students the unique opportunity to learn about other disciplines, new skills, and research methods that they would not have been able to gain without this collaborative learning experience. As instructors, we are also able to learn a lot about how other disciplines conduct their research," said Harvey.
"For me, I have a strictly classical archaeology and numismatics background, so learning about the science side of things gives me the opportunity to explore my own fields in ways that I hope will bring new information and research tools to these fields."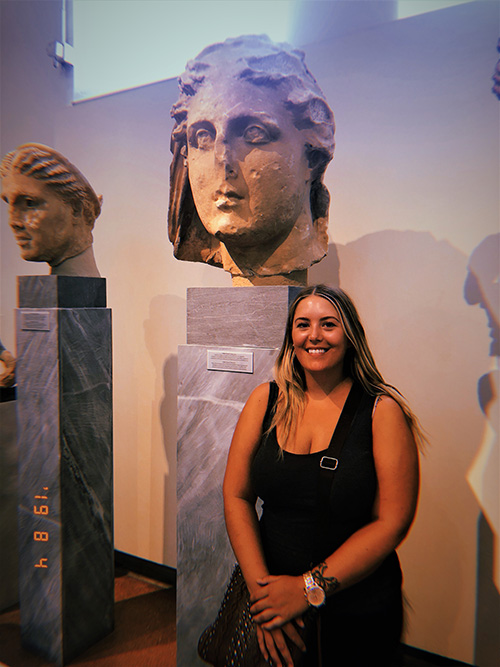 In one of the videos, Ellis also talks about the value of interdisciplinary collaboration, such as that exemplified in the CHEM/CMRS 398 class where science, humanities, and social science students worked together in teams.
"By learning about other disciplines, we learn not only to respect those other disciplines but, in some cases, to challenge some of the fundamental assumptions we have about the way we do things in our own discipline," he said.
As an undergraduate student, Boser said "it is very exciting that we have a facility like the Canadian Light Source on campus, as access to technology like the synchrotron provides us with the ability to uncover information about archaeological material that we are unable to with our eyes alone."
"It was amazing that I had the opportunity to use the synchrotron for my research during my undergrad with the CMRS/CHEM 398 class, and I look forward to continuing to participate in interdisciplinary research in the future," she said.
The videos Boser worked on are part of educational content the Museum of Antiquities has posted online since the COVID-19 pandemic began. This online content includes a variety of materials for the museum's Ancient and Medieval Adventures Camps; virtual online exhibits; activities for national Culture Days celebrations; a series of virtual tours, including some spooky ones for Halloween; and an upcoming series of online activities for school teachers and their students.
"Due to the pandemic, many museums and galleries have been forced to close for the time being, but it does not mean that they are not still active and working behind the scenes to bring cultural content to our communities," said Harvey. "While people can't currently visit the Museum of Antiquities in person, we want to remain a valuable cultural resource during the pandemic, so the museum staff and volunteers are working hard to bring some of our educational and collections content online."