Dolapo Fadare, a student in the Department of Economics' Bachelor of Arts Honours program, became the inaugural recipient of the Award for Excellence in Undergraduate Studies from The Sadie Collective in Washington, D.C., on Feb. 22.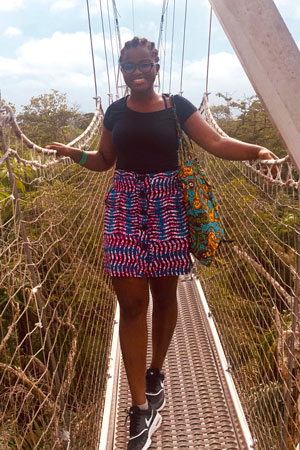 "I felt really humbled to be recognized for my efforts in my academics and for also finding ways to apply economics in the real world," said Fadare in an email interview.
The Sadie Collective is a non-profit organization based in the United States whose mission is to increase the representation of Black women in economics and related fields.
The organization cited Fadare's "academic excellence and passion for studying economics" in selecting her for the US$1,000 award.
Fadare, who moved to Canada from Nigeria with her family at age nine, has maintained a 3.7 grade point average in the honours economics program while pursuing extensive work and volunteer experience.
In 2019, Fadare spent the summer in Africa as a Queen Elizabeth Scholar and an intern at PricewaterhouseCoopers Nigeria working on sustainable development projects. The previous year, she was one of 15 Canadians awarded a Cansbridge Fellowship that helped her pursue an internship at a venture capital fund in Shanghai, China.
Fadare has also held volunteer executive positions with groups including the African Students Association and the Economics Student Society at USask.
In her award acceptance speech at the Second Annual Sadie T.M. Alexander Conference for Economics and Related Fields, Fadare thanked her parents and the communities that have supported her, including the Department of Economics.
Fadare expects to graduate with her economics degree in fall 2020. Afterwards, she plans to work in strategy at a consulting firm or as a capital markets analyst.