Amati Quartet: The Legacy of the University of Saskatchewan, a new in-house exhibit curated by the DCC in partnership with the university's Department of Music, features for the first time, the viola, cello, and two violins handcrafted by members of the Amati family in the 16th and 17th centuries.
"These unique string instruments are over 300 years old, and represent some of the finest examples of Italian craftsmanship," said Véronique Mathieu, associate professor of violin and David L. Kaplan Chair in Music. "We look forward to introducing them to the community through this exhibit, along with fascinating details about their rich history."

The Amati family were pioneers in the practice of constructing bowed stringed instruments in the Italian city of Cremona, and for centuries their creations have been highly sought after. USask is proud to own the only complete collection of Amati Quartet instruments in Canada and one of the few in the world.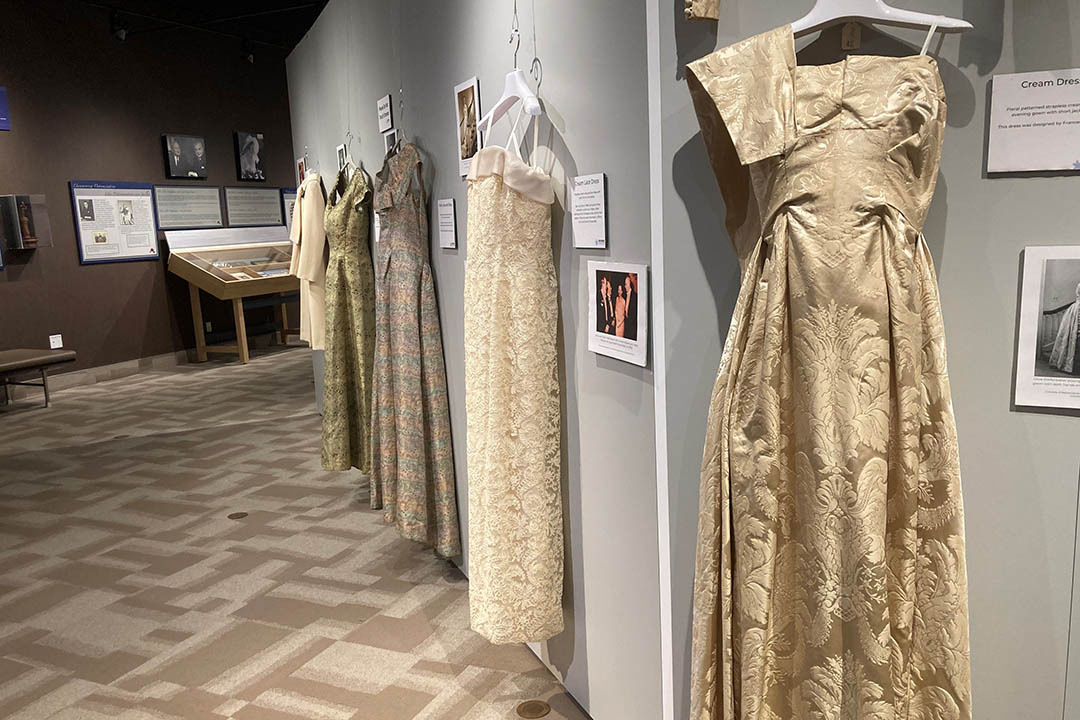 Also featured at this time is the new in-house curated exhibit Silk, Satin, and Strength: A Narrative of Olive Diefenbaker. Featuring 20 gowns, previously owned and worn by Olive Diefenbaker, this exhibit presents the story of Olive's life through the fashions she wore at parliamentary and international events from the 1950's to the 1970's. The second wife of the Honourable John G. Diefenbaker, Olive was a driving force behind her husband's political career.

"This exhibit provides a unique and once in a lifetime opportunity for the public to see up close and learn about the garments that Olive Diefenbaker wore on her many engagements as the spouse of Canada's thirteenth prime minister," said Heather Fraser, DCC curatorial, collections, and exhibits manager. "One of the dresses that we have on display is the gown that Olive wore in her official portrait, making it an interesting piece of Canadian history."

Taken out of the Diefenbaker vault for the first time, visitors will learn about her life narrative, including an opportunity to view hats and accessories belonging to Mrs. Diefenbaker, and archival photos of their outings.

Both exhibits are set to open on September 22 and will run through to October 30, 2021. Tickets are available to pre-purchase for scheduled tours of the DCC's exhibits galleries. Groups are limited to 20 people per tour. In accordance with USask's vaccination measures for the fall term, all campus visitors ages 12 and older will be required to provide proof of vaccination at the time of booking and upon entry to the Diefenbaker Building. For those who are partially vaccinated or unvaccinated, the university requires proof of a negative COVID-19 rapid response test taken within 48 hours of your planned visit. Children 11 years old and younger are currently exempt from this requirement. In addition, all visitors are required to wear disposable, three-ply masks while in the building.

For more information on how to book an exhibit tour, visit https://diefenbaker.usask.ca