Tourangeau has explored cultural sensitivity and cultural competencies in community health nursing, which was extremely well-received by her peers. She has been acknowledged as a leader who has brought awareness to non-Indigenous student perspectives, raising their skills and awareness.
Tourangeau
was recognized with an award for
leadership
at the
University of Saskatchewan (USask)
Indigenous Student Achievement Awards, which was held virtually on Feb. 4, 2021, to honour USask Indigenous students for their academic excellence, leadership, research, community engagement and resiliency.
The award ceremony was part of Indigenous Achievement Week (IAW), 
which celebrated the successes and contributions of Métis, First Nations and Inuit students, staff and faculty
within the context of this year's theme: 
nīkānihk itohtētān
, walking together into the future.
We asked
Tourangeau
a few questions about her journey at USask.
Why did you choose nursing?
I am proud to say that I have been a Licensed Practical Nurse (LPN) for the past 14 years. I decided to further my nursing education because I wanted to be a positive role model for my children and lead by example by achieving a university degree. I also worked in my hometown as an LPN and wanted to work with my community on Cote First Nation. I needed to be a registered nurse for most of the available jobs in my home community. So, I decided to apply at the University of Saskatchewan after being out of high school for nearly 20 years.

How have your studies developed your knowledge, skills and leadership? 
Raising my four children while attending nursing school has required a lot of organization and time management skills. Taking on the peer mentoring role in my second year of school in the formerly known ASAP program has also helped develop my leadership skills. I have taken fourth-year nursing leadership classes that helped me define leadership types and reflect on what kind of skills I have and those I'd like to build up. Observing and reflecting on leadership I've encountered in the past helped me distinguish what leadership skills I'd like to have after completing the BSN program. There are also professors, instructors, and RNs that I have met who have displayed inspiring leadership skills. They have encouraged me to develop my leadership skills while working as a registered nurse in the future.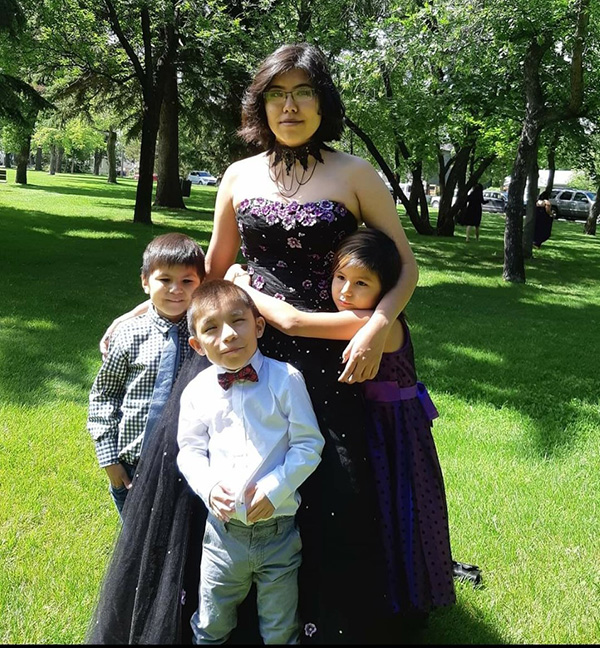 Has someone in your life inspired you to get to where you are today?  
My cocos' Sarah and Elizabeth were proud of me as an LPN, and I know they would have been proud to see me graduate with a nursing degree. Also, my children have been an inspiration to me. They have made sacrifices to help me achieve my goal along the way during the past three and half years. My son Alexei has an inspiring resilience, and my daughter Ardin has a strong spirit that is motivating. My son Adriel has an incredible calmness that I admire. My daughter Ava has helped me by sharing some of my responsibility while attending university herself. They are my biggest inspiration.

What are your goals for the future?  
Since leaving my home community, I have found the supports that my children have needed to ensure they receive a good education. So, I plan to find employment locally to ensure that my children receive a quality education. Hopefully, after gaining further experience, I would like to work in community nursing to help those affected by the social determinants of health. I have found that I am passionate about harm reduction interventions and mental health nursing in the past year. I want to develop nursing skills and training in those areas as I found those areas need more nurses.

Tell us anything about yourself that you would like us to share.  
During my fourth-year classes, I realized that past challenges that I've experienced have developed a better understanding and sense of empathy for people affected by the social determinants of health. These past challenges are now an advantage for me as a nurse. I have a better sense of how to meet the needs of people I encounter. It also helps to share my understanding with my colleagues when we have different views to collaborate for an improved understanding of health needs, which is essential to advocacy.