University of Saskatchewan (USask) student ZHE the Free sees no boundaries between her worlds.
Whether she's working as a rapper, scientist, teacher, filmmaker or voice actor, her goal is to share her truth and help others do the same.
"I think that for me, hip-hop is all about authentic connection. And you need authentic connection to do meaningful community-based research. You need authentic connection to teach in a way that's going to impact students in a positive and engaging way," said ZHE.
Known as Zoe Slusar when she was growing up in rural Alberta, the anthropology graduate student now goes by her hip-hop handle. As ZHE the Free, she launched her debut record The Love EP one year ago and continues to perform regularly as she pursues her master's degree at USask.
"I balance the two realms of arts and science in all aspects of my life," she said.
ZHE's master's project is part of the shíshálh Archaeological Research Project directed by Dr. Terence Clark (PhD) of the Department of Archaeology and Anthropology. Her research focuses on narratives and journeys of members of the shíshálh Nation on the Northwest Coast of Canada.
ZHE is working with the First Nation to share its members' stories in meaningful ways, including a documentary film she is producing alongside her written thesis. Connections made through the hip-hop community and a shared love of music have helped her form the relationships needed to succeed at the project.
ZHE is the founder of Cypher Club, a group of artists across Saskatchewan and Alberta who meet regularly for freestyle rap sessions and public performances. The club has helped keep the prairie hip-hop community energized throughout the COVID-19 pandemic, during which ZHE moved the weekly meetups to Zoom and socially distanced outdoor locations.
Art has been a way of connecting with others throughout ZHE's life. Since childhood, she has worked as a professional voice actor for anime characters, her most famous role being Kid Goku in the English dubs of Dragon Ball and Dragon Ball GT.
"That made a huge difference in my whole life, because I felt that I really had worth as a young girl—that I could use my voice and I would be listened to. And I think that impacted the spaces that I was able to step into as an adult woman, and so I really want to bring that into all spaces that I am with youth," she said.
Today, ZHE works as an instructor with Kamskénow and the Science Ambassador Program, two initiatives of the Science Outreach Office in USask's College of Arts and Science. She leads hands-on science and math activities for students in Saskatoon community schools and northern Indigenous communities.
"The fact that the programs really balance Indigenous knowledge and scientific knowledge, and that both of those pillars are equally worthy and equally showcased, is really rare. It's a very unique program. I'm honored to be in it," she said.
The children she teaches love to hear about ZHE's background as a rapper and voice actor. She often performs some of her characters' voices when meeting a new class.
"I really try and tie it in with this idea that if you're creative, it allows you to explore so many opportunities. And science is very creative, you know," she said. "So I really encourage them to find their unique voice, whatever that is. It might actually be a voice, or it might be their way of finding what they love in the world. But finding that is a really important thing for young people."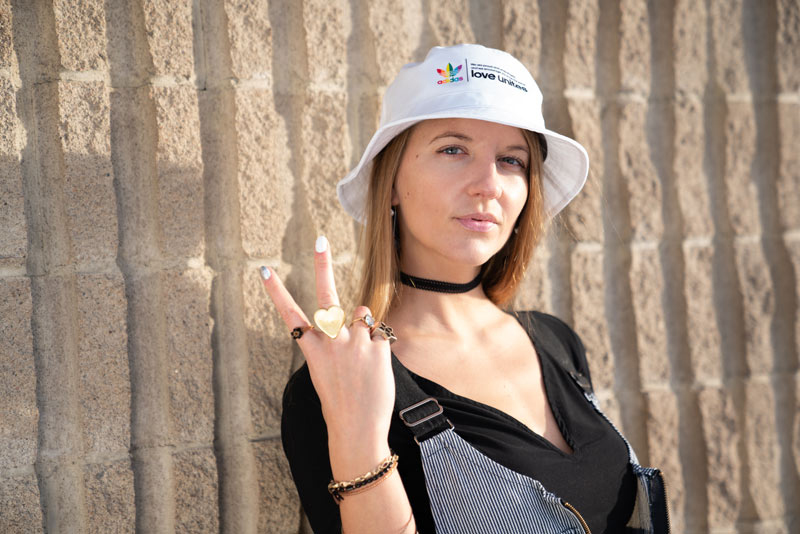 ZHE, who was recently on the selection committee for the rap category of the 2021 Juno Awards, also works as facilitator and instructor for the Mic Drop program at PAVED Arts and Chokecherry Studios in Saskatoon. The program offers Indigenous and inner-city youths opportunities to create and record their own music and poetry.
This fall, she is launching a chapter of the Cypher Club creative expression group for the USask student community through Peer Health. Details about the group will be announced soon.
ZHE advises young people of all backgrounds and identities to pursue their passion and share it with the world.
"Whether in academia, science, art or music, we need all voices contributing," she said.