Delayed a year by the pandemic, the Tokyo Paralympics are scheduled to begin August 25, with Newkirk having her first chance to make a splash on the international scene in her very first race on the opening day of competition.
"I have been working so long for this and it took a little bit longer to get here, but it is so close now that it is definitely starting to feel real and the excitement just keeps building," said Newkirk, a 25-year-old University of Saskatchewan (USask) student in the College of Education. "This has been a dream of mine for since 2014, when I think I first said out loud that my goal was to make the Paralympics. The closer it gets, it's really exciting to see that it is within arm's reach after so long."
Newkirk never imagined a global health crisis would derail a dream years in the making, with Canada the first nation to pull out of 2020 Tokyo Games, two days before the International Olympic Committee officially postponed the Games until 2021.
"When Canada withdrew, that was the moment that I thought I was going to be left behind," said Newkirk, whose father, Dr. Rex Newkirk (PhD), is a professor in USask's College of Agriculture and Bioresources. "That was a day I took off to take care of my mental health, but I was definitely glad to hear a couple of days later that the decision had been made to postpone. The world had to get to a place where we had this under control and I am happy that all the safety protocols are in place now to hold this event and it is finally happening."
All Olympic and Paralympic athletes have been provided with vaccinations prior to the Games, giving Newkirk a sense of security heading overseas, with the pandemic not over yet.
"I was able to get my second (vaccination) and we have great protocols around masks and bubbles and daily testing, so I definitely feel very confident in the protocols put in place," said Newkirk, who clinched her spot on the Canadian team by winning a silver medal at the 2019 World Para-swim Championships in London.
Unfortunately, Newkirk's family and friends will have to watch her compete over the internet, with Japan banning out-of-country visitors from attending any Olympics and Paralympics events.
"They are not allowing out-of-country spectators, but I totally understand from a safety aspect," said Newkirk, who will be joined by her Saskatoon Lasers Swim Club coach Eric Kramer in Tokyo. "My parents are going to be up in the middle of the night watching the livestream with my grandma from home."
Newkirk's Lasers teammates will also be closely following her as she completes a journey that began a decade ago when Newkirk began para-swimming after being diagnosed with dystonia, a rare neurological disorder that affects mobility in her limbs, as well as her torso, neck and face. However, the pool proved to be her new sanctuary, as she dove into the sport and starting setting national and world records.
However, preparing for the Paralympics proved challenging, as qualifying events were cancelled and pools closed, forcing Newkirk to switch to dryland training and build a home gym to prepare for the biggest competition of her life. Swimming Canada's 2017 and 2018 Female Para-swimmer of the Year, Newkirk will compete in the 50m freestyle in the S6 category (one of 10 classifications for physical impairment) on Aug. 25 and will close out competition in the 100m backstroke—her best event—on Sept. 3.
"We haven't been able to have competitions in so long, but based on my times in training it is definitely going well and I am really excited to see what I can do in Tokyo," said Newkirk, who has been taking part-time education classes remotely and has two practicums remaining to complete her USask degree.
So what would it mean to come home with a medal?
"It would mean so much to me," she said. "It is something I have been working towards for so long. When I first set this goal to make it to Tokyo, I didn't want to tell too many people just in case it didn't happen. But when it got to the point where I was ranked in the top five, top three, top two in the world, I knew it was a realistic goal. It is something I have been working towards for years and I know I am so close. I just have to get in the water and race now."
USask alum also nominated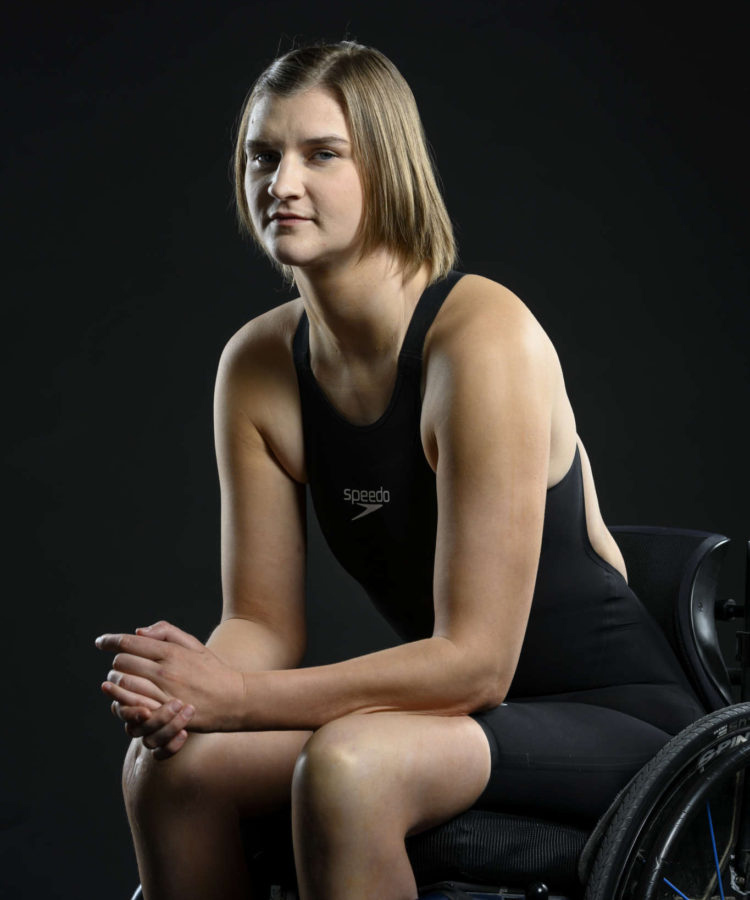 Newkirk's Lasers teammate Nikita Ens has also been provisionally nominated for Canada's Para-swim team, which will be officially announced in August.
Ens, a 32-year-old former Huskie track and field student-athlete who earned a Bachelor of Science at USask in 2011, was provisionally selected on May 11, after advancing to two finals at the 2019 world championships.
Ens, who has also set national records, lives in Saskatoon and trains with the Lasers swim club coached by Kramer.