The Pen Pal Program—created by fourth-year USask nursing students Kassandra Pickering, Quilmer Quidez and Lauren Palmer—consists of letter exchanges between a class of Grades 6 and 7 students at Brunskill School and tenants at Luther Tower, an enriched living facility in Saskatoon for independent older adults.
The idea for the project began around the time Pickering began her clinical placement at Luther Tower, shortly after the tenants had spent a long period of time in quarantine due to positive COVID-19 cases in the facility.
"It was very apparent that there was a lack of socialization and many individuals were feeling both lonely and alone," Pickering said. "It was a hard time for everyone involved."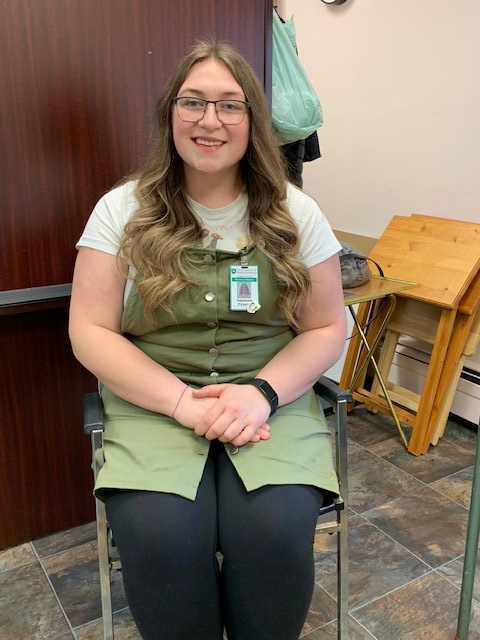 With guidance from her nursing instructor Janet Walsh, staff at Luther Tower, and with COVID-19 restrictions in mind, Pickering enlisted the help of her classmates, Quidez and Palmer, who were completing their clinical placements at the elementary school down the street. The USask students agreed that connecting the two generations through letter-writing would help create meaningful interactions with the kids and seniors in a safe way. It would also help the elementary school students understand how widespread the effect of COVID-19 really was.
When Quidez and Palmer introduced the idea of a pen pal program at the school, the kids were excited.
"Almost half of the class volunteered to participate," Quidez said.
There are currently 18 students and eight tenants taking part in the program, which is regulated by strict COVID-19 guidelines. Between writing and receiving, the letters are required to sit untouched for 72 hours before they can be delivered to the recipients.
"It's something else to look forward to," said Beryl Swan, a 76-year-old Luther Tower resident. "I thought it would be fun to see what the kids had to say and what they're interested in."
So far, the first batch of letters have been delivered to the participants at Luther Tower. The messages range from well-wishes and personal stories, to drawings of animals and flowers.
"The tenants were thrilled when they first received their letter," said Pickering. "Some tenants even stated that this brought back a sense of normalcy."
Swan said she and her pen pal have discussed their pets and a future visit to the elementary school when it is safe to do so.
"I haven't been in that school since 1958," she said.