When Prof. Alison Norlen thinks about her career as an art professor at the University of Saskatchewan (USask), she reflects on the rewarding relationships she has developed with her colleagues and students.
Norlen, who joined the College of Arts and Science's Department of Art and Art History in 1999, sees herself as having two important jobs: one as a professor at USask, and the other as a practicing artist. At USask, she is a popular and dedicated teacher. Throughout the larger art world, as well as on the university campus, she is also considered a compelling contemporary Canadian artist of national and international acclaim.
It's these dual—and complementary—roles that enable Norlen to stay connected with her students after they graduate from USask, and to continue to inspire and to support them as they become practicing artists themselves.
"In a good way, it never ends—because they graduate, they become my friends. I mentor them. I write references for them. I do collaborations with them," said Norlen, who has inspired hundreds of USask students in the areas of painting, drawing, and sculpture.
Norlen has often been lauded for her achievements in the classroom, by her students and colleagues alike. Her dedication to teaching was recognized with a Teaching Excellence Award from the College of Arts and Science in 2011 and a USSU Teaching Excellence Award in 2019.
Norlen's research, scholarly and artistic work has also been celebrated through numerous USask honours, including the Distinguished Researcher Award from the College of Arts and Science in 2014 and 2018. In 2019, Norlen received the University of Saskatchewan Distinguished Researcher Award; in 2020, she was named a Fellow of the Royal Society of Canada, the national academy of distinguished scholars, scientists, artists, and humanists.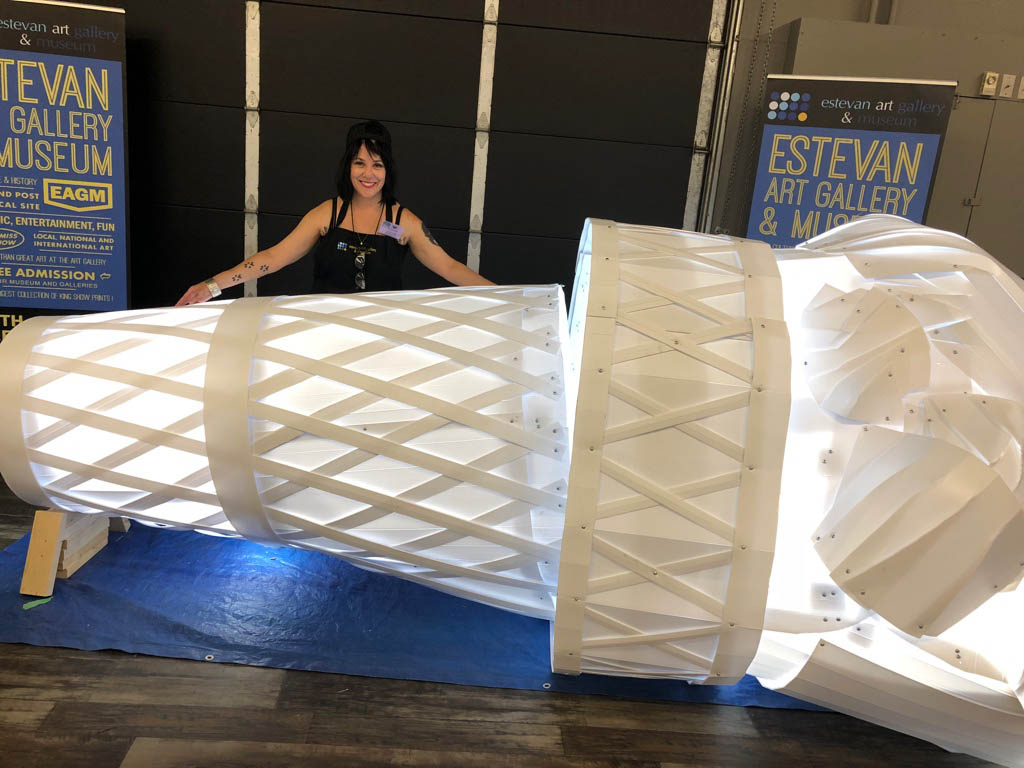 One of Norlen's biggest career highlights came earlier this year, when she was named one of seven USask faculty members to receive the title of distinguished professor. The honorary title of distinguished professor recognizes exceptional achievements in research, scholarly or artistic work by USask faculty. Recipients of the lifetime award become distinguished professors emeritus or distinguished professors emerita upon retirement.
Norlen was recognized with the title alongside fellow recipients Dr. John Giesy (PhD), from the Western College of Veterinary Medicine; Dr. Lee Barbour (PhD), from the College of Engineering (Emeritus); Dr. Alan Rosenberg (MD), from the College of Medicine; Dr. M. Gabriela Mángano (PhD), from the College of Arts and Science; Dr. Jeffrey McDonnell (PhD), from the School of Environment and Sustainability; and Dr. Valerie Thompson (PhD), from the College of Arts and Science.
"The Distinguished Professorship Program was created to honour and celebrate outstanding achievements in research, scholarly or artistic work by University of Saskatchewan faculty or emeriti," said Dr. Airini (PhD), USask's provost and vice-president academic.
"The seven scholars recognized with the title this year are inspired and inspiring for the members of our USask community, and their influence reaches far beyond our campus. On behalf of the University of Saskatchewan, I again offer them my heartfelt congratulations and thank them for their remarkable contributions."
Norlen said was "very, very surprised" to be named a distinguished professor, noting it is an honour for her to join the relatively small group of USask professors who have previously received the title. Among those scholars is one of Norlen's College of Arts and Science colleagues, Distinguished Professor Emerita Dr. Lisa Vargo (PhD), who received the distinguished professor title in 2021.
"I look at people I massively respect, like Lisa Vargo, and I think of who she is and what she's done," said Norlen. "Ever since I've been at the university, she's a person that I just really, really admire. So, to be recognized within the same group alongside her is pretty amazing."
Norlen said she felt a range of emotions upon receiving the distinguished professor title, including gratitude for the time spent by colleagues who wrote letters of support for her application package and for the time spent by those who reviewed the package.
"It's a combination of being massively thankful, being almost embarrassed at all the generosity, and honestly humbled and very surprised when I look around and think of the company that I'm in," she said.
It's been an exciting fall for Norlen, who recently returned from a trip to Morocco with a friend that was organized to celebrate her birthday. Norlen's artistic practice is also thriving, with exhibitions booked far into 2024.
One of Norlen's upcoming exhibitions will showcase some of her deeply personal work. During the COVID-19 pandemic, when she spent a great deal of time at home, Norlen meticulously drew each room of her house, and its décor, and then turned her drawings into a book. The artwork featuring her Saskatoon home will be showcased at a gallery in her hometown of Kenora, Ont., in the summer of 2024.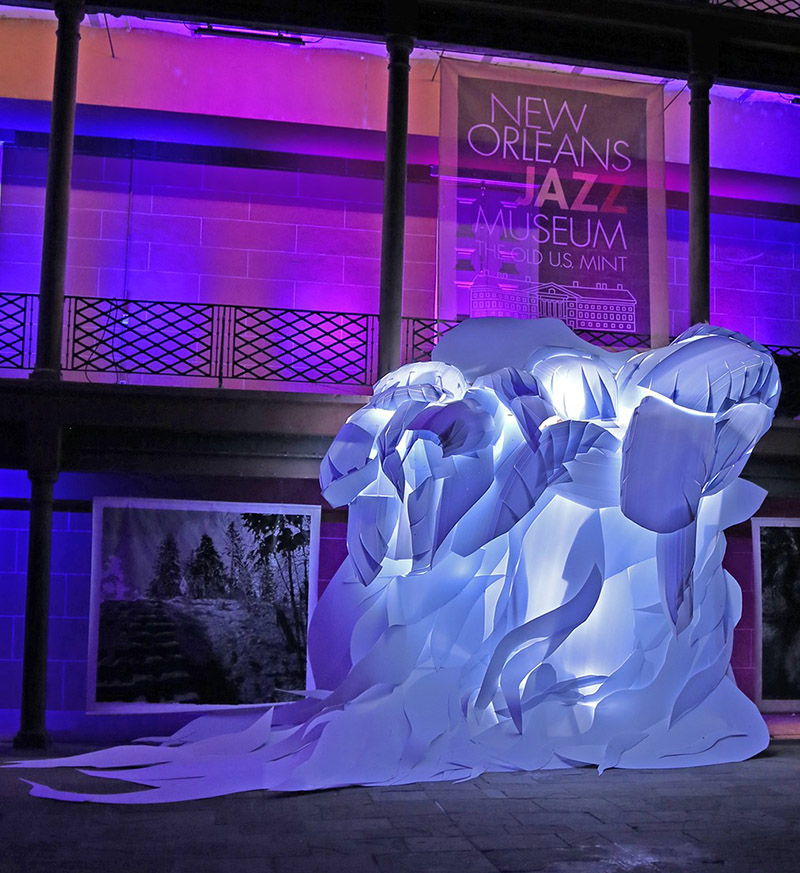 Outside of her USask commitments, Norlen also serves as an adjunct professor at the Hubei Institute of Fine Arts in Wuhan, a top fine arts institution in central China. An internationally recognized artist, Norlen's work has been exhibited at art galleries around the world—in China, the United States, South Korea, Mexico, Brazil, the United Kingdom, and the Netherlands—as well as at home in Canada, including at high-profile locations such as the National Gallery of Canada and Toronto's Power Plant Gallery. Closer to USask, her work has been on view at the Winnipeg Art Gallery, the Mendel Art Gallery and the MacKenzie Art Gallery in Regina, and she has served on the board of Saskatoon's Remai Modern.
Norlen, who travels extensively to conduct research on what she refers to as the more "spectacular" aspects of human history and culture, is known for creating large-scale pieces. This includes Glimmer (Zeppelin), the 16 by 35-foot mixed-media piece commissioned by Cadillac Fairview in 2017 that hangs in the Calgary City Centre Building. Also among her most celebrated pieces is Beacon, the 40-foot lighthouse she created for the Nuit Blanche Festival in Toronto in 2012.
In 2018, Norlen and Jesse Thomas, an art professor from the University of Alberta, were invited to create a large wave sculpture outside the New Orleans Jazz Museum. That project coincided with the 300th anniversary of the Louisiana city and with LUNA Fête, the annual festival of light, art, and technology in New Orleans.
Norlen also participated in Roadside Attractions, a public art project that took place across Saskatchewan in the summer of 2018. She constructed a giant ice cream cone sculpture called Cornet, which was curated by the Estevan Art Gallery and Museum in Estevan, Sask.
"The focus of my research is cultural spectacle, an examination of celebration, ritual, constructs of fantasy, and invention," Norlen said in a 2019 USask interview. 
"My work is also autobiographical—a kind of visual documentary—and takes the form of large-scale immersive drawings and sculptures, both static and kinetic. My work often takes the form of architecture, combining a mix of real and imagined structures, spaces, and functions."
Since commencing her position at USask in 1999, Norlen has exhibited her large-scale drawings and sculptural works in more than two dozen solo exhibitions and more than 50 group exhibitions. Despite this busy pace, Norlen has found a balance between her commitments as an art professor and her personal artistic practice. Receiving the distinguished professor title was an affirmation of her dedication to—and her success at—balancing her "two jobs."
"It feels like somebody's acknowledging that hard work. That's a pretty great feeling," she said.