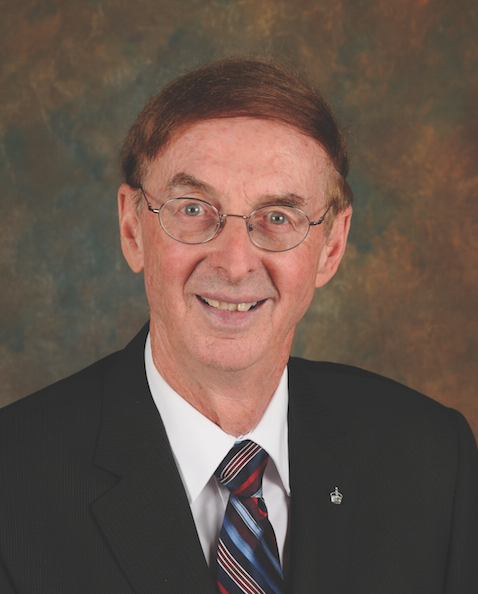 Belsher's gift is the largest donation from an alumnus and individual in the university's history.
Community members, Huskie athletes, university representatives and hockey aficionados gathered in Rutherford Rink for the donation announcement. The special occasion also marked the public launch of the Home Ice Campaign, in which the university, minor league hockey and community volunteers, will ask the public to raise the remaining $7 million to fund the new facility. The fundraising campaign is led by alumnus and hockey legend Dave King.
Belsher explained his primary intention for his lead gift to the campaign. "I made this donation because of my gratitude for the University of Saskatchewan—it provided me with confidence and education in two professions. That was my doorway to a satisfying career in the manufacturing industry." 
The accomplished accountant, lawyer, entrepreneur and philanthropist said his success started when he first came to the University of Saskatchewan. He graduated with a bachelor of commerce in 1957, and was admitted to the Saskatchewan Institute of Chartered Accountants in 1960. He returned to the U of S to pursue a law degree, graduating in 1963, and was admitted to the Law Society of Saskatchewan the following year. A businessman by nature, he then purchased a concrete products manufacturing business in Saskatoon. Through acquisitions and expansion, he grew the business to be a leader in Western Canada, eventually selling it in 2008 to Oldcastle, an international firm. 
Finding success in not one, but multiple professions took dedication and a strong work ethic. For Belsher, it also required a community of support. When he was just 15 years old both of his parents died tragically in a blizzard near their homestead. As a result, Belsher found himself alone at an early age.
It was thanks to a caring group of community members, and two older siblings, that he was guided to his new home at Luther College in Regina, where he finished his high school education and his interest in pursuing a university education deepened.
Belsher reminisced about the many mentors and teachers who encouraged his educational pursuits, but it was his mother, an elementary school teacher, to whom he gives the most credit. She instilled in him the importance of education and hard work from an early age; now he's reaped the rewards of those values.
"I've been very fortunate in my life," he explained. "If I had one wish, it would be that my mother could see how much education has helped me."
Education has since become a major focus in Belsher's philanthropic and volunteer efforts. He's served the University of Saskatchewan as a member of the Dean's Advisory Council in both the College of Law and the College of Commerce (now Edwards School of Business), and he's been donating to the university for decades. One notable donation was his establishment of the Merlis Belsher Access to Justice Fund in the College of Law in 2014, to support clinical learning opportunities for students through Community Legal Services for Saskatoon Inner City.
Although this donation is sports-specific—supporting all Huskies teams, campus recreation participants and minor league hockey players—he insisted it will have an equivalent impact on education.
"Sports are inextricably interwoven with education," he said. "Sports keep young kids off the streets, and get them involved in community."  
An avid sports fan, and former athlete and hockey coach, Belsher can relate to the importance of athletics in youth life. That's why $250,000 of his donation is a matching commitment, to involve children and community members in the new ice facility. He has called upon Saskatoon Minor Hockey Association to fundraise for the new facility as well, and they have taken up the challenge.
Belsher's enthusiasm for giving back to support the university and the community is infectious. He's most excited that his donation will help increase the amount of ice time available for both the Huskies and minor hockey league players. The university has an agreement with Saskatoon Minor Hockey to reserve a significant number of hours for the use of community hockey programming.
Although the new ice facility will be named after him—Merlis Belsher Place—Belsher remains humble, and stated that he did not make the contribution for the notoriety. He made it to help university students, first and foremost.  
"This is about the university, not me," he said. "If you see a good cause, you get fulfilled by getting involved."
Taking centre ice
The Merlis Belsher Place will truly be a state-of-the-art facility. With a $41-million price tag, the new ice complex showcases an impressive list of features:
Twin ice surfaces to provide ice time for the Huskie hockey teams, 900 students who play campus rec hockey annually, close to 400 students and 140 faculty and staff for other recreational and academic purposes, and Saskatoon Minor Hockey teams
New locker room space for the Huskies men's and women's soccer teams, with access to nearby outdoor natural turf practice and game fields
Seating to accommodate between 1,830 and 2,310 spectators
Flexible space allowing convocation to be held on campus, saving rental fees, and bringing students, family and friends to the U of S instead of TCU Place
Space to host the Graduation Powwow, conferences, special events, exams and other community events
12 community dressing rooms with designated additional change rooms for coaches and mixed gender team participants
A two-storey main lobby that will be the building's focal point, featuring a central reception area will have views into each arena
With a shortage of ice facilities in Saskatoon, Merlis Belsher Place will offer community members a much-needed option. A partnership with Saskatoon Minor Hockey will bring thousands of community parents and children to the university each year.
As a centrepiece of College Quarter—and in close proximity to the Saskatoon Field House, Griffiths Stadium, and the Physical Activity Complex—Merlis Belsher Place will contribute to the university's vision of having an integrated centre for athletics, and create a vibrant community hub near campus.
For more information about the Home Ice Campaign, or to make a donation, please visit home-ice.ca.