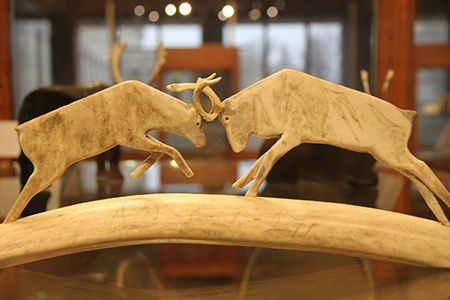 Norman Zepp (BA'76) and his wife Judith Varga (BA'76) have travelled the northern-most part of Canada to research the art created by the Inuit people and have cultivated a nationally-recognized collection over the course of nearly 50 years.
The donation includes over 200 sculptures, dozens of prints and drawings, five wall hangings, a vast set of photographs and original interviews with the Inuit artists—predominantly from the Keewatin region of Nunavut.
"This would be a remarkable collection even if the art weren't included," noted Tim Hutchinson, university archivist. "The interviews and archival material provide unique insight into the lives of Canada's northern artists—indeed it is likely the only in-depth documentation available about many of the artists. This is an invaluable addition to our research collections focusing on the North."
Zepp, an independent art curator and expert in Inuit art, started collecting when he first attended the University of Saskatchewan (U of S) as an art history student, in 1969. Peter Millard, an English professor who was influential in the arts community, introduced him to the works of the Inuit people, and Zepp was hooked.
"I've always had an instinct for art," said Zepp. "I wasn't aware of this style before then, and I immediately went to the Mendel (art gallery) and bought my first piece."
See more on the U of S Donor site.