The University Library holds extensive materials relating to the life and work of Murray Adaskin, a composer, teacher and musician who served as head of the USask Department of Music from 1952–66. Adaskin was also USask's composer-in-residence—the first appointment of its kind at a Canadian university—from 1966–73.
"I would suggest he was one of the leading composers in Canada. There's no question," said Dr. Walter Kreyszig (PhD), professor emeritus in the Department of Music.
Born in Toronto in 1906, Adaskin was a violinist with the Toronto Symphony before he began studying under influential composers in Toronto and the United States in the 1940s. He earned a name as a composer during his years in Saskatoon and continued his prolific output of music after retiring to Victoria.
In addition to his legacy as a composer, Adaskin had a large influence on music education in Saskatchewan and on the growth of the Saskatoon Symphony Orchestra. He played a major role in bringing Canada's only quartet of Amati instruments to USask.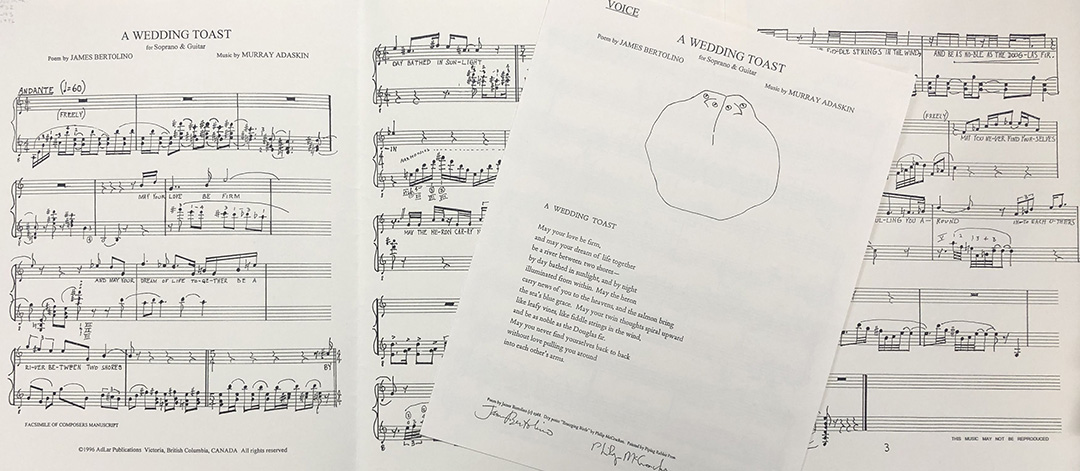 "I would say Adaskin was really a musical humanist in bridging composition, performance, teaching, education—to put it all under one roof," said Kreyszig, who is currently co-editing two upcoming volumes on Adaskin's life and music titled The Vision of Murray Adaskin (1906–2002): His Contributions to the Musical Scene of Canada and Beyond.
Adaskin travelled widely through the country seeking sounds and ideas that were uniquely Canadian, and wrote music that is easy for anyone to appreciate, said Kreyszig.
"He relates directly to the people. He is very concerned that there is a Canadian perspective to his music, and that it is recognized as solidly Canadian."
The composer was later invested into the Order of Canada and was awarded six honorary doctorates, including one from USask.
Adaskin began donating his music to USask in his later years, and his wife Dorothea completed the gift after his death in 2002. The donation included a near-complete collection of Adaskin's scores and sheet music, as well as a priceless assortment of his writings and personal effects, including his desk, music stand and metronome.
It's those personal items that make the collection in the University Archives and Special Collections truly stand out, said Carolyn Doi, music librarian in the University Library.
"When you look at those objects, you're really getting a sense of who the composer was and what was going on in their life and how that influenced their compositional process. I think it adds meaning to the music."