After helping the Huskie football team capture the 2018 Hardy Cup Canada West conference championship, the two players from Saskatoon were selected in the 2019 CFL draft—Machibroda by the Edmonton Eskimos in the fifth round (41st overall) and Whiting by the Montreal Alouettes in the seventh round (57th).
Machibroda is returning to the Huskies for his fifth and final season of eligibility and to complete his engineering degree, after attending Eskimos training camp in May.
"It's a goal that I set for myself and I have been trying to focus on those two things: earning my degree and playing pro football," said Machibroda, a dominant defensive lineman who was named an All-Canadian in 2018 as one of the top players in the country. "I am going into my last year of civil engineering, so I plan on finishing my degree first. But I am really excited to take the CFL camp experience and bring that back to our Huskies team here."
The 6-foot-3, 280-pound Machibroda finished last season with 23 tackles and four quarterback sacks in his fourth year as the anchor of the Huskies defensive line. Amazingly, Machibroda never missed a game despite suffering a torn bicep in the third game of the season, undergoing surgery in December. While he hopes to play pro in the CFL after graduating, he is also preparing for life after football working as an engineer.
"I know you only have a short window to play professional football if you get the chance, so I am going to take that as far as I can, and then I have the rest of my life to be an engineer," said Machibroda. "So, football is kind of the goal right now, but I still want to graduate to have that degree.
"As for the Huskies, we expect to be in the top echelon in the league and we are working as hard as we can to get back to the national stage and that is our big goal for the season."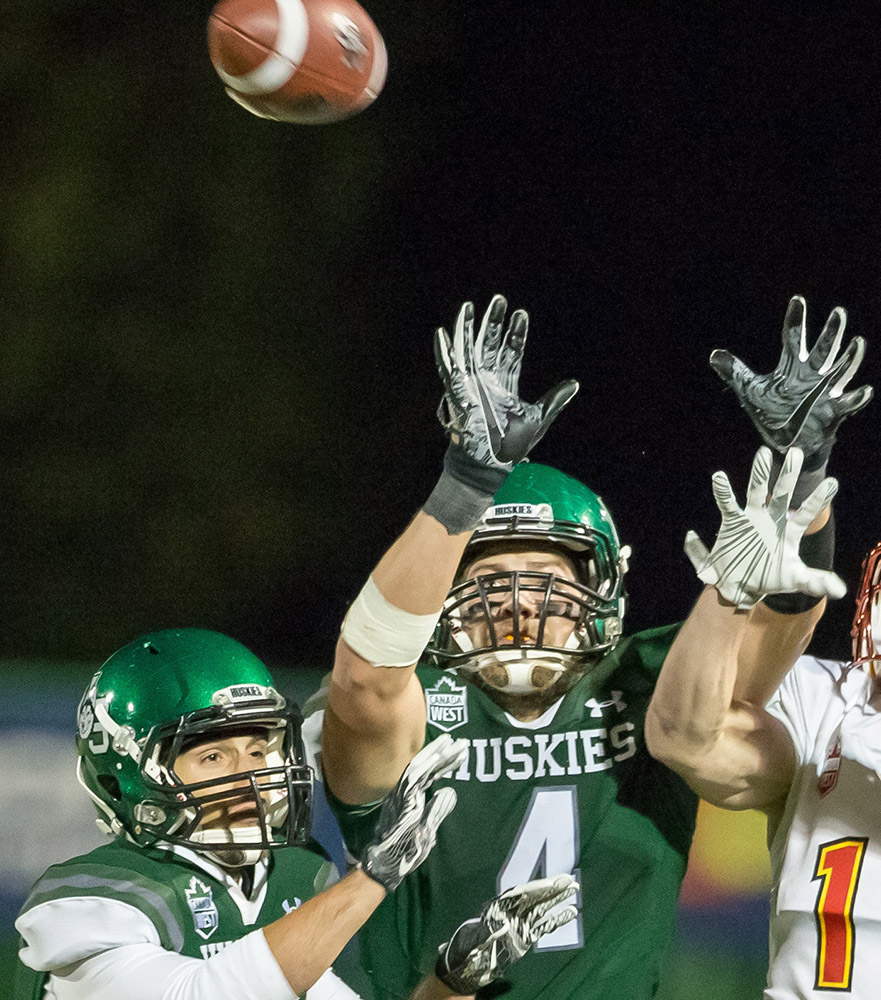 Like Machibroda, Whiting is also determined to play in the CFL and to be prepared for life after football by earning his education degree. The 6-foot-3, 225-pound linebacker is coming off an excellent season in which he led the Huskies and finished fourth in the league in tackles with 44 in the regular season and 16 more in the playoffs, garnering the attention of Alouettes scouts.
"All you need is an opportunity, so I am happy that Montreal has taken a chance on me and I'm going to do my best to take advantage of it," said Whiting, who was named to the Huskie Athletics All-Academic Second Team for student-athletes with an average of better than 74.5 per cent completing a full course load of 24 credit units. "I have one more year left in my degree and I need to finish my (student-teaching) internship, but whether I take on-line classes or come back here, I will definitely be getting my degree."
Whiting signed his first contract in May and was released after Alouettes training camp, but could be picked up by another CFL team or return for his final season with the Huskies this fall.
"If it doesn't work out in Montreal, I still have another year of eligibility left with the Huskies and it would be awesome to come back," said Whiting, whose younger brother Tom is also on the football team and older brother Sam played Huskie soccer last season. "We're still a very good football team. We know we have something special in that locker room and regardless of whether I am there or not, I know they are going to have an unreal season."
Former University of Saskatchewan Huskies kicker Sean Stenger signed a free-agent tryout contract with the Saskatchewan Roughriders on June 3 in the final week of training camp at USask's Griffiths Stadium … Huskies quarterback coach Jeremy Long served as a guest coach at Roughriders camp … Huskies QB Mason Nyhus attended Calgary Stampeders training camp as part of the CFL's Canadian Quarterback Internship Program … Five USask football players took part in the 2019 U Sports East-West Bowl in Ottawa on May 11, a showcase for 2020 CFL draft prospects. Receivers Sam Baker and Colton Klassen, defensive lineman Nick Dheilly, and offensive linemen Mattland Riley and Nicholas Summach suited up … Huskies head coach Scott Flory unveiled 17 new recruits at the annual Dogs' Breakfast on May 2, including 2018 Canadian Junior Football League All-Canadian rushing leader Josh Ewanchyna.