The Langham resident and University of Saskatchewan (USask) alumnus (BSA'86) has spent the past three decades in the Canadian Forces and completing four tours of duty overseas as part of the Princess Patricia's Canadian Light Infantry regiment.
"I love history, I love Canada, and I wanted to do something bigger than myself," said Maerz.
Born into a farming family near Saskatoon, Maerz studied agriculture at USask because his older brothers had as well. But it was his father's life that led him to a career with the military.
"Agriculture was to appease my parents," he said. "Part of the interest in the military is that my father was a World War II veteran."
After graduation, Maerz worked for three years in the private sector before joining the military as a direct entry officer.
Having a degree and the experience of his post-secondary years helped Maerz greatly as he changed careers.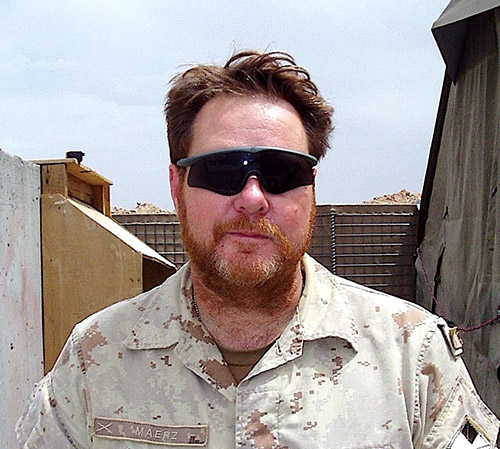 "I enjoyed my time at the University of Saskatchewan and being a farm boy, getting my education here and then joining the military," he said. "By that time, I had a wealth of life experiences, and I always felt that I could relate to my soldiers better."
Maerz joined the military in 1989 and his first deployment was to Croatia in 1993 for seven months to help with peacekeeping efforts during the conflict in the former Yugoslavia.
After coming back from Croatia, Maerz left the military for a couple of years to do something different.
But when 9/11 happened, Maerz felt the calling once again to come back to the Canadian Forces and help with the mission in Afghanistan.
"None of us could see into the foggy crystal ball of what was coming," he said.
He did a six-month tour in 2006, which extended into an additional three-month tour. In 2008, for six months, he worked with 22 Canadians and 166 Afghans to train them as police officers in Kandahar Province.
"It was extremely rewarding and it was one of the best things I did," Maerz said.
Over the course of those six months, the Canadians and Afghan soldiers fought together, and saw one another as brothers.
"The Afghans are very forgiving and hospitable people," he said.
After wrapping up his tour in October 2008, Maerz moved into a role as a military career counsellor with the Canadian Forces.
Over the course of the Afghanistan War, 158 Canadian soldiers died and more than 1,800 were wounded.
"I served 16 months and of the 158 dead, 54 died while I was there. Some I knew very well," he said.
It is his fellow soldiers, his father and those who fought that are on his mind on Remembrance Day.
"For me, I think about all the people I have direct connections with," Maerz said. "I remember my father, my father's friends who were servicemen, and all that they sacrificed."