Physicians have always held a special place in the public eye; admired for their live saving skills and unrelenting selflessness. From its humble beginnings in 1926 as the School of Medical Sciences, through the recent graduating Class of 2021, alumni from the College of Medicine at the University of Saskatchewan (USask) have consistently upheld and often exceeded this high standard. Perhaps at no other point in history are these qualities tested more than when a nation is at conflict. With bloodshed all around them, medical staff often put themselves at great peril to save the lives of armed forces members, sometimes on both sides of the conflict, and the civilians caught in the middle.  
---
While in his first year of medicine, he attended a recruitment visit by Dr. Bob Banks (MD), a former Canadian air force pilot turned aerospace physician. McLeod didn't know it at the time, but this routine presentation planted the seed that would have an influence on his career. 
McLeod's transition from civilian to military life came from an obligation that all post-secondary students inevitably face: paying for school. Despite his intention to remain in active service only as long as was necessary, he didn't return to civilian life until his retirement in 2017, nearly 27 years later.
During his military career, McLeod deployed in support of three international military operations, oversaw significant health care advancements including the rollout of a Canada-wide primary care renewal initiative and the evolution of the electronic health record system, and participated in the National Security Programme.
He held numerous leadership positions including Commanding Officer of the Multinational Trauma Hospital in Kandahar, medical advisor to the Commander of the Royal Canadian Air Force, Director of Mental Health, and Deputy Surgeon General. 
As a nation, Canada has long been respected by the international community as a nation of peacemakers, but perhaps no more so than by the civilians that saw Canadian soldiers when the Allied forces advanced through western Europe in 1944. McLeod has a unique perspective on why Canadians are viewed this way, shaped by a four-year posting to a NATO base in Germany. 
During one particular military commemoration, McLeod recalls arriving early and encountering an elderly gentleman, who was a boy during the liberation of Holland in the Second World War.

When McLeod asked the man why Canadians are viewed differently from other Allied nationalities, the man replied: "No matter who came through our village, we were occupied. Whether it was the Germans, Americans, or British, we were occupied. When the Canadians arrived, the captain came to my father and said, 'may we use your home for our headquarters?' That was the difference."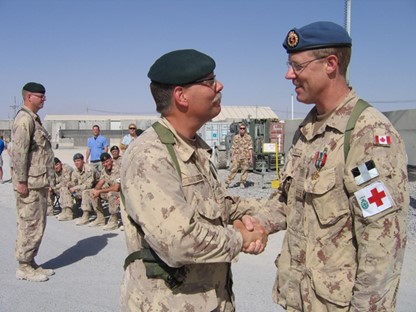 It was instances like that in which Canadian soldiers went from being occupiers to liberators in the eyes of local citizens. When asked about the role that Canadian soldiers have played during the previous 20 years in Afghanistan, McLeod explains that "we came in with the goal of building relationships with locals and not impose the Canadian way on them."
Despite the recent setbacks in Afghanistan, McLeod firmly believes that the Canadian military's legacy of establishing countless positive relationships, particularly with young Afghans, are glimmers of hope that bode well for a brighter future. 
Although the military is not a common career path among medical graduates, it offered McLeod a lifetime of opportunity and endless possibilities. In early November, when the nation reflects on the sacrifices made by those who came before, medical students may be wondering what impact they will have on the world.

For those considering a career path as a military physician, McLeod has some advice.
"Don't go into it with a preconceived opinion of what it is going to be. Don't think that you are going to have a normal family practice," he said. "But if you want to experience a broad array of different things you could do, if you are willing to seize the opportunities that are presented, if you want to learn about diverse environments, and discover new skills to practice in occasionally challenging settings, then a military career might be for you."
Remembrance Day ceremony on campus
The University of Saskatchewan (USask) will host its Remembrance Day wreath-laying ceremony on Thursday, Nov. 11 at 1:30 pm at the Memorial Gates on campus. 

USask's annual wreath-laying ceremony has been held for 93 years since the opening of the historic Memorial Gates on campus in 1928. The annual ceremony recognizes the military contributions and sacrifices of our university community and honours all who served in the Canadian Armed Forces, in times of war and peace. The event is open to USask students, staff, faculty and alumni, as well as members of the community. 
 
Visitors to campus will be required to follow USask's vaccination measures and mask requirements.