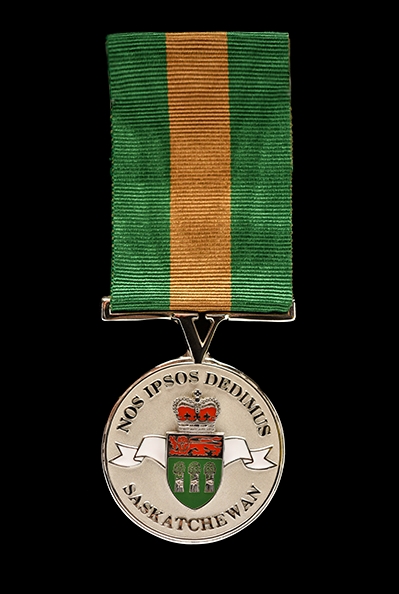 A University of Saskatchewan (USask) student is making history as the youngest person ever to be recognized with the Saskatchewan Volunteer Medal.
Ishita Mann and eight other Saskatchewan residents will be presented with medals by Lieutenant Governor Russ Mirasty on April 26. The ceremony, which will be held at Government House in Regina, will honour the 2021 recipients of the Saskatchewan Volunteer Medal during National Volunteer Week.
"I am very excited to be attending the ceremony, mainly because I will have the opportunity to connect with the other winners, meet many government officials, represent the Indian community and spend some quality time with my family," said 19-year-old Mann, a second-year biomedical sciences student in USask's College of Arts and Science.
"I also want to use this opportunity to learn from the other winners, as being the youngest recipient of this award implies that I have fewer experiences than my fellow winners and have a lot more to learn from them," she said.
Established in 1995, the Saskatchewan Volunteer Medal recognizes the extraordinary work done by volunteers across the province. Since its creation, the medal has been awarded to 240 people.
Mann is the founder and CEO of Youth Helping Youth Saskatchewan Inc. The youth-led organization aims to provide young Canadians with career mentorship, advice, community involvement opportunities and more to help support their academic and professional journeys.
"We hope that youth feel supported and empowered to independently become the next leaders in all avenues of life," Mann said.
"I have received countless messages and emails from youth who use our platform to become educated in current affairs and aware of opportunities," she added. "A common theme in all of these messages is that youth find our organization to be the primary support for their professional and personal journeys. Since all the information necessary to pursue a position or application is provided by our team, the only responsibility of the youth is to trust their own potential and take a chance."
In addition to her work with Youth Helping Youth Saskatchewan, Mann has volunteered for many other organizations, including Jack.org, the Amal Club and the Arts and Science Students Union (ASSU). She has also volunteered for the Battlefords Union Hospital and the Boys and Girls Club and spearheaded a Meals on Wheels project during the COVID-19 pandemic.
"People choose to volunteer for a variety of reasons. My first reason is that it allows me to do something for someone else without doing that extra 'what is in it for me?' calculation in my brain. I am quite conscious that I hold a particular privilege relative to someone I am doing a service for. Thus, having the ability, means and resources to give back to my community is an opportunity I thoroughly welcome," Mann said.
"Second, volunteering is an individual experience. It is up to the individual to decide how they want their volunteering to impact them. I personally choose to let volunteerism guide my self-development—personality, skills, connections, etcetera—because I am given an avenue through which I can learn new perspectives and experiences."
Mann was born and raised in Amritsar, Punjab, India before moving with her family to Saskatchewan and later graduating from North Battleford Comprehensive High School. A high-achieving student, Mann has been the recipient of several academic awards, including the prestigious USask Chancellors'  Scholarship. She is also the latest recipient of the Vera Pezer Award for Student Enhancement (Volunteerism), provided by the University of Saskatchewan Students' Union (USSU), and was honoured with the award during a ceremony held on March 25, 2022.
Mann is currently a student in USask's revamped biomedical sciences (BMSC) program, majoring in cellular, physiological and pharmacological sciences. The new BMSC program was made possible through a first-of-its-kind partnership at USask between the College of Arts and Science and the College of Medicine.
Mann chose to pursue the Bachelor of Science degree because of her goal of one day becoming a doctor and because the interdisciplinary program enables her to pursue her passion for STEM (science, technology, engineering and math) subjects.
"My ultimate goal in life is to pursue medicine, as it is a dynamic career that prioritizes the service of others, community building and challenges an individual," she said. "It is also a profession that has appealed to me ever since I was a mere child of three years simply because of the understanding that it will help me help others."
Mann said it was "an incredibly humbling experience" to receive the news that she is a new recipient of the Saskatchewan Volunteer Medal, noting "it is undoubtedly motivation to continue serving my community and encouraging others to do the same." When asked how she balances her academic pursuits with her many volunteer activities, Mann said she relies on time management and acknowledging her priorities.
"As well, my family is a significant support factor," she said. "My parents, Mr. Sumit and Mrs. Karun, work hard to provide for my younger brother, Aaditya, and me. They also make it a point to spend time with us, teach us important life lessons and create a progressive and accepting environment to thrive."