"With two of the Hermès Canada | MS Society Wellness Research Innovation Grants being awarded to researchers at the U of S, we see how MS research within the province continues to grow," said Erin Kuan, president of Manitoba and Saskatchewan divisions of the MS Society of Canada. "Providing opportunities and funding for researchers—from students to lead investigators—is something we are proud to support."
While research suggests exercise can be beneficial to overall health for people with MS and may even help ease symptoms, respondents to the MS Society's 2015 MS Wellness Survey of 1,000 people affected by MS across Canada called for more evidence on the impact of exercise on MS symptoms, and addressing barriers to improving levels of exercise among people with MS.
Through the generous support of Hermès Canada, the funding from these wellness grants encourages research collaborations between academic and community partners, as well as translation of research findings into wellness solutions for people affected by MS.
"We know that using wellness strategies to improve overall quality of life is increasingly important to people impacted by MS," said Jennifer Carter, CEO and president of Hermès Canada. "We are gratified to help support projects that will increase our understanding about the types of exercise that can improve function for those with MS, and improve accessibility of physical activity programs for those who reside in rural areas or who are limited by disability and other challenges."
The successful U of S projects, chosen by a panel of scientific experts, wellness specialists and people affected by MS, are:
Dr. Katherine Knox (pictured above), associate professor in the department of physical medicine and rehabilitation in the U of S College of Medicine, who will test an innovative, web-based maintenance exercise program combined with specialized physiotherapist guidance and support. Working with the Saskatoon Health Region, the aim is to help people with moderate-to-severe MS disability manage their condition.
"Effective use of a web-based activity program may assist people with advanced disability and those residing in remote communities achieve health benefits associated with regular physical activity," Dr. Knox said. She noted that accessible and safe programs that increase physical activity among persons with disability are urgently needed.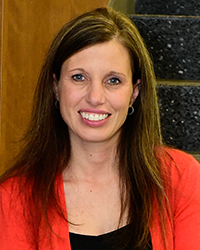 Charity Evans (pictured at right), U of S assistant professor of pharmacy in the College of Pharmacy and Nutrition, who will study the effect of Pilates in MS, working in partnership with U of S kinesiology researchers and community co-investigators Jana and Jason Danielson who own Lead Pilates and Lead Integrated Health Therapies.
Some participants will complete a 12-week, twice-a-week Pilates program along with a weekly massage, while a control group will receive massage therapy only. Investigators will assess any differences between the two groups in walking ability, muscle strength, balance, and quality of life.
Evans notes very few researchers have studied Pilates in MS, but those who have done so have noticed some improvements in walking, balance, and strength. "Pilates, which focuses on body positions and movement with specific attention to core muscles, may be a good exercise option for people with MS," she said.
"These important research projects will engage the community to help improve the quality of life of those living with MS," says Darcy Marciniuk, U of S associate vice-president research (health). "Collaboration between disciplines often brings about research findings that would not otherwise come to light."