The program helps to create learning opportunities for students at the high school and postsecondary level, matches young women with mentors during the academic year and sets up internships for students in the summer.
Julia Doucette-Garr is an Indigenous student pursuing a Bachelor of Science in physics at USask and she has been a part of MentorSTEP for the past year—helping to promote the program to other students.
"We just get a bunch of Indigenous women and teenagers interested in science and STEM because there is a lack of that representation in these fields. It's about getting them interested," Doucette-Garr said.
Indigenous representation in STEM careers is roughly two percent and Indigenous women make up about a third of Indigenous people enrolled in STEM-related education. MentorSTEP hopes to increase these numbers and help break down some of the barriers Indigenous women encounter.
This summer, Doucette-Garr completed an internship at the Canadian Light Source (CLS) at USask. She worked as an assistant for the IDEAS beamline at the CLS, which is often used for student research projects and learning opportunities. She enjoyed helping with a variety of science projects, sample analyses and creating videos with the facility's education team. She even helped to create a video that explains the science of bannock, looking at the chemistry and the physics behind the traditional bread.
Her interest in physics started when she took a first-year class. "I did really well in it — I liked the math and I liked the labs we got to do," she explained. She liked the class so much that she switched her major from biochemistry to physics. Now, she wants to get a Ph.D. and dreams of becoming a professor or working for NASA.
Doucette-Garr says that the lack of representation in STEM helps to push her forward and she believes that, as much as this path is personal, it is also important for her to help set the groundwork for the next generation of Indigenous women in science. 
"Representation is huge," she said. "If I was able to have an Indigenous female professor, it would have made a world of a difference. I want to be able to be that support for someone."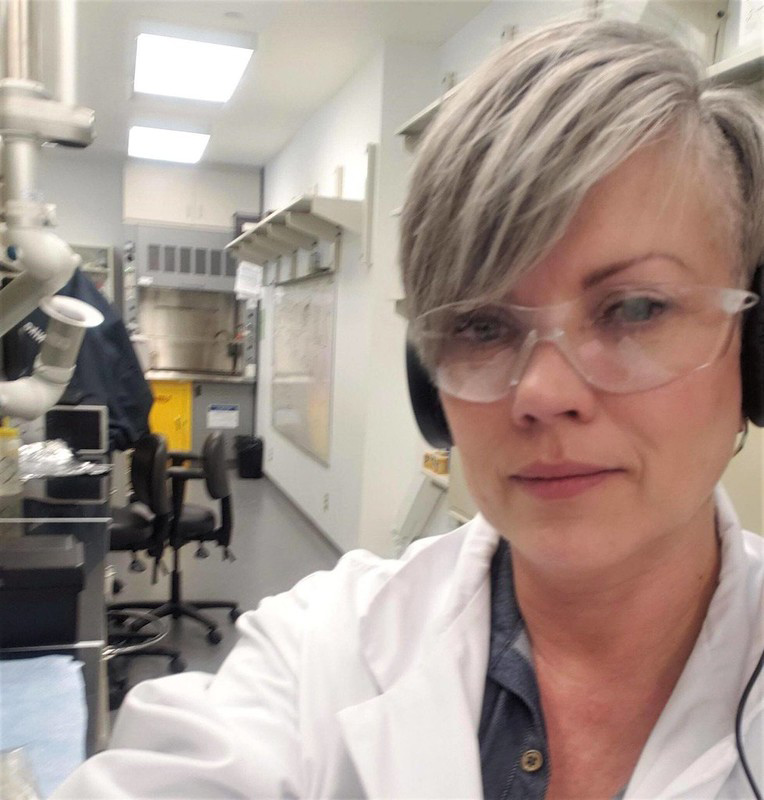 Bernie Petit, Education Coordinator of Indigenous Programming at the CLS, has been working closely with Doucette-Garr and MentorSTEP over the past several months.
When Petit joined the CLS in January, she wanted to learn more about Indigenous students enrolled in STEM programing at USask. After a search across departments, Petit found two Indigenous students, both in the physics department, who she calls her diamonds. After this discovery, Petit got in contact with MentorSTEP to see how she could get the students involved in learning opportunities at the CLS.
"I really want to help create a pathway for more Indigenous scientists because of my previous career as a Director for First Nations communities," Petit said. "The higher-level decisions about what research to follow and what medication to use, all those things are decided by non-Indigenous people. So, I saw a need to get more of our own researchers to look at our situations to improve our health outcomes."
Petit sees this opportunity through the perspective of an Indigenous matriarch. She understands how important Julia's role at the CLS is for Indigenous students, but also sees the value for non-Indigenous individuals in the facility. She believes that bringing in an Indigenous perspective helps to create positive change.
"I know the diamond we have," Petit said. "I know she is very rare. It is extremely rare to have an Indigenous student, it is even more rare to have a female Indigenous student come into this environment." As a mentor, Petit was able to help guide Julia through an environment that was unfamiliar to her.
"I think CLS has created a really great platform for her to be safe and express what she needs to express," Petit said. She stressed that the focus was on making sure Julia had a hands-on experience with science. Petit is proud of how far Julia has come and thinks it is important to highlight her as a science role model — something that has been missing in Indigenous classrooms.
Petit added that numerous staff have been working to increase opportunities for Indigenous students at the CLS. For example, Dr. Robert Blyth, Science Projects Manager, and Tracy Walker, Education Program Lead, advocated for the new summer student position and Dr. David Muir, IDEAS Beamline Responsible, offered Doucette-Garr remote training during the pandemic.
"It's exciting that the CLS is creating and fostering these Indigenous role models," Petit said, adding that the partnership with MentorSTEP set the path. 
---
This story was originally published by the Canadian Light Source.