USask College of Arts and Science graduate student Qihang Liang built the multi-channel video installation (MVI) called Inter-Play, designed to explore the interconnections between people, water, food and energy systems. The project was also testing a technique to see if an MVI could lead to higher attention and engagement with an audience than a traditional video game or static art installation.
"Unlike traditional art forms, I am interested in video games as art," said Liang, who has completed an Interdisciplinary Studies Master of Arts degree, a program that melds elements of Master of Fine Arts and Computer Science degrees. "I view video games as artwork but with the advantage of being a type of material technology that allows for interaction and real-time communication potential. I grew up playing video games, and I strongly believe in their unique ability to bring people together and foster relationships."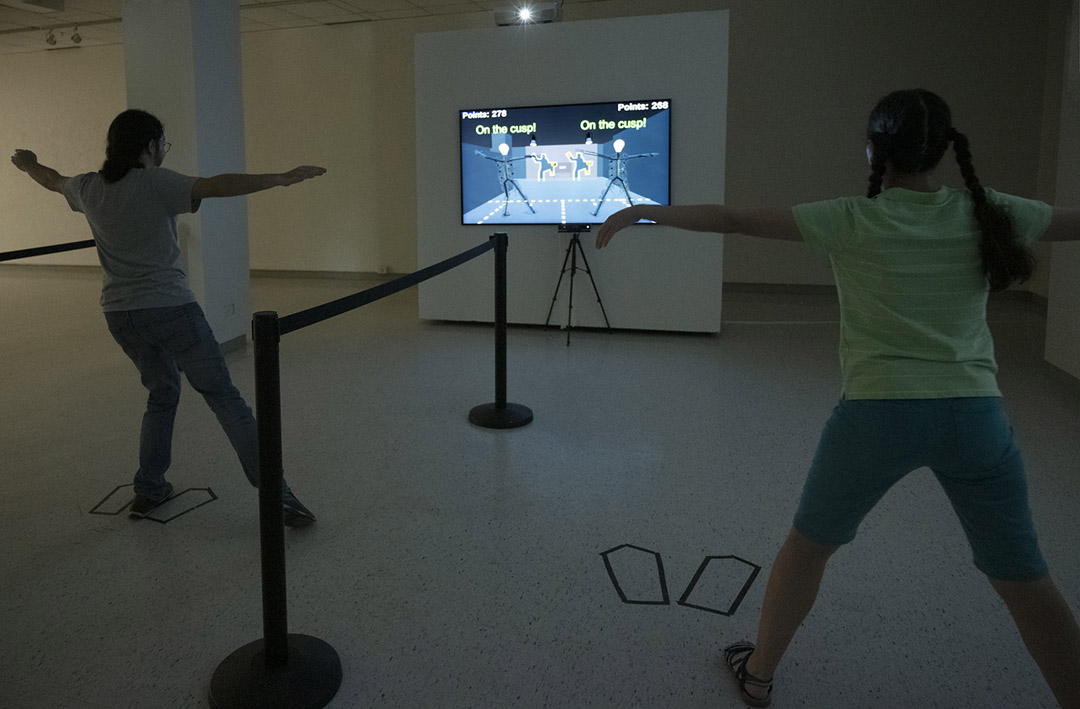 The game in Liang's project presented unique challenges and opportunities for players and audience members to actively participate and observe as players make decisions in gameplay that impact the environment.
"Through the interactive nature of our installation, players are fully engaged in the gameplay and may overlook the broader impact of their actions," said Liang. "In our game, we have intentionally inverted the unspoken rules where players typically act as heroes or bring goodness to the world."
As players achieve more points in the game, the environment is more negatively impacted with physical damage, extreme weather and deterioration over time. But Liang's game only shows the player one side of the story. Only the audience – with the advantage of being able to see all three screens in the installation simultaneously – can see the damage caused by the player.
Liang notes that this unique way of displaying interactive art allows observers to engage with and more fully understand the meaning and purpose behind the piece, and have multiple experiences simultaneously.
"The work is designed to raise awareness and inspire us to embrace a more balanced and sustainable lifestyle," said Liang of the work's importance. "Artistic creation came together with a more scientific method of inquiry."
The Inter-Play exhibition was publicly installed at the Gordon Snelgrove Gallery from June 19-30, 2023.  An earlier version of the work was presented at the Nuit Blanche Saskatoon public art festival in 2022. The project was overseen under the expert supervision of Department of Art and Art History associate professor Lisa Birke and Department of Computer Science assistant professor Dr. Madison Klarkowski (PhD).
Although Liang has submitted his final work to complete his graduate studies, he is still looking for opportunities to showcase his research in unique and innovative ways and to provide alternative ways for artists to present their work in a digital world.
Liang said his study serves as an example of how MVI displays and using methods of human-computer interaction – such as integrating eye tracking analysis – can have significant benefits for artists and designers who are looking to direct viewer attention in a way that is effective and engaging. In Liang's case, combining these methods allowed people to explore how their actions could affect planet health in multiple ways.
"[The study] provides a scientific approach to understanding the dynamics of viewer interaction, and this can allow for the development of more engaging and immersive experiences in the future," Liang said.
With an undergraduate degree in Interactive Systems Design and now with a graduate degree under his belt, Liang plans to take what he has learned about 3D modelling, animation, game development, and gallery installation at USask into his future endeavours as he continues to blur the lines between art and computer science.
"The researchers in Art and Art History at USask actively showcase their work in renowned galleries, international art events, and festivals, solidifying their presence in the global art community," said Liang. "Similarly, the human-computer interaction lab boasts cutting-edge technology and regularly presents research papers at international conferences, demonstrating its expertise in the field. One significant advantage of pursuing an interdisciplinary program like mine is the ability to apply knowledge, methodologies, and technologies from one discipline to another."
The research was supported by the USask Interdisciplinary Studies Graduate Devolved Scholarship and through funding from the research programs of Dr. David Natcher (PhD), Birke and Klarkowski.
This article first ran as part of the 2023 Young Innovators series, an initiative of the USask Research Profile and Impact office in partnership with the Saskatoon StarPhoenix.