Here are some of the most-read USask news stories to emerge from 2019:
500-million-year-old worm 'superhighway' discovered in Canada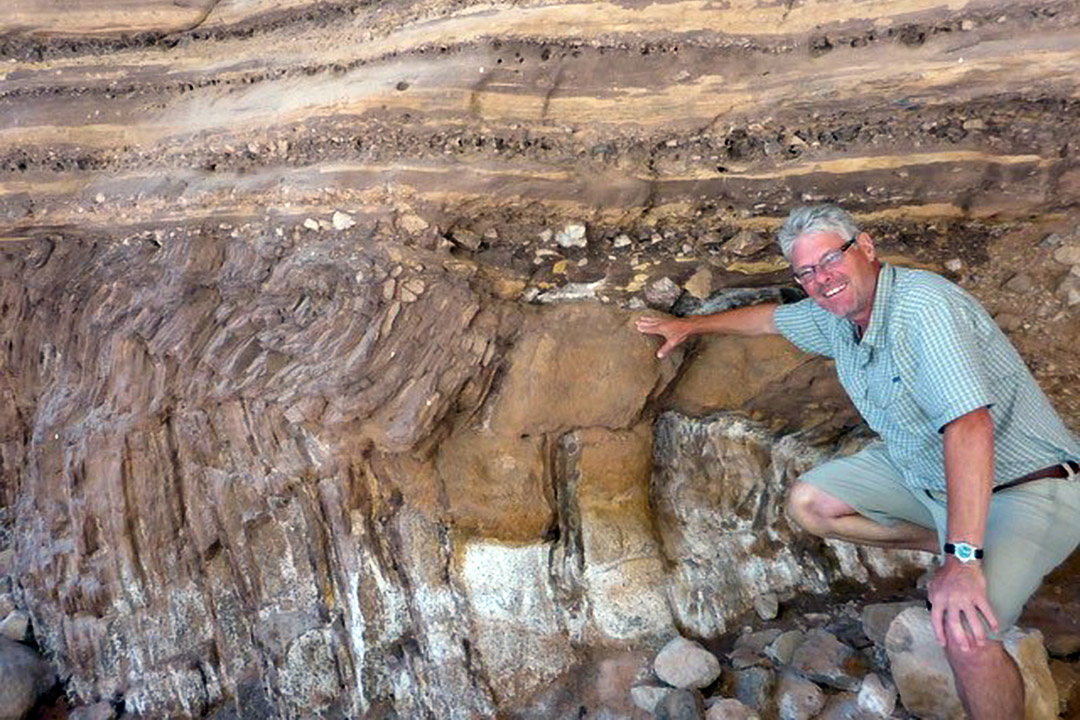 Prehistoric worms populated the sea bed 500 million years ago—evidence that life was active in an environment thought uninhabitable until now, research by the University of Saskatchewan (USask) shows. 
"For the first time, we saw evidence of large populations of worms living in the sediment – which was thought to be barren," said USask professor Brian Pratt. "There were cryptic worm tunnels—burrows—in the mud on the continental shelf 500 million years ago, and more animals reworking, or bioturbating, the sea bed than anyone ever thought."
Wild pigs invade Canadian provinces—an emerging crisis for agriculture and the environment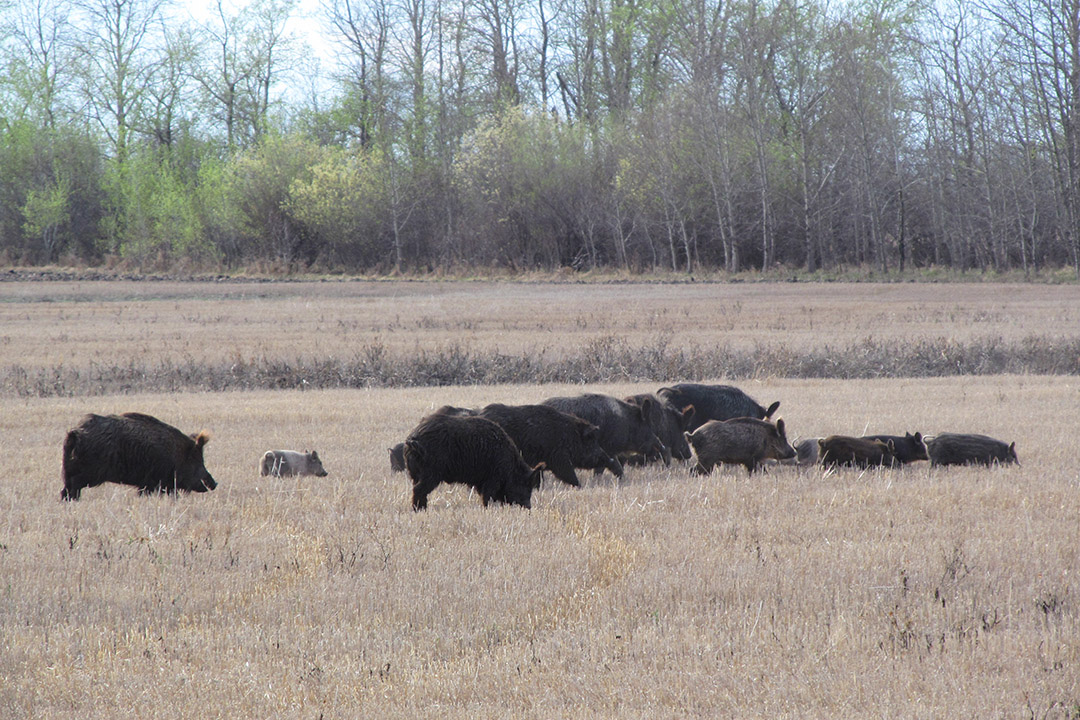 Wild pigs—a mix of wild boar and domestic swine—are spreading rapidly across Canada, threatening native species such as nesting birds, deer, agricultural crops, and farm livestock, research by the University of Saskatchewan (USask) shows.
"Wild pigs are ecological train wrecks. They are prolific breeders making them an extremely successful invasive species," said Ruth Aschim, a PhD student who led the research published today in Nature Scientific Reports. "Wild pigs can cause soil erosion, degrade water quality, destroy crops, and prey on small mammals, amphibians and birds."
Dr. Ryan Brook (PhD), a professor of animal science at USask, was also recently featured in a New York Times article on feral pigs.
Concussion symptoms reversed by magnetic therapy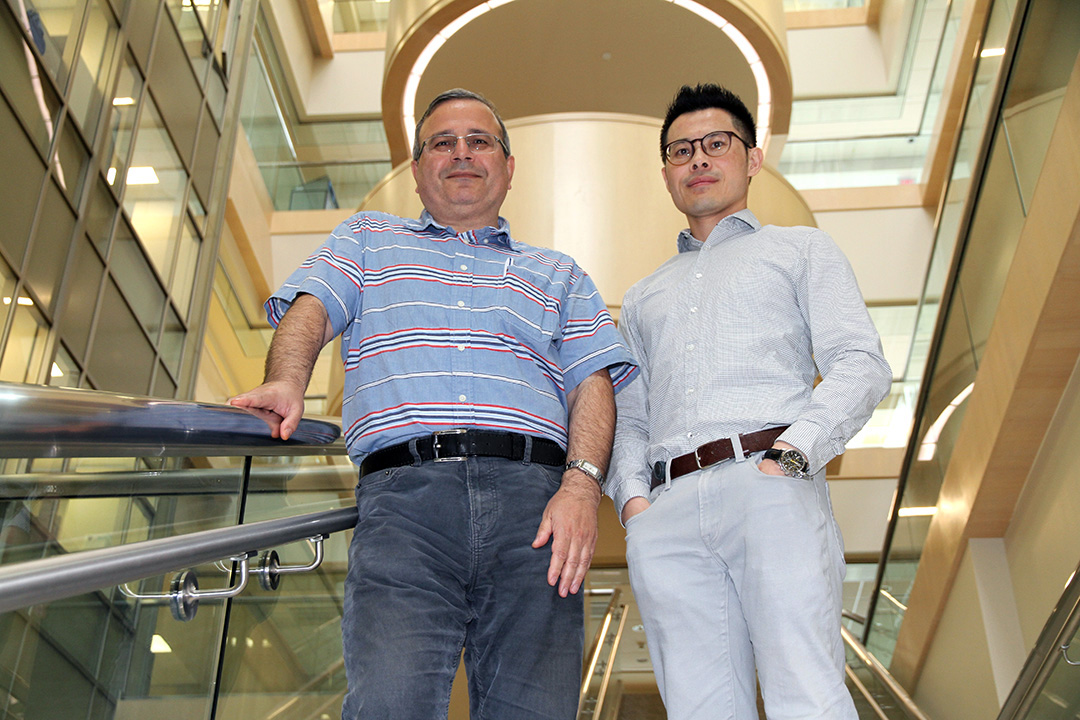 Concussion symptoms—such as loss of balance, hazy comprehension, sleep disturbance and inability to walk straight—can be reversed by a new type of magnetic stimulation, research at the University of Saskatchewan (USask) shows.
"Concussion is a major health concern effecting all sections of society from children whose brain is still developing to older people suffering falls," said USask professor Changiz Taghibiglou, who led the research. "The beauty of this therapy is not only that it is effective, but that it is non-invasive, easy to use and cost-effective."
Cannabis dosage studied at USask to reduce seizures in children with severe epilepsy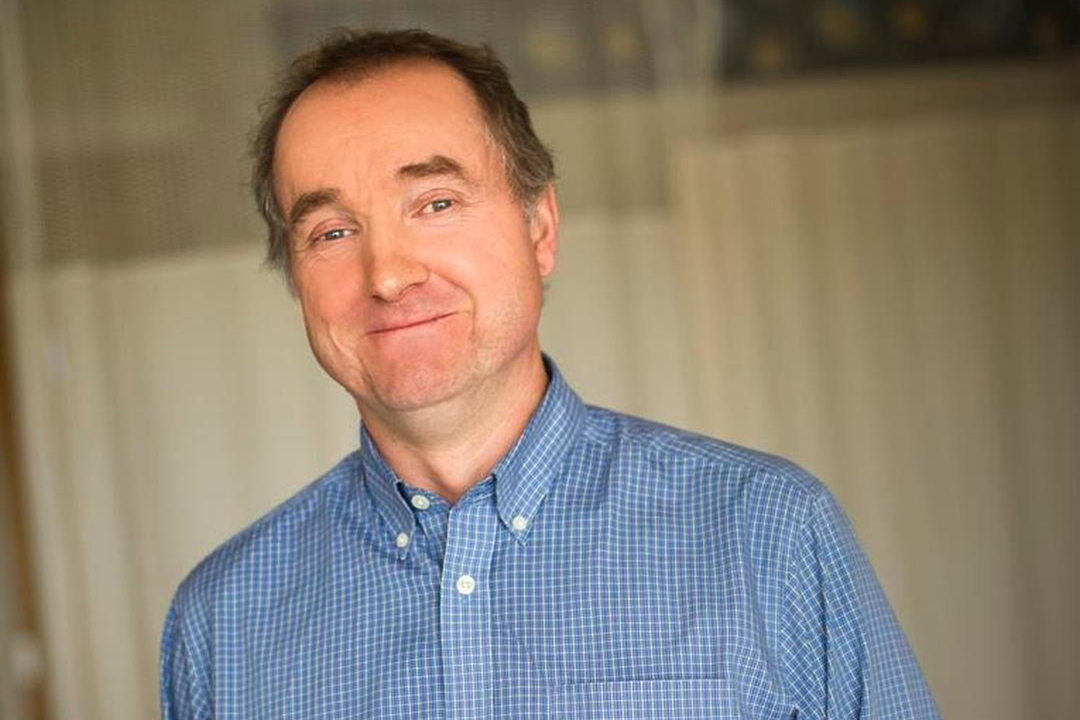 Medicinal cannabis oil containing both cannabidiol (CBD) and a small amount of THC (the drug that can cause intoxication) can reduce or end seizures in children with severe, drug-resistant epilepsy, a study by USask has found.
Children with severe epilepsy also experienced improvements in their quality of life after taking low doses of the medicinal cannabis oil, according to research published in Frontiers in Neurology.
"What makes these results really exciting is it opens up as a treatment option for kids who have failed to respond to traditional medications," said Dr. Richard Huntsman (MD), a pediatric neurologist who led the study.
USask crop scientists help crack the durum wheat genome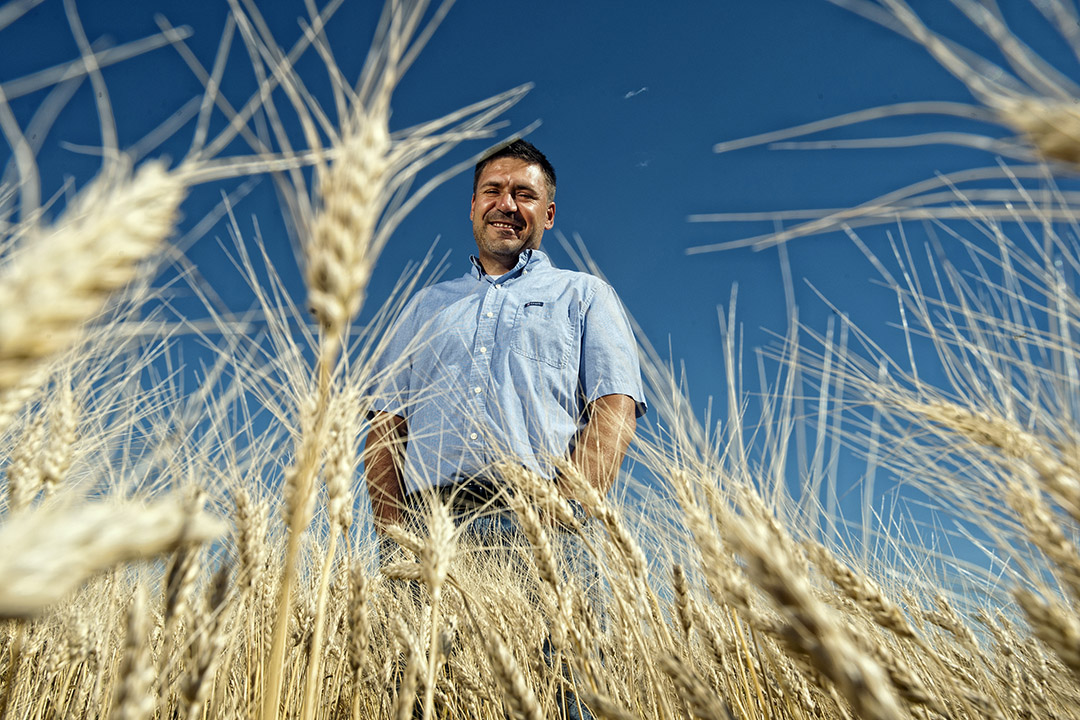 USask researchers played a key role in an international consortium that has sequenced the entire genome of durum wheat—the source of semolina for pasta, a food staple for the world's population.
In an exciting discovery, USask plant breeder Curtis Pozniak, along with University of Alberta scientists Gregory Taylor and Neil Harris, identified the gene in durum wheat responsible for accumulation of cadmium, a toxic heavy metal found in many soils.
"We can now examine the genes, their order and structure to assemble a blueprint that will provide an opportunity to understand how the genes work and communicate with one another," said Pozniak. "With this blueprint, we can now work quickly to identify genes that are responsible for the traits we select for in our breeding programs such as yield, disease resistance, and nutritional properties."
USask researchers involved in sequencing the pea genome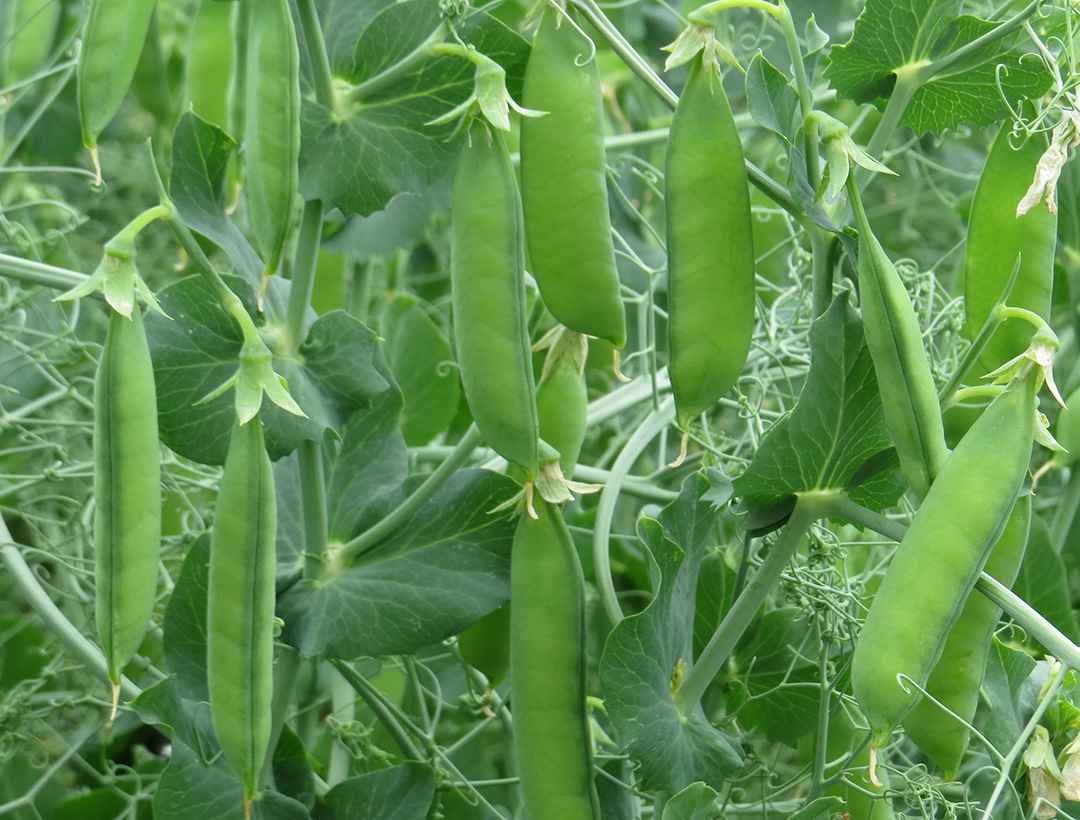 USask plant scientists have played a role in an international consortium of researchers that has developed a complete genome sequence for the pea
The accomplishment, which includes USask researchers Tom Warkentin, Kishore Gali and Bunyamin Tar'an in addition to scientists from across the world, can assist plant breeders in improving disease resistance selections, boosting protein levels or increasing yield levels by shortening the lengthy breeding cycle necessary in variety selection.
USask on track to reach record enrolment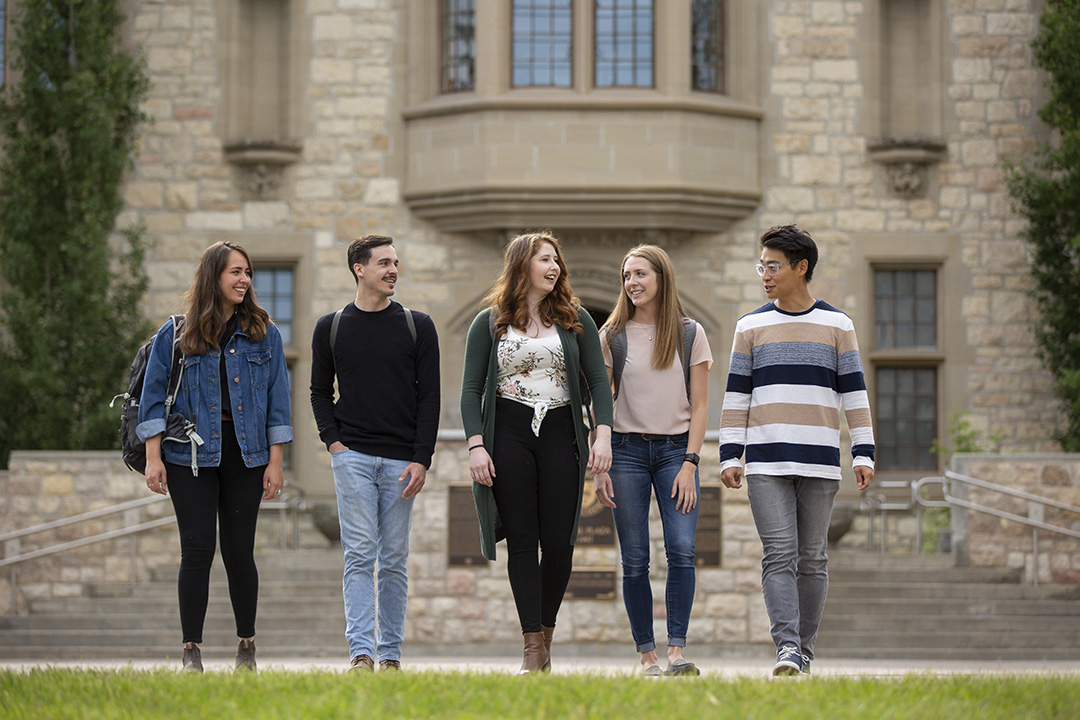 By the end of the academic year in April 2020, student enrolment should exceed 26,000—an increase of between one and two per cent—making it the highest in USask history.
"This is really a signal that the programs we are offering are in high demand to prospective students," said Alison Pickrell, assistant vice-provost of strategic enrolment management. "A degree from USask is recognized as a quality education that can open doors to countless opportunities around the world."
Convocation ceremonies back on campus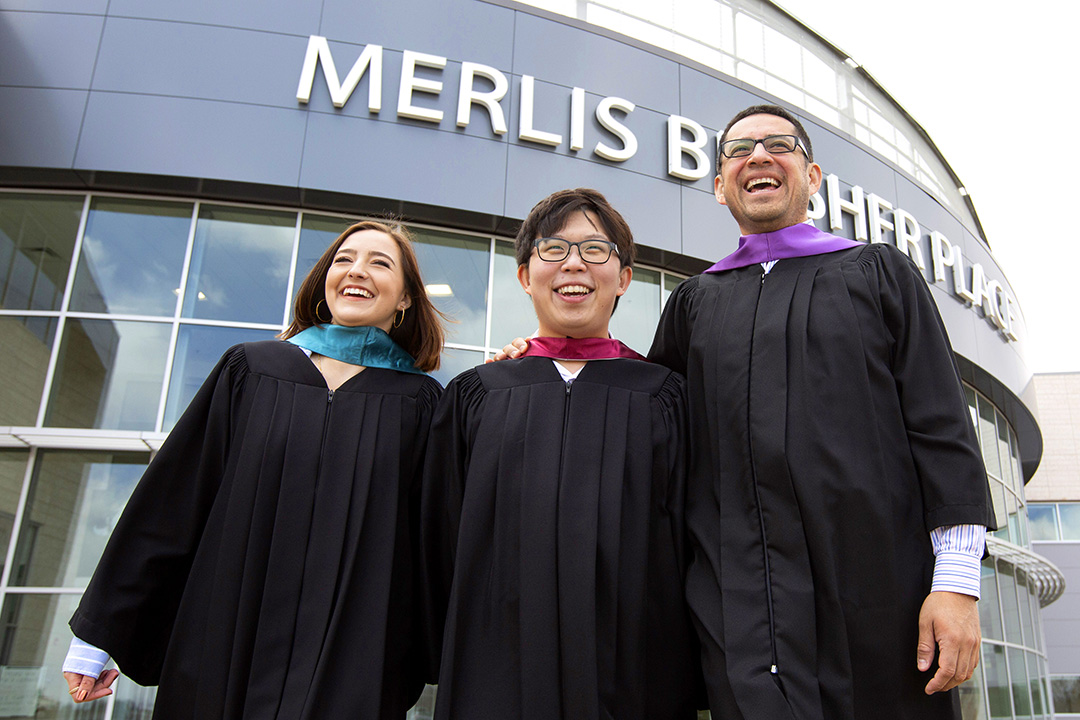 The university will begin a new tradition when convocation ceremonies move to the state-of-the-art Merlis Belsher Place facility on campus, after being held in downtown Saskatoon at TCU Place since 1968. The annual Graduation Powwow will also be held in Merlis Belsher Place for the first time.
"Seeing convocation come back to campus after many decades is very exciting indeed," said USask President Peter Stoicheff. "With the return to campus in Merlis Belsher Place we reacquaint families and friends and supporters with the unique beauty of our buildings and grounds, and reconnect graduands and alumni with their colleges and schools for events and celebrations. The new location also gives us the opportunity to make changes to the convocation ceremonies themselves that all will appreciate."
USask unveils plans for Prince Albert campus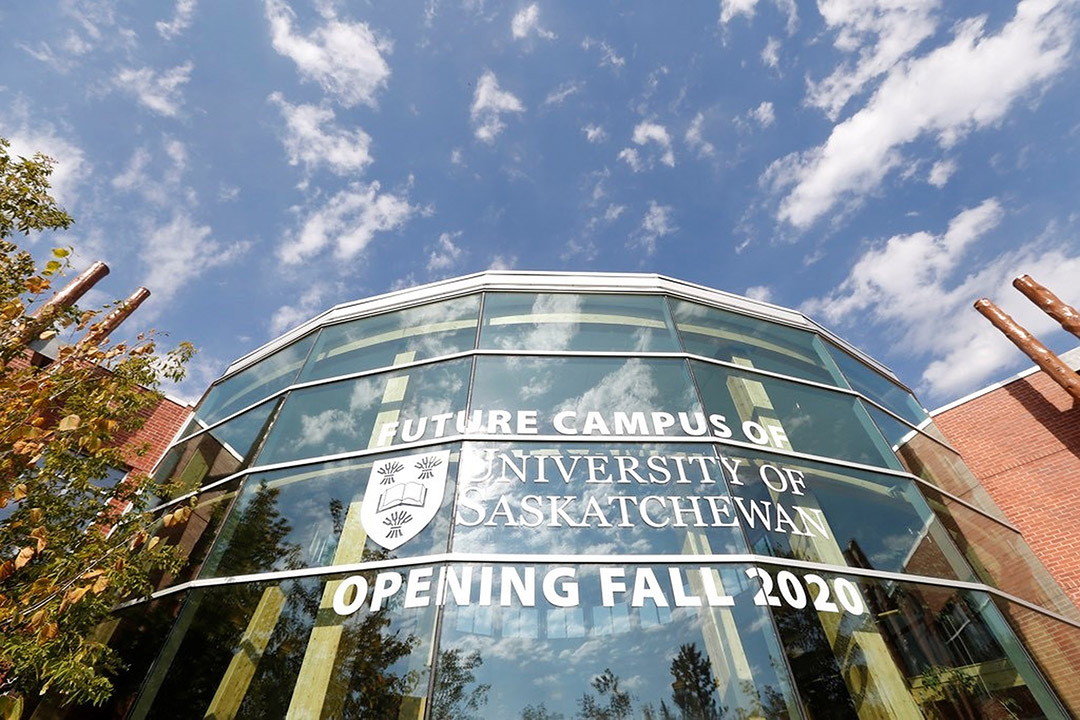 On Sept. 16, 2019, USask President Peter Stoicheff unveiled the campus' new exterior signage as well as renderings of what the renovated space will look like when it officially opens in fall 2020.
"The new campus in Prince Albert will enhance our ability to provide high-quality post-secondary education to Indigenous and northern communities and will serve as an anchor for the university's emerging northern strategy," said Stoicheff. "Our students, faculty and staff will benefit from an investment that promotes quality educational programs and student support services."
The campus will bring together students in the Colleges of Agriculture and Bioresources, Arts and Science, Education, Kinesiology and Nursing, and the Edwards School of Business. Additionally, students will also be able to complete one year of study towards: dentistry, medicine, nutrition, pharmacy, physical therapy and veterinary medicine.
Climate activist Greta Thunberg and USask scientist John Pomeroy discuss glacier decline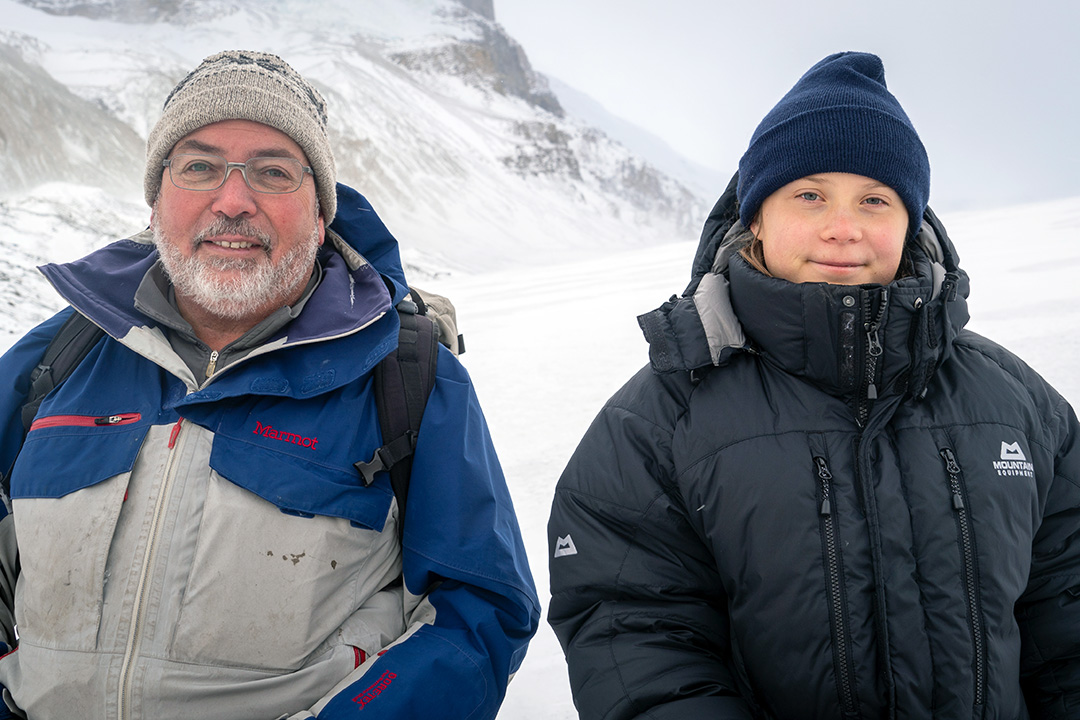 At a stop on Oct. 22, 2019, during her ongoing trip across North America, climate activist Greta Thunberg met with University of Saskatchewan (USask) water scientist John Pomeroy at a USask field research site on the Athabasca Glacier in Jasper, Alberta.
Thunberg, who was recently named Person of the Year by TIME magazine, has been raising awareness about the severe impacts that rising carbon dioxide levels are having on the planet and has begun learning more about these effects from leading scientists including Pomeroy.